Glenn Irwin says the will to win in the Paul Bird Motorsport team has never been stronger as the BeerMonster Ducati outfit prepares to resume racing without its helmsman for the first time.
Paul Bird, founder and manager of the eight-time BSB title-winning PBM team, passed away suddenly at the age of 56 after a short illness at the start of the month.
His untimely death has sent shockwaves throughout the motorsport world, PBM having also competed in MotoGP, WorldSBK and at the Isle of Man TT in the 25 years since Bird formed his eponymous team.
However, the effect will be felt most keenly by the members of the Paul Bird Motorsport team who will nonetheless come together this weekend for Round 9 of the 2023 British Superbike Championship [BSB] at Oulton Park.
Though he won't be present to witness the conclusion of a title battle his riders Glenn Irwin and Tommy Bridewell currently stand front and centre of, Irwin - who made his BSB debut with PBM in 2016 - says Bird's passing has simply made PBM more determined to win in his honour.
"Firstly, it has been an absolute honour and privilege to have not just made my British Superbike Championship debut back in 2016 with Paul's team, for which I am forever thankful for, but also my first BSB win and podium was all under Paul's guidance.
"Then this year to be a part of a team that was able to bring such an emotion of happiness at times as we have seen on display with the victories and the results within the team.
"To be a part of that along with Tommy has been something that I will take as a bit of comfort, knowing that we brought a smile to Paul's face at times when his health was not so good.
"There is a serious winning mentality in PBM - the strongest winning mentally that I have ever witnessed, whether it be in racing or it be in any walk of life. It takes a huge character to be able to instil that into a team in such a way that when you are in PBM the aura you know is about winning.
"With Paul now passing, that aura is still very much there - that feeling of what is demanded of you in PBM and it takes such a big character to be able to instil that, which will remain now that he has gone.
"Obviously we are onto the Showdown part of the championship and the points system changes; I haven't looked at it too much – I guess it is probably a positive mindset that I have looked at what first gets and what second gets and I couldn't tell you what third or after that gets!
"I am very aware of how much mindset is in racing and I feel like it has been bang on all year and if anything, I think that it is strengthening.
"I have a great feeling and I have said it all year, and despite the tough times for the team of late with the news of Paul, I still have a great feeling of how this season's chapter ends. I have continued to target Tommy and we have beaten him in five of the last six.
"I feel that momentum is with me, as it was with him in the middle part of the season and I would be ignorant to ignore that as he did a fantastic job at that part of the year.
"Right now, I want to continue with the momentum that I feel we have the upper hand and to continue to build on that, and most of all, put on a good show for not just Paul, but all the fans of PBM who I am sure were also saddened by the news."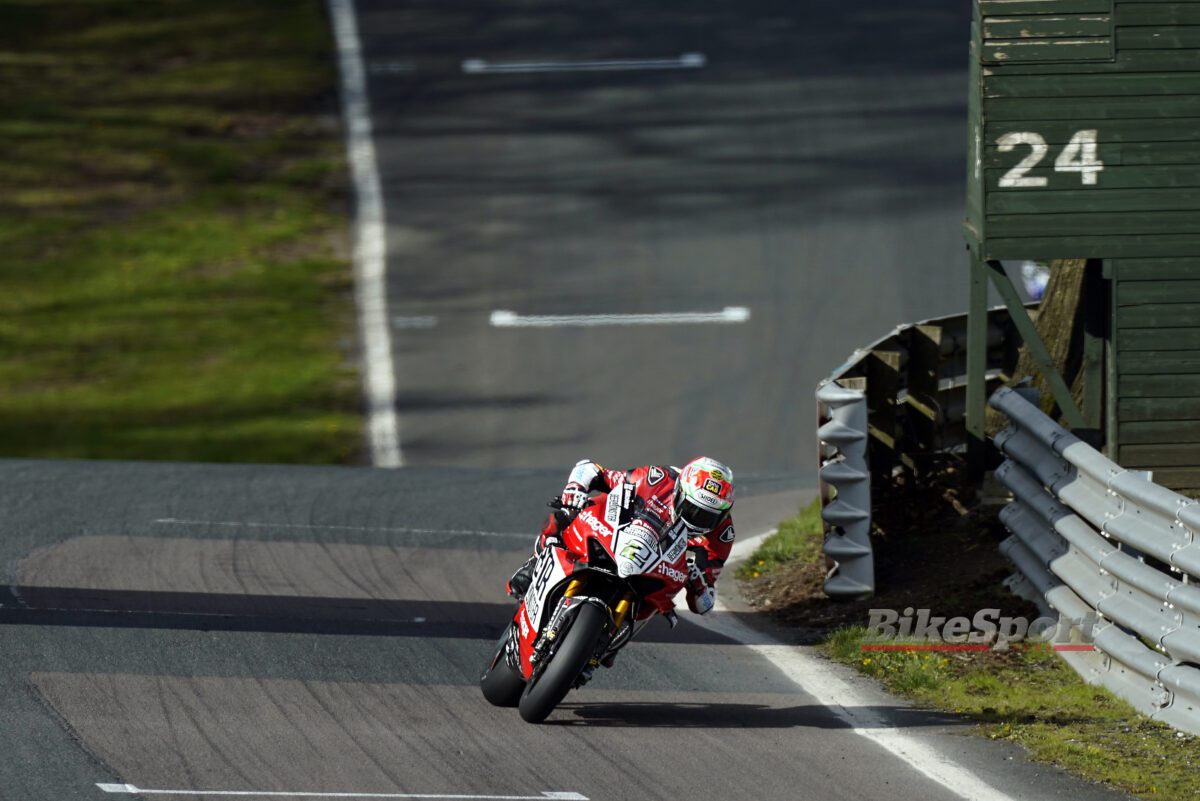 "The Showdown rounds suit may strengths a little bit better"
Looking ahead to the final three events of the season at Oulton Park, Donington Park and Brands Hatch, Irwin feels they are circuits that will better suit him compared with team-mate Bridewell.
"Oulton Park is one where when I went there on the Honda last year and came within 0.1 of a victory against Tommy on the Ducati and that was a big realisation," continued Irwin, who sits 14.5 points behind Bridewell in the overall standings.
It is a track that I always enjoy, but a track that I was now a potential winner at, and that came true this year at round two when we now have a package that was more of a favoured one for Oulton Park.
"We put that to good use with our first win of the season so we had a third, second and a first that weekend. I think the longer the season goes on, you get to know the bikes strengths, you get to know your strengths, and you see a pattern of what corners and sections of circuits you are good at and what type of areas you need to improve, so I think the entire Showdown rounds suit my strengths a little bit better.
"They are also tracks that we are going back to for the first time on the Ducati, which with experience, we usually get better at most things in life.
"So let's hope that we can put the experience that we now have, arriving back at a track for the first time this year, into practice. Experience is always something nice to be able to add to the locker, so I feel like my armoury has been improved a little bit.
"Like I say, it will definitely be a sad round with a lot of emotion and tributes, but I look forward to putting on the best possible show.
"I usually try to just think of myself in racing, and although Tommy is my nearest championship challenger he is also my teammate and is going through the pain that we are all going through, so I hope the two of us put on the best show possible this weekend."
This weekend's Oulton Park round will also herald the return of familiar points' scoring format of recent years with 25 points apportioned for a win. The system remains in place for the penultimate round at Donington Park before a change again at the Brands Hatch finale, where 35 points will be available in each of the three races.