And just like that, the record-breaking 2023 MotoGP World Championship has reached its 20th and final round in Valencia with more than just the title to be decided in Spain.
With a record number of events on the schedule - even with the cancellation of MotoGP's planned visit to Kazakhstan - and double the number of races on the programme, perhaps the teams can be forgiven for putting off some decisions until the latter stages of the year.
However, a week is a long time in MotoGP it seems and with one big seat still on the table to be filled by a rotating number of potential suitors, there still seems to be no clear indication of who Repsol Honda is negotiating with to replace Marc Marquez.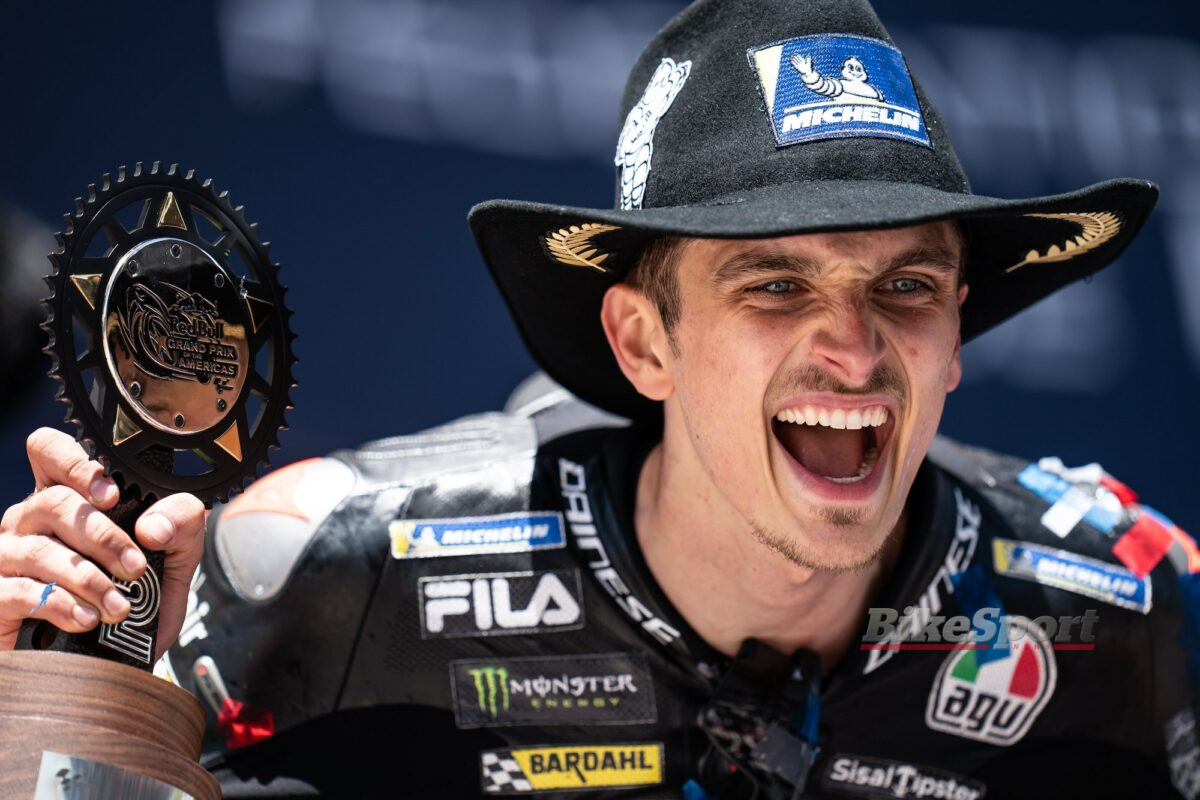 Who will replace Marc Marquez at Repsol Honda?
A new week, a new name in the frame to replace Marquez at Honda has been the recent trend with the broad canvassing of options arguably symptomatic of the manufacturer being fairly unenthused by the current options.
Having originally beat a path straight to Aprilia, first to approach Aleix Espargaro and Maverick Vinales before then making a serious pass for Miguel Oliveira, the ascent of Fabio di Giannantonio after his podium in Australia appeared to suggest a direct swap with Marquez was on the cards.
Then came the possibility of giving Moto2's new star pupil Fermin Aldeguer a chance before the news cycle switched to its latest interest, Luca Marini.
Though he might not look like it on paper, of the riders linked to the seat so far, Marini is arguably the best fit for both team and rider.
While some cries of nepotism in his direction on account of his relation to Valentino Rossi have marred his route to MotoGP, Marini has by all accounts proven he deserves to be in the premier class since being paired with his current Mooney VR46 Racing team.
Though yet to win a race, he has been one of the more consistent performers this season and is deservingly heading for a spot inside the overall top ten at the end of the season. Of course, his association with Rossi raises questions as to why he would consider leaving, but Marco Bezzecchi's decision to turn down an offer to join Pramac in favour of staying with his 'family' at VR46 Racing ironically undermines Marini's status as literal family to the big boss.
No doubt sensing VR46 Racing is rallying around Bezzecchi as its lead contender, Marini leaving such an environment is a chance for him to strike out on his own at least.
It would also be of benefit to Rossi himself, who would get to extend his influence out to another manufacturer as he decides whether to stay within the Ducati fold or switch allegiance to another manufacturer for 2025.
Where will Fabio di Giannantonio land?
While you have to be a touch suspicious of any rider whose results improve after finding out they have lost their ride for the next season, it's hard to ignore the trend of success from di Giannantonio in recent events.
A rider who has somewhat stuck out for the wrong reasons since his debut with Gresini Racing in 2022 - a deal agreed by the late Fausto Gresini long before he died and honoured by his successors - it has taken a long time for di Giannantonio to find the form of his Ducati counterparts in MotoGP.
With the kick of motivation coming from his dismissal in favour of Marquez, di Giannantonio has starred ever since, peaking with his superb victory in Qatar over the weekend.
Alas, it seems to be too little too late with the Honda deal going cold on him as attention instead turned to Marini.
There is a chance he could land at VR46 Racing in Marini's place, but that might well depend on the outcome of a bidding war over Fermin Aldeguer…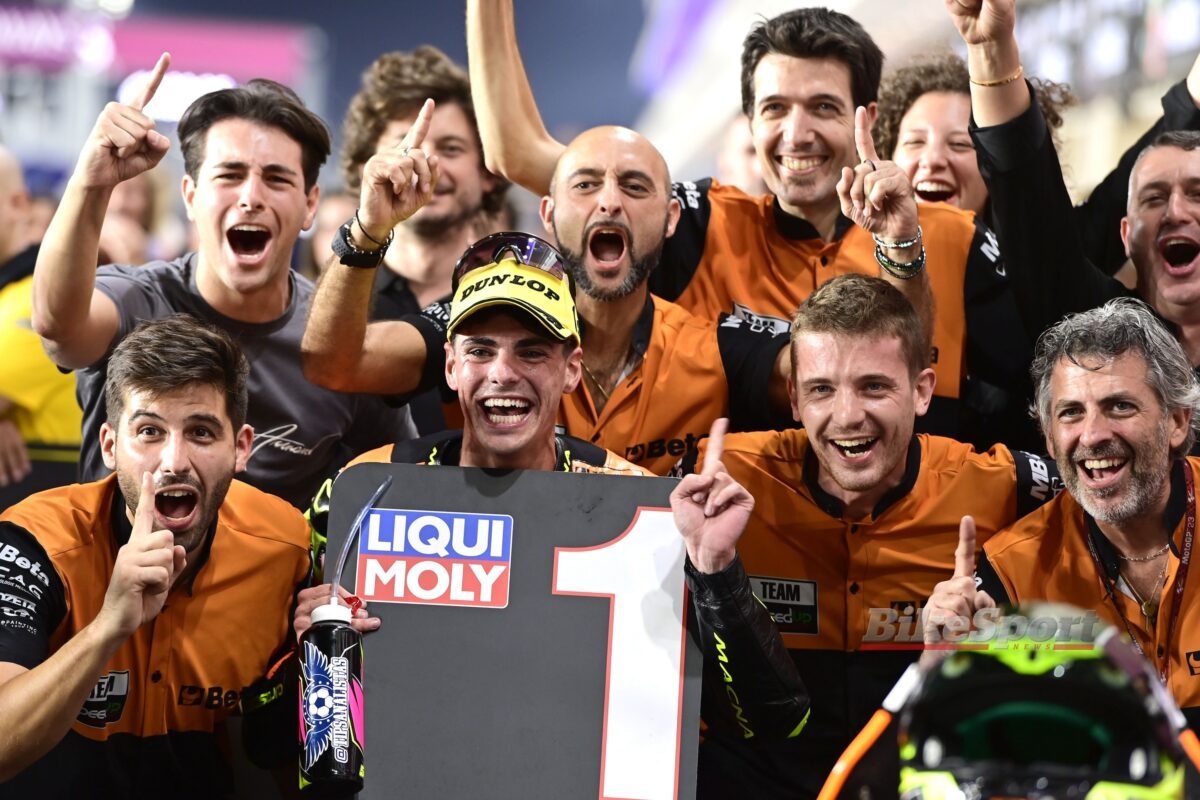 VR46 vs. Pramac for Aldeguer's signature
If the summer news cycle was preoccupied by KTM's dilemma over where to place Moto2 World Champion Pedro Acosta among its two teams, in recent weeks it has been all about Aldeguer.
A rider that has seemingly crept up on many, Aldeguer's rise to prominence since the summer break has been spectacular to watch. Indeed, the Spaniard wasn't even classified inside the overall top ten at the half-way stage in the season, but after hitting the headlines with his maiden win in the wet at Silverstone, he hasn't looked back.
Three wins on the bounce in Indonesia, Malaysia and Qatar have seen him surge up the overall order, putting him on course to relieve Jake Dixon (seven points ahead) of an overall top three spot in the final standings at Valencia.
Most impressively, his form has remained relentlessly dominant even as the spotlight has sharpened on him, not least in Lusail when Aldeguer recovered from an early mistake that left him as low as ninth to pick his way back up the order and win by almost three seconds.
While he has a confirmed deal in Moto2 with SpeedUp Racing next season, it is no secret Aldeguer - who has now specific allegiance to any manufacturer - is a wanted man.
Though talk of a shock Honda move has faded in recent days, it has emerged that Ducati is keen to secure the 18-year old as early as next season.
Going head-to-head are VR46 Racing and Pramac Racing, the former seemingly verifying those Marini to Honda rumours by quickly seeking out a 'Plan B' that'd put Aldeguer alongside Bezzecchi in the team next year.
Alternatively, Pramac Racing are hoping it can convince Aldeguer - whose grand prix career path saw him unconventionally make his debut in MotoE before switching to Moto2 for 2022 - to stay in the intermediate class next year to target the title before promoting him to a factory-supplied Ducati 'GP25' for 2025.
Should Pramac win the race to hire Aldeguer and he does wait until the following year to step up - a real possibility given the misstep KTM made with Raul Fernandez - then expect to see di Giannantonio side-step over to replace a Honda-bound Marini next year.