I've written that headline a few different ways. Perhaps the suffix would be less two dimensional if I wasn't determined to retain the complex but personally gratifying prefix. 
I probably also shouldn't be beginning a feature article in a self-critiquing first person manner, but let's see if this first draft makes the final cut… and if any of my university lecturers are reading this in varying states of aghast, please direct emails to spam@pamspam.com *wink*.
Anyway, let's crack on with another probably contrarian statement, one not constrained by the point-count of a headline: Alvaro Bautista's victory in Race 2 at Portimao was the performance of a truly great WorldSBK Champion.
I'll push it further. Alvaro Bautista deserved it more than Toprak Razgatlioglu… there I said it. Now for the non-science bit.
But first, let's get the qualifiers of Superpole significance out of the way.
Yes, the Aruba Ducati Panigale V4 R is a missile that powers down straights as though it's trying to get away from, rather than seek, heat.
Yes, it's a machine so advanced that it was seemingly conjured by wizards rather than merely designed.
Yes, the pilot is light enough to think twice before stepping out in a stiff breeze.
And yes, those factors can probably be quantified into around the +0.350s he could hungrily hippo down Portimao's home straight.
But… before I turn contrary again (contrarary?), this time against my own hypothesis… Bautista deserved this win because he really, really needed it.
Not for the WorldSBK title trophy because, let's face it, he's so close to it he could wear it as a hat, but because there is something to prove. If not for anyone else, then for himself.
Why, well, perhaps partly so someone (me) could write an article about the credit he - and not 'just' Toprak Razgatlioglu' - deserves, but partly because he's read too many articles (also me) opining as to why it was 'the bike wot won it'. Alvaro, if you happen to be reading this - or, more likely, Ducati's press officer - Google 'The Sun, Election and 1992' for context...
Being pedantic for a moment, technically it was the bike 'wot won' in those final hundred metres of acceleration from a level-pegging off the last corner in the dash to the line - well, that and a firm wrist - but while a few yards can decide a race, they don't describe it.
But, in short - albeit somewhat obtusely - Bautista needed that win because he needed to beat his own bike. Why? Because it's become the higher-profile star of what should be his show.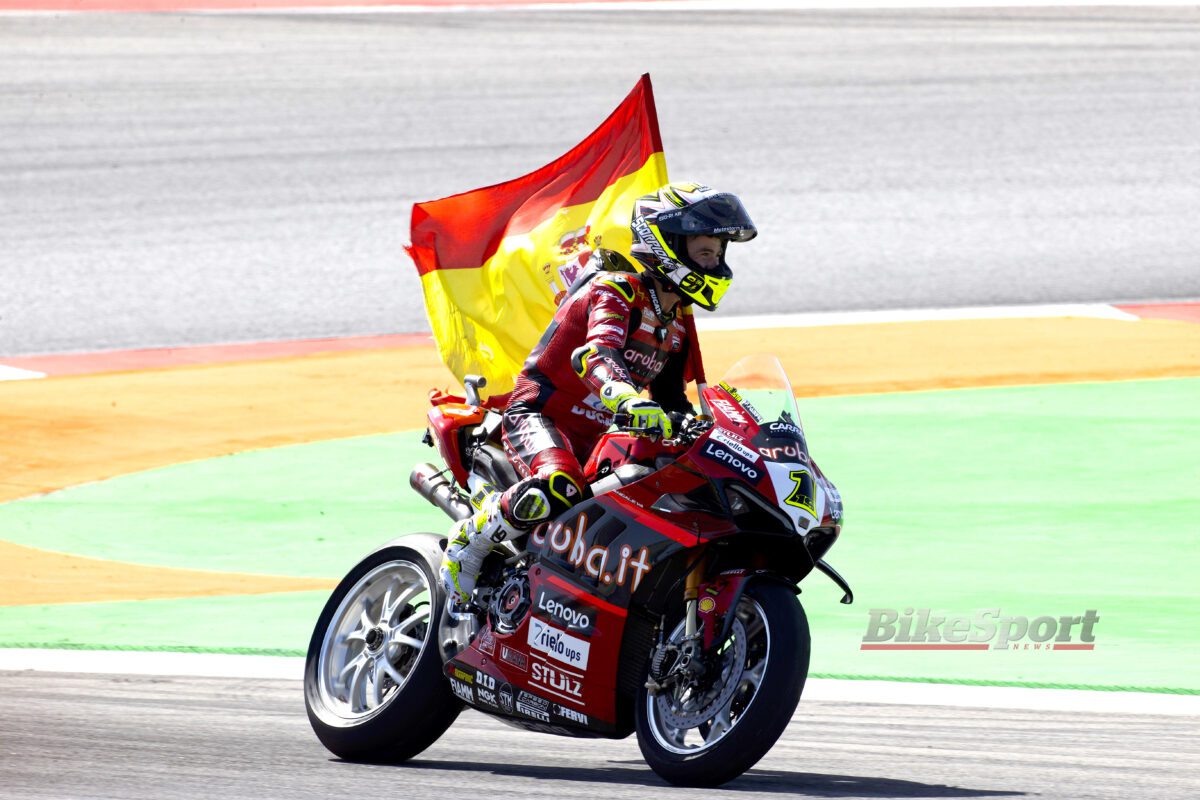 The Greater Showman
The reasoning gives context to this feature's pithy introduction. It was originally going to declare how Razgatlioglu was the one to prove why racing is still 'man over machine' and how only he could employ the determined, yet nimble riding style of Rambo doing the Bolero to pull off his share of a remarkable 35 overtakes in 20 laps. Go on, picture it, Sly Stallone nailing the triple Salchow armed only with an Uzi and some carefully-placed diamantes.
While the second-half of that statement remains true (albeit mentally perplexing), it is then also too dismissive to suggest Bautista's victory - and not just this one - hinged entirely on what's going on between his legs.
The Ducati has grunt, the Yamaha is poised. In the respective riders' hands, both are worth around the same amount of time gained and lost against one another over a single lap of Portimao's fast, rising, swooping, 'stop, drop and roll-up' characteristics. So, something of a net zero.
But there are few 'clean' laps in racing, whether it's fading tyres, an iffy set-up or a rival being rudely parked on the apex in front of you.
For Razgatlioglu, that ponderous 'Sunday rider' through the corners was Bautista. As they say during CBTs, the leader dictates the pace and while in motorsport the rules are more flexible, they're not beyond the bounds of physics…
Then again, limits are there to be pushed, so with 'anger' as his fuel, Razgatlioglu spent Race 2 putting trust and thrust into his R1 to keep responding like an internet troll and find gaps around the size of the one James Franco needed to shuck his leg off to get out of in 127 Hours.
Granted, it also takes a fair bit of trust to thrust quite so liberally at another rider (steady…) but at the same time there is a title on the line, so why not go dogged style?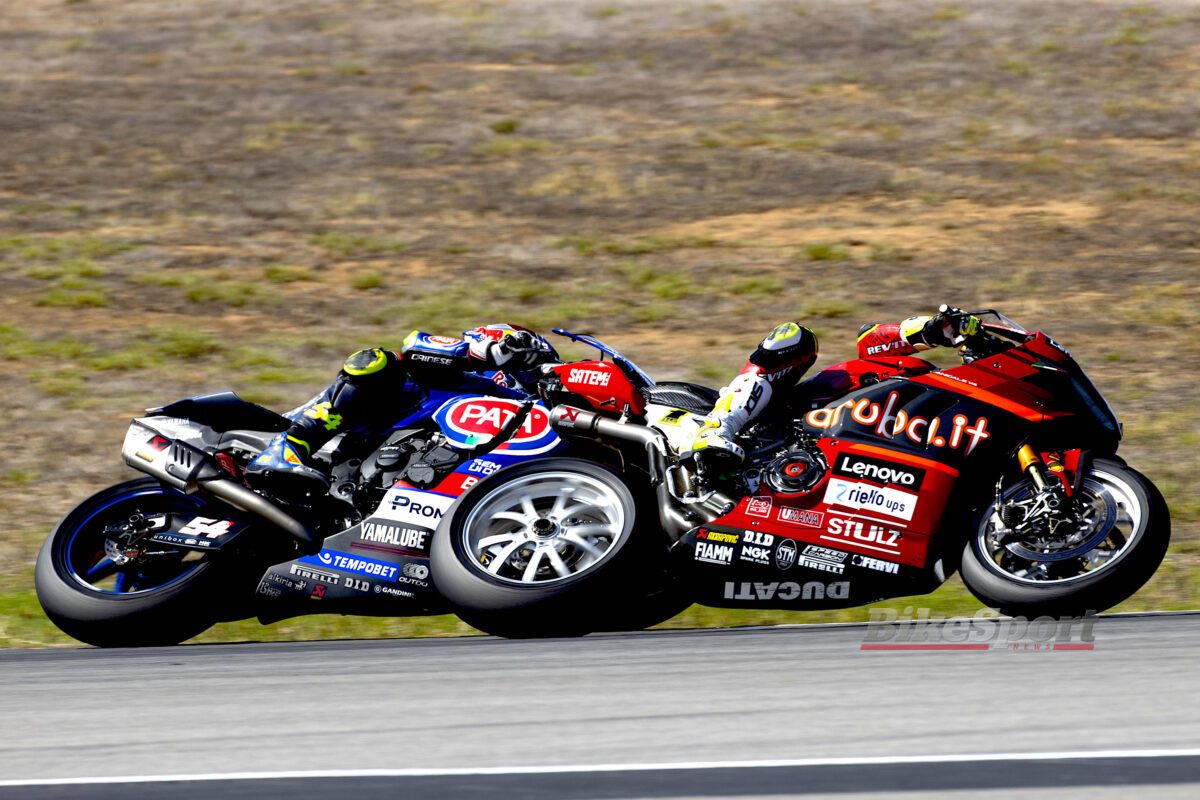 No limits to determination
By contrast, Bautista never looked comfortable on the Ducati as it bunny-hopped on the exit of Turn 4, wandered around the outer edge of the racing line through Turns 10/11 and pitched nervously on the brakes plunging into Turn 1, the latter a particular risk of knife-edge perfection to separate you from luging down the world's most painful slide.
But riding round limitations is the mark of a Champion. We've deservingly heaped praise on Razgatlioglu for finding speed in the ageing Yamaha R1 package that even Yamaha didn't know existed, same Jonathan Rea, who - though not a miracle-worker - keeps the Kawasaki ZX-10RR looking younger with regular silverware to belie its silver whiskers.
Granted, Bautista doesn't so much need to ride 'around' as straight ahead to dish out some knockout blows, but he could match Razgatlioglu for sharp overtakes, canny defending and smart set-ups, traits that he may not have had to call upon so much this season, but qualities many may have forgotten he had.
Indeed, for a rider who hasn't needed to ask too many questions of his boffin of a bike of late, it was a reminder he still has the skill and smarts to have the answer himself anyway.
It in no way diminishes, relegates or plops on Razgatlioglu's performance in what was a battle so vintage it will no doubt pop up on motorcycle racing websites/holograms/telepathy or whatever the consumed media of 2043 will be.
But we don't have to just root for the little guy. Because while Bautista may always appear as the Goliath to Razgatlioglu's David at this time, for once let's give a shout out to the big guys because, after all, even Goliaths have feelings too.