Is the sheer dominance of Alvaro Bautista in this year's WorldSBK Championship poised to undo all of the hard work done by the series, Dorna and riders like Toprak Razgatlioglu in recent years to get viewers tuning in regularly once more?
Spurred by the rise of Razgatlioglu and his 'frenemy' feud with Jonathan Rea - culminating in their sizzling 2021 WorldSBK title battle - WorldSBK has been enjoying its healthiest days since Dorna assumed the reins from Infront as series organisers.
However, in an increasingly one-horse title race, Bautista's Ducati-branded missile might end up torpedoing more than just his rivals when it comes to spectacle.
Shoulda, woulda, coulda be done potentially - but is it fair to rein in a winning rider all in the name of Entertainment?
First, let's look in the official direction, aka the FIM and Dorna.
They showed the first signs of action last time out at Catalunya, allowing Kawasaki to have an additional 250 rpm and reducing Ducati by a similar amount...though it appeared to have little effect. It was not a conclusion which had overall backing and,  it is said, was pushed through by the FIM.
'Levelling up' has been on the agenda for some time with the most controversial 
proposition being weight of machine and rider, so while there is no criticism of Ducati's ability to make the most of the rules, there is a degree of what might be called 'jealousy' . In short, n Bautista they have a rider equal to both Jonathan Rea and Toprak, but are enjoying the benefit of having a lighter bulk to pilot.
James Whitham's view on the changes is that they have made a difference and will make a difference... but stands by the notion that engineers and riders shouldn't be penalised for being just too damn good!
"We have had championships in the past that have been dominated by one man and you've got to be careful not to have a knee jerk reaction. It does seem that the Ducati is the best bike on the grid, certainly the fastest, and Bautista is making it work for him.
"I do think that the organisers, given that they seemingly can do what they want with the rules now and every bike is assessed on an  individual basis, missed an opportunity at the start of the season  to level up what was clearly going to deliver a Ducati that was going to be clearly better."
After the tug-and-war of the 2021 WorldSBK season, 2022 and now 2023 risk reverting back to the predictable days of a dominant Jonathan Rea-Kawasaki package for six years between 2015 and 2020.
Jonathan Rea dominated for a long time and we saw him as just being the best in the Championship for those six years. Now that is being blamed or cited by some for WSBK losing It's kudos at that time. It's not as easy one to fix."
BSN:
"But the game has changed hasn't it, hence the popularity of the sprints. People 
just like to see everybody having a big go at each other. It's the same with BSB. It's out of fashion just to see great riders winning a lot races on their own. People's views have changed quite a bit."
Whitham:
"Yes, I think people's expectation of what makes a good race has a changed, they like to see five or six riders battling at the front. In the days of Roberts, Spencer or 
Rossi you enjoyed watching some body who was really good at his trade. You didn't after a couple of rounds declare it as  being unfair and he's cheating so let's  make it 
equal. But you're right things have changed and while it's a little bit sad that people looking on social media might after three or four rounds already be describing this as rubbish,I'm finished with it.  It's been like this before and people never said that."
BSN:
"But if that's the perception of people you've got to do something about it. There has been a lot of talk about weights on the basis that other 'sports' such as horse racing, F1 and Moto2 and Moto3 use it - 'handicapping on weight' as you describe it - and as everyone has been saying Bautista, great rider as he is and great bike that he has, does have an advantage because he is so much lighter and this shows be cause riders on the same  bikes as him can't match him because they're heavier."
Whitham:
"How do you know they're heavier? You don't do you. But I can see in this next couple of seasons there will be a minimum weight although I don't think they will all  carry exactly the same weight. You can't have the smallest, lightest man on the grid wrestling the heaviest bike. It would be dangerous.
"It will be somewhere in between getting riders on exactly the same weight  and yet not having the lightest riders wrestling the heaviest bike. I can't see it's going to make a massive amount of difference because there's going to be a maximum amount of weight you can have. All classes do that.  With Moto3 there were kids of 13 or 14 who had not developed into adults.
"I remember Taz Mackenzie having 25 kilos and some don't weigh 25 kilos and so you are wresting a bike which is a lot heavier. It's like you getting on your Dad's pushbike when you were seven. 
"Look, I think a minimum weight will come in but there will be a maximum amount which is allowed to be put on a bike. So what it will mean is that Bautista might carry an extra eight kilos  which is a chunk of weight and he will notice the difference  but the bike is not going to be 20mph slower down the straight."
BSN:
"It could certainly be considered unfair that if someone was  simply born lighter than others he was going to be penalised for being born that way."
Whitham:
"But it's where are are going with sport and they are trying to make everything exactly equal in terms of power, torque, grip and weight in our sport. And you can't do that in all sports.  You can in boxing and horse racing. But is you're a shorter person than you are at a disadvantage, for example, in basketball. But I haven't heard anybody suggesting that tall players should run about on their knees!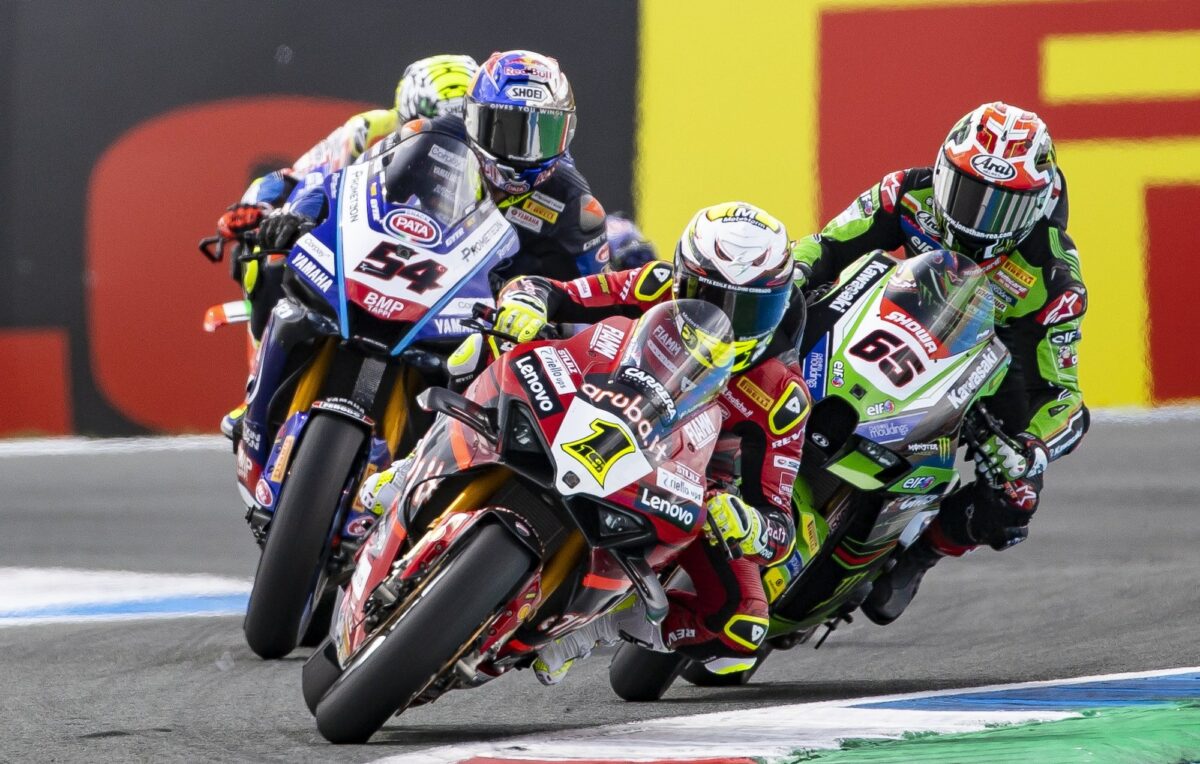 BSN:
"But we've also got to remember that people call all these great things sport but actually what we're in is the entertainment business and nothing else matters other than doing just that for the attendees and the viewers who have paid."
Whitham:
"Yes, that is all that matters to people who are making the money out of it. But you can't make it not a sport and you can't take it away from the fact that it is still a sport. Yes, at the top level it is about money and most sports are but there has still got to be a sporting element otherwise you'll get something like American wrestling."
BSN
"Whatever the definition of sport is you have praised Ducati many times for their cleverness at doing things and their road bike will have been made a lot quicker by what they have learned, for example, from MotoGP. Homologation in WSBK is based on what the road bike bike is and does and they've done it rather well."
Whitham:
"Exactly. Ducati has always been unbelievably good at  making the best out of regulations by thinking laterally and coming up with solutions to problems and working round regulations but always within the rules to make a competitive bike. Who would have said that 30 years ago a trellis framed V twin would be able to keep up with the others from big factories. It shouldn't have worked but they made it work.  Is it fair to penalise them for that even if the racing has been one sided for a time. It is a difficult balance to strike let's say."
BSN:
"But somebody's got to do it and governing bodies whether they be the FA in football, the FIA in F1 or the FIM in motorbike racing are generally not very good at running a  business which, in MotoGP and WSBK, has been best left to rights holders Dorna and in the case of BSB to MotorSport Vision which owns the rights to the series and six circuits. It is not unusual for a bit of conflict to take place and apparently there has been here but better on the track. While accepting what you say and loving Bautista we do want more competition or it seems like it might be rather  a dull year."
Whitham:
"Yes, it looks like it's going be a dominant performance unless he caves in as he did once before.  But there's a bigger picture here if you look at the next couple of seasons. It's not F1 where teams with massive funding can create cars, maybe with Honda engines. It is predominantly a manufacturer-based championship with Yamaha, Honda, Ducati, BMW and others. If it's not financially or environmentally viable for them to produce a one litre sports  bike or something that is eligible there is no championship."
BSN:
"But do you really think the change will come and there will be some sort of weight related handicap system applied?"
Whitham
"I don't know quite where it's going. There may be other things. The original concept of Superbike was that you could buy a bike from your local dealer which, at that point, were mostly 750 four strokes and you could go racing maybe with a talented tuner or your Dad. That was the idea.  If manufacturers are not producing the bike because, certainly in Europe, they can't sell them in big enough numbers then you're going to have a dwindling grid for what has become a prototype class. So something has to happen."
BSN:
"You've always argued there's no point in having both Superstock and Superbike
classes because you don't need  bikes  going at 220mph for good racing."
Whitham:
"I don't think a spectator at the side of the track and without a stopwatch can tell whether someone is clocking 1m36s or 1m37s.  They're more interested in whether a real race is going on than whether somebody is going slightly quicker than somebody else. It's the race.