The 2023 British Superbike Championship [BSB] picks up this weekend with Round 5 at Snetterton the arena for the latest bout of gladiatorial jousting from the best national racing series in the world.
On paper, it appears the mighty Ducati, via Paul Bird's BeerMonster team, arrives as strong favourites for the triple-header if last weekend's British soil success of Alvaro Bautista on the WorldSBK-spec Panigale V4 R is anything to go by.
Not that Ducati Sporting Director Paolo Ciabatti was getting too carried away (yet...) in a brief chat with BSN at Donington Park as his company basks in a run of extraordinarily dominant form across motorcycle racing's top tier series'
With five wins from 12 races so far, BeerMonster Ducati has shown the speed, if not always the consistency, to wear status as title favourites. But while Tommy Bridewell holds an eight-point lead, he is being chased hard by the increasingly impressive Kyle Ryde on the LAMI OMG Yamaha, while wily foxes Josh Brookes and Leon Haslam loom just adrift of Irwin in fourth and fifth.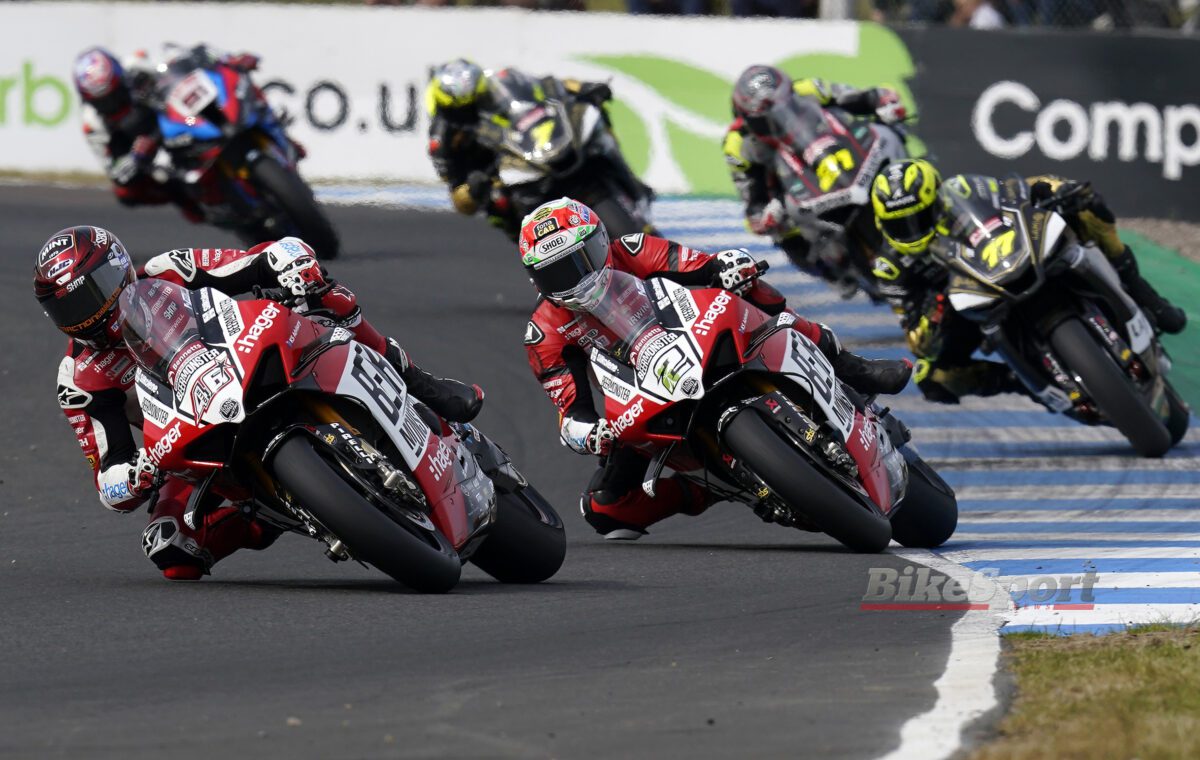 So it appears to be anyone's game... what do you think Mr Whitham?
James Whitham:
"It certainly hasn't closed yet. The telling thing is how the Ducatis have performed at circuits which they weren't so competitive at last year and previously. 
"So I think it is quite ominous when they can go to places like the short circuit at Silverstone for round one  and certainly Knock Hill where they weren't dominant but clearly they were on a bike which was really good for that circuit which you might not have expected. 
"The Yamaha boys are going to want to be really competitive at Thruxton and at Brands Hatch because if they're not competitive there they aren't going to be anywhere else. The bikes still have some attributes, like carrying more corner speed, which we saw at Knockhill certainly through sections which required fast changing direction and there are three or four at Knockhill.
"They were really good but the Ducati had a lot of drive particularly out of the hairpin and I am not saying that Glenn isn't riding well, he and Tommy are riding really well and they are making the bikes work for them.
"And they are not the easiest of bikes, I think the Yamaha is probably more user friendly, but the Ducati seems a much nicer package than it did previously." 
BSN:
"Are you impressed by the depth of competition this year, particularly among the younger generation?
JW:
"Yes I am. They're not the youngest, Kyle will be in his mid twenties and Ryan not too far away, but it is good to see them doing well. Ryan has had a few years in the Superbike class and a lot was expected of him when he first came in to it. And although some people lost a bit of faith in him he is now proving he can do it."
BSN:
"Are there any younger lads, say under 20, who are the likely stars of the future?
JW:
"Yes, one or two like Max Cook and Storm Stacey are in that area. But the problem is this: there are lots ands lots of young people in the British championship paddock.  Loads of 'em.  Junior Supersport, Junior Superstock, Talent Cup etc.
"The problem with shoving them through into the Superbike classes is that when a bike is barrel-rolled into the gravel, and it happens a lot when you're learning your trade with a 230hp motorbike, inevitably for most riders, than that starts to cost you a hell of a lot of money. 
"The Superbike teams are more disposed to going with somebody who is not necessarily a massive talent going forward but is known quantity and not a crasher n Superbikes.
"It's the safest way to go without taking risks which could cost you a fortune. If you're crashing two bikes a week, and it's just how it works in the learning curve onto a Superbike.
"Older riders keep getting the rides  be cause there are few younger riders coming through who are known quantities.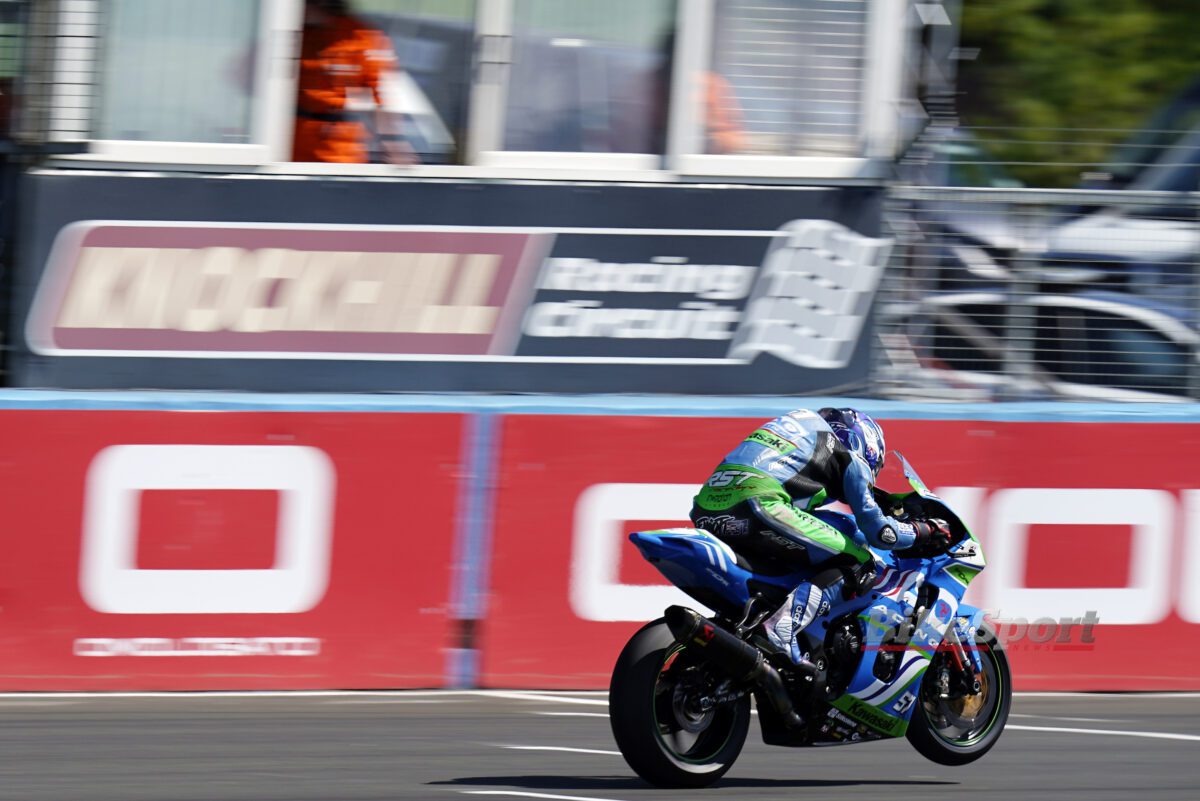 BSN:
"We have talked about cost before and there is plenty of talk in the paddock that two or three sizeable and successful teams may not be competing next year because it is getting too expensive and sponsorship is harder to get."
JW:
"Well, there is no doubt they want to be in there it's just that it is getting more difficult these days to get the support or the amount of money they need to do a proper season. There are, of course, different ways and someone like Hawk Racing - while not doing it on a shoestring - do seem to be doing it for less than some of the other teams and, in my opinion, doing a flipping good job.
"But the BSB organisers have got to be careful because without the Paul Birds or the McAMS' it would start to look less like a professional and successful championship.
"BSB have been really good over the years in making it very competitive altering the rules when they felt fit regardless of what is happening in world championships or any other national championship and they've done a really good job. 
"But it is getting expensive and money is getting tighter by the minute. There is a strong rumour that McAMS probably isn't going to be involved next year and that's only one of the teams but I know there are others struggling to fund the way through BSB.
"But nobody wants the championship to look as if it isn't going so well. I don't know. It is expensive especially if you are falling off a little bit."
BSN:
Paul Bird has been open about sponsors walking after 'performing like crap for two years', then there is talk ROKiT might withdraw Leon Haslam's backing and speculation around Padgetts and Davey Todd...
JW
"Again they're rumours and I wouldn't want to make it any worse. But once one or two of these high profile teams are not in the championship it doesn't have the prestige of a championship."
BSN:
Assuming the likes of Honda and Kawasaki will still be here, perhaps it marks your point over whether a crowd could really tell the difference between a SSTK and SBK bike - after all, Superbikes are just more expensive, more so when you fall off them.
JW:
"Yes they are and I continue to question whether someone sitting at the side of the track  can tell the difference unless they have a stopwatch. If you can't tell the difference, then why not - make it cheaper by having everybody on the less trick machine.
"The problem is that once you start dumbing the Superbikes down there  s a good chance the Superstocks will go quicker and then you've got two classes with the same performance. Does that matter?
BSN
So why not still call them Superbikes with a Superstock spec. I don't think unless the change in spec was revealed they would notice any difference...
JW:
"The problem with having a full Superstock spec is that once a manufacturer brings out a bike that is technically better than everybody else then everybody has to be on that bike.
"You've got it in National Superstock at the minute, everybody winning is on a Honda because because it is by far the best bike in standard Superstock trim, but then you can't upgrade it.
"Production-based racing is very dependent on the stock road bike being fit for purpose. When I was doing British production for Suzuki, you sometimes had the best bike and sometimes you didn't but there was nothing you could do.
"Maybe you could for the next year because production bikes were always changing."