It's perhaps ironic that MotoGP is heading to this weekend's Japanese MotoGP with the wick on the title battle switched up from flickering to blazing following a dramatic Indian round that served to tighten things right up at the top of the standings.
A series that for so long hinged on the sumo-sized battles between Honda, Yamaha and occasionally Suzuki, the annual visit to Suzuka and more recently Motegi wasn't just a home event for Japan's big three, but a grudge match primed to deal a psychological blow to rivals that rippled all the way from rider to CEO.
However, the landscape in MotoGP has shifted significantly over the past couple of seasons with Japan's heavyweights reduced to a duo following Suzuki's exit and the clout of Yamaha and Honda weakened by indifferent form and erroneous developments.
Instead, Europe rules the ring in MotoGP now with Aprilia, KTM and Ducati having won all but four main MotoGP features since the start of the 2022 season.
It is Ducati though that commands this land, even if it seemed prior to last weekend's Indian MotoGP that it was ultimately the one in factory red that was romping clear.
However, split-second moments have a habit on changing the plot in MotoGP and Pecco Bagnaia barrelling out in a hail of gravel stones was exactly that in Buddh, a costly mistake that has turned Jorge Martin's simmering title aspirations to bubbling point just 13 points behind the Italian now.
It's a coming-of-age situation that Martin can take a lot of strength from. This was the rider that around this time last year was feeling scorned and betrayed by Ducati after his tacit promise of a factory Ducati ride alongside Bagnaia was reneged upon when bosses instead elected Enea Bastianini.
Whether Bastianini would have posed a threat to Bagnaia but for the injuries that have plagued his campaign we will never know, but Martin - emboldened by the opportunity to show Ducati bosses what they were missing - has stepped up as he knew he should on the arguably just as capable Pramac Ducati GP23.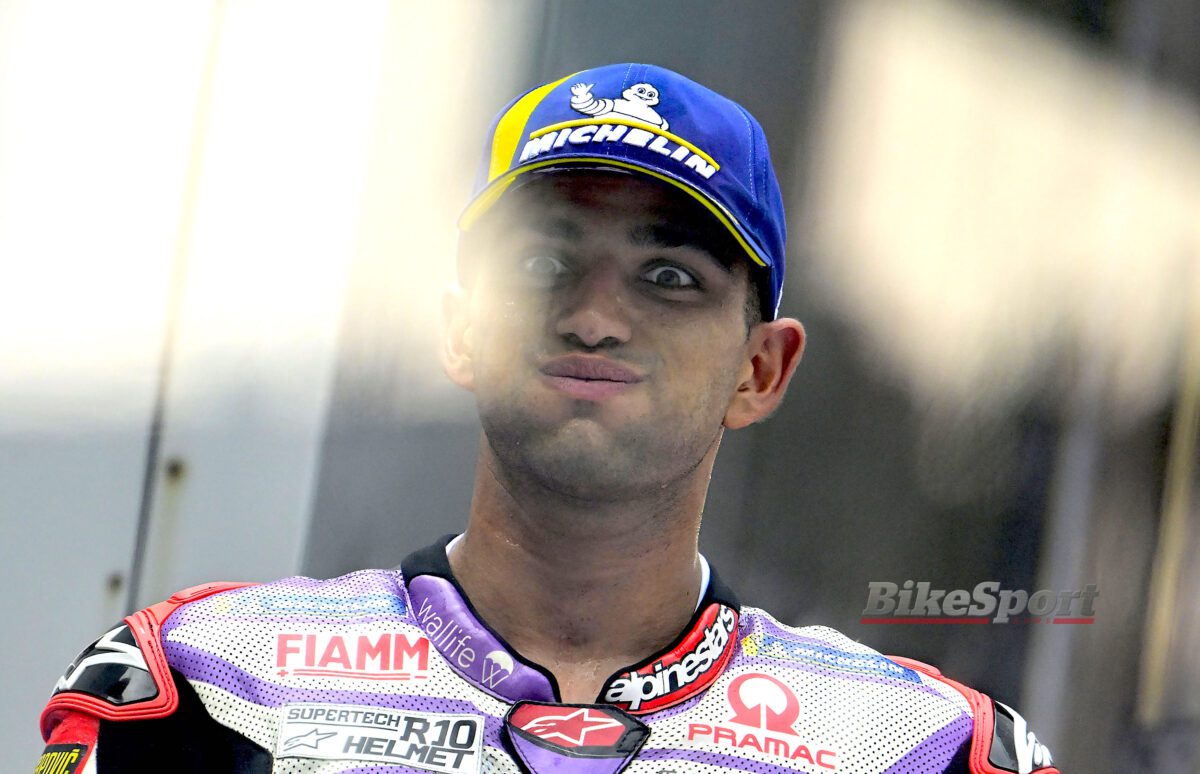 Martin's maturing momentum
It hasn't always been an easy campaign for Martin, whose reputation as a scintillatingly fast rider that could turn it on over a single lap especially yet was too prone to costly errors and race day lulls, hampered his credentials at the start of the year.
However, as the season has matured, so has the Spaniard, Martin noticeably toning down his sharpness on the Ducati both over a single lap and a race distance. It means Martin hasn't been quite as explosive in qualifying - though his stunning record lap in Misano would have suggested otherwise - but he's been putting together more convincing race-long performances as a result.
He's also a man with momentum on his side. After two DNFs in the opening three rounds put him on the back foot, he has proceeded to score in every race - 20 in total - since then, a feat no other rider can claim. For a rider with a reputation to throw it down the road too often, there is no greater confidence boost.
Superb showings at Le Mans, Misano and Buddh have played their part in putting Martin in the title reckoning almost stealthily, the media instead choosing to elevate Marco Bezzecchi to status as Bagnaia's closest rival - even when the points suggested otherwise - most likely on account of their identical nationalities and cosiness with Valentino Rossi.
But if Bezzecchi represents the more romantic contender in a title race he is of course still involved in after Bagnaia's Indian disaster, it is Martin that represents the more convincing candidate.
On the flip side, following India, Martin is now definitively front and centre of the 2023 MotoGP title battle and the harsher spotlight will be a big test to determine how well he handles this pressure. He's coped well so far, but the attention going into these crucial flyaways has never been greater.
Moreover, Bagnaia has a tendency to bounce back to his brutal best immediately after he makes race day mistakes. His crash in Argentina was followed by dominant form in the United States, and while COTA also saw him crash out on Sunday, he was emphatic in Jerez thereafter.
Same goes for Le Mans, Bagnaia proceeding to string together a dominant weekend in Mugello, while he was impressive while injured at Misano just a week after his Catalunya calamity.
That said, Bagnaia has never come under pressure like this himself. The Italian came from a long way back in last year's title race, a bizarre season of two halves for both himself and Fabio Quartararo that had them competing at such disparate trends of form from start to end that they barely came across one another on track.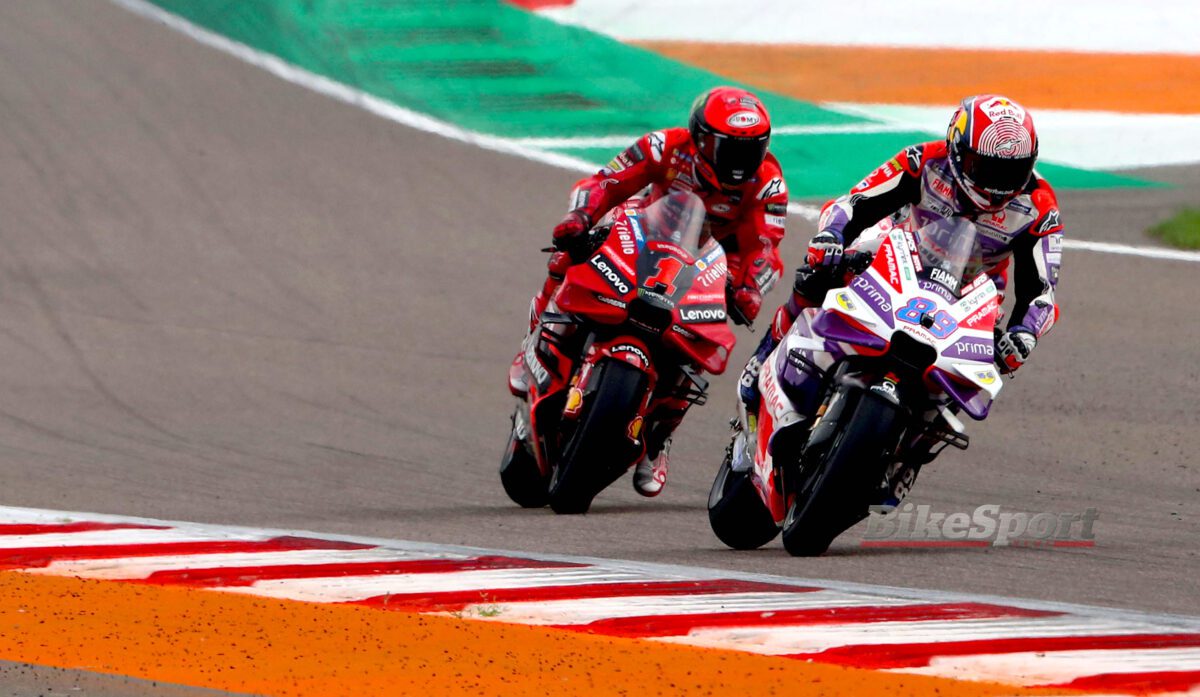 Any Ducati can win, so long as it's the red one
Perhaps more interestingly for MotoGP fans though, there is more love lost between Bagnaia and Martin, partly through nationality, partly through having personal points to prove and partly through only one of them mucking around every week on Vale's ranch.
Which in turn grows the notion of a grudge match - great for those tuning in for the final events, less so for no doubt increasingly nervous Ducati bosses as they refuse to play favouritism on record while secretly hoping it's the red one and not the white and purple bike that wins in the end.
It's good news for MotoGP too in a season that was beginning to stall in excitement with a 'fantasy predictor' that had become jammed on deciding which colour Ducati was going to win.
So while it's unlikely the Japanese bosses that grace the MotoGP paddock once a year won't be stood in the pit box griping in anxiety and tension this time, perhaps they will appreciate the chance to sit back, relax, crack open a Strong Zero and enjoy some European all-comer wrestling on their own turf for once…