Fabio Quartararo has set alarm bells ringing at Yamaha after declaring its much vaunted upgraded engine brought to the Misano MotoGP test had him 'going much slower'.
The Frenchman sampled an early prototype of the engine that Yamaha hopes to use in the M1 for the 2024 MotoGP season during the post-San Marino MotoGP test earlier this week.
Though Yamaha has traditionally preferred to focus on chassis nimbleness over outright power in previous seasons, the step up in engine performance from each of its four manufacturer rivals has left it noticeably lagging, particularly in race conditions.
It's a situation that has prompted Quartararo to become increasingly vocal in petitioning for a more powerful Yamaha M1 to rival Ducati and KTM.
However, after only modest gains in this area for 2023 - seemingly at the behest of the M1's usually reliable single lap pace - Quartararo wasn't impressed by Yamaha's first pitch for 2024 either.
"We tried the new engine, I expected better, but we need to analyse more," he told the MotoGP.com website.
"We were going much slower and the feeling on the bike was not good so we decided to go back to the standard aero. I expected much better, so let's see in the next Test in Valencia."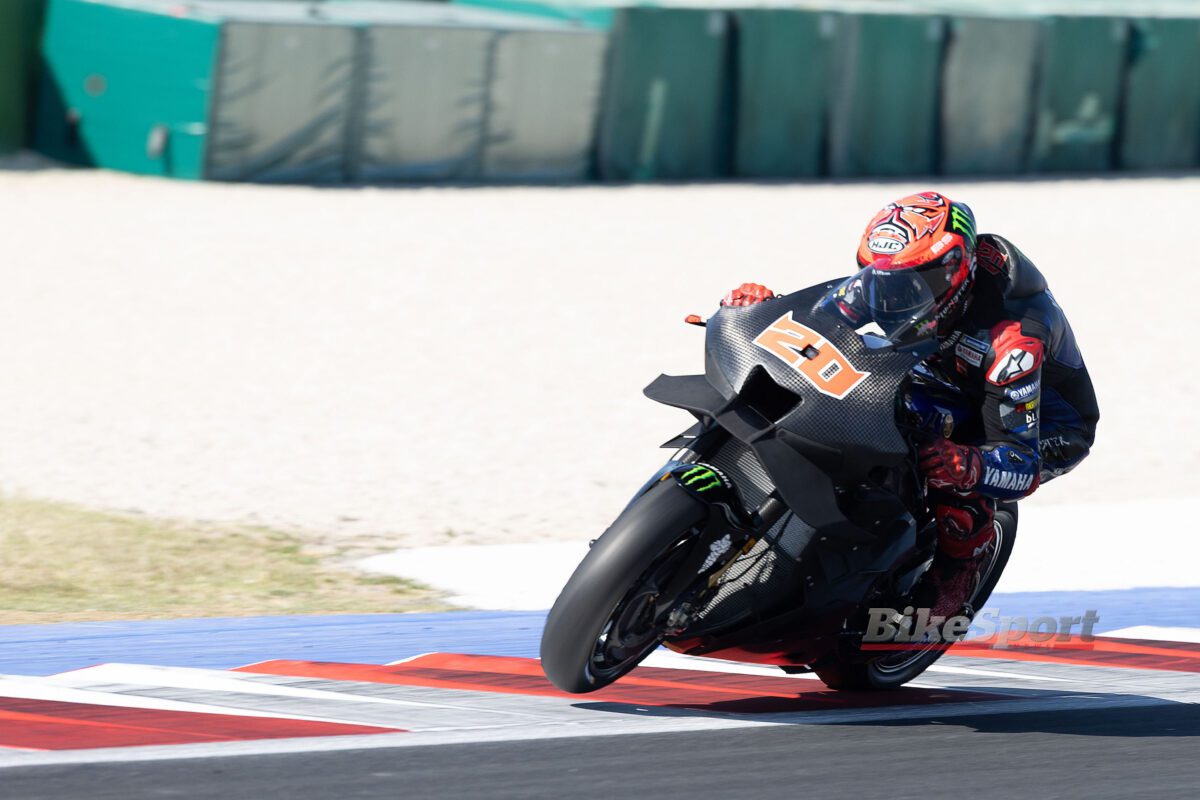 Pressure mounting on Yamaha to hold onto Fabio Quartararo?
While Quartararo's current deal with Yamaha will run through to the end of the 2024 MotoGP season, the manufacturer is under no illusions that it is running out of time to hold onto its talisman beyond that.
Despite his lacklustre results this year, Quartararo retains one of the strongest reputations on the grid and has been praised for extracting more from the Yamaha M1 package than most could, particularly in 2022 as he fought a rear-guard action in the title race against Pecco Bagnaia on the evidently more competitive Ducati.
Perhaps more to the point, while Quartararo is loyal to the manufacturer with which he got his MotoGP break in 2019, his criticisms of the Yamaha package have remained fairly consistent in recent seasons, even as far back as 2020.
Indeed, Quartararo had been open about canvassing other options before penning a fresh deal for 2023 and 2024, albeit only after he was given assurances by Yamaha that improvements were forthcoming.
Instead, Yamaha has slipped further back in the MotoGP hierarchy, so his less than impressed response to the supposed 2024-spec engine should probably be seen as a starting pistol for rival manufacturers to consider approaching him for 2025 and beyond.
Moreover, since this is a rider of Quartararo's profile, there is a good chance talks over an alternative seat for 2025 will begin before this year is even out.
The ball very much in Yamaha's court…