Alex Rins couldn't contain his joy after securing a shock victory in the 2023 MotoGP Grand Prix of The Americas on a weekend that will give a beleaguered Honda renewed hope that it is progressing out of its slump in form.
The Spaniard - something of a specialist at Circuit of The Americas with victories in Moto3, Moto2 and in MotoGP with Suzuki - once more demonstrated his affinity with the Austin venue to prove competitive throughout the weekend.
Breaking through the Ducati stronghold to secure a spot on the front row aboard the LCR Honda, Rins went on to collect his first podium with the manufacturer after a ballsy run to second in the Sprint Race.
However, he'd sensationally go one better in the main feature, Rins picking up the pieces from Pecco Bagnaia's crash out of the lead just as the six-time race winner was beginning to apply pressure on the defending champion.
Admitting to some relief when Bagnaia slid off because he was having to push the limit of the RC213V package to get close to the factory Ducati, Rins was thrilled with the result so early into his Honda tenure.
"I'm so happy for this victory but also for the weekend," he said. "We did a really good weekend since Friday when we went straight into Q2.
"Qualifying in second position, finishing second in the Sprint and now getting the victory. Honestly, Pecco showed us a really strong pace and I was struggling a little bit on the third and fourth sector and sector one and two I was pushing a little bit more on the limit in the chicanes to lose the gap with him."
"After this crash I saw myself on the front and lost a little bit of concentration and for one lap these two guys [Marini and Quartararo] reduced the gap. But then I tried to not make any mistakes and ride on my own like I know."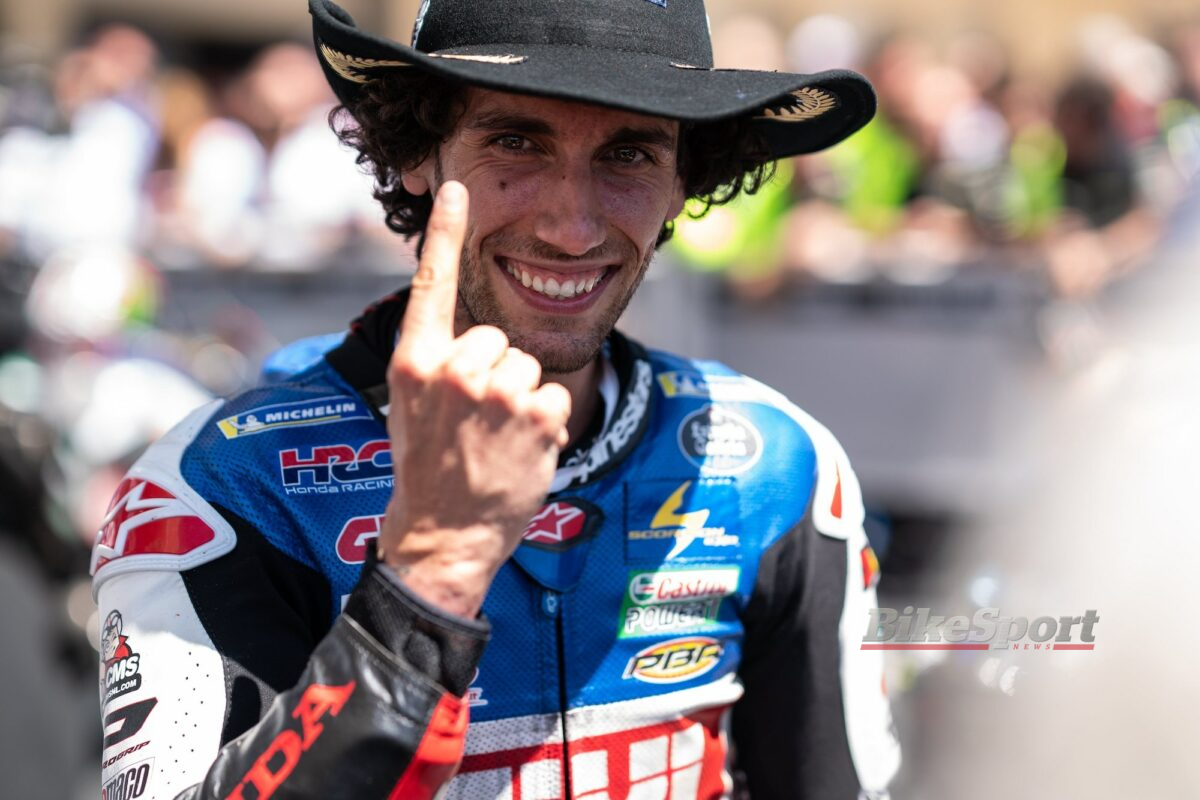 Honda can win MotoGP races without Marquez
Perhaps the only person happier than Rins in Texas this weekend was his LCR team boss Lucio Cecchinello, who was able to bask in the team's first MotoGP win in five years [Argentina 2018 with Cal Crutchlow].
Indeed, while Honda's much publicised difficulties since the start of the 2020 MotoGP season have been well documented, the slump in performance has arguably been felt more keenly at the satellite squad.
However, Rins' win in the United States will go a long way to injecting some hope into Honda's rhetoric, which has recently come across as being resigned to a long recovery process of development, in part motivated by yet more injury woes for Marc Marquez.
Indeed, that five-year timespan is also the last time a rider other than Marquez has topped the MotoGP podium, so Honda will take perhaps greatest comfort from the knowledge that one of its other riders can tame the RC213V into a race-winning package.
Moreover, a surprise though it is, this wasn't a fortuitous win for Rins by any stretch. He was rapid from the word go and while his past record suggests this will always be where his betting odds are strongest, he was the only rider to go wheel-to-wheel with Bagnaia in both races.
It means Rins will likely rise in Honda's estimation too and be more willing to lend an ear to his suggestions. While Rins' tenure at Suzuki was too often overshadowed by crashes, remove those from the equation and he is - arguably - faster than former team-mate and Repsol Honda pick Joan Mir.
It is perhaps ironic that Rins with his patchy finishing record is now enjoying some success on perhaps the most temperamental bike on the grid, but as odd as this couple may be on paper, perhaps opposites really do attract…
CLICK HERE for 2023 MotoGP World Championship standings after Grand Prix of The Americas, Round 3 of 21