Nine-time Grand Prix World Champion Valentino Rossi had every reason to be happy over the weekend as his VR46 Racing squad climbed to the top of the 2023 MotoGP Teams' standings and the man himself collected his first international podium on four wheels at Brands Hatch.
In what is only its second season in the top flight, VR46 Racing is enjoying a remarkable season with its year-old Ducati GP22s with Bezzecchi notching up a second win of the season in the French MotoGP at Le Mans.
Bursting through to the front in a race of high attrition, Bezzecchi's win in the Le Mans feature race proved as dominant as his romping maiden success in Argentina last month.
Though team-mate Luca Marini - who finished a career-best second in the USA - failed to finish in France, it hasn't stopped VR46 Racing ascending to the top of the MotoGP Teams' standings for the first time.
After five rounds, it leads fellow satellite Ducati outfit Prima Pramac Racing by a single point, with KTM Factory Racing not far off in third place, 17 points from the summit. Bezzecchi is also now just a point shy of Pecco Bagnaia's lead in the riders' standings.
CLICK HERE to view the full 2023 MotoGP World Championship standings after Round 5 of 20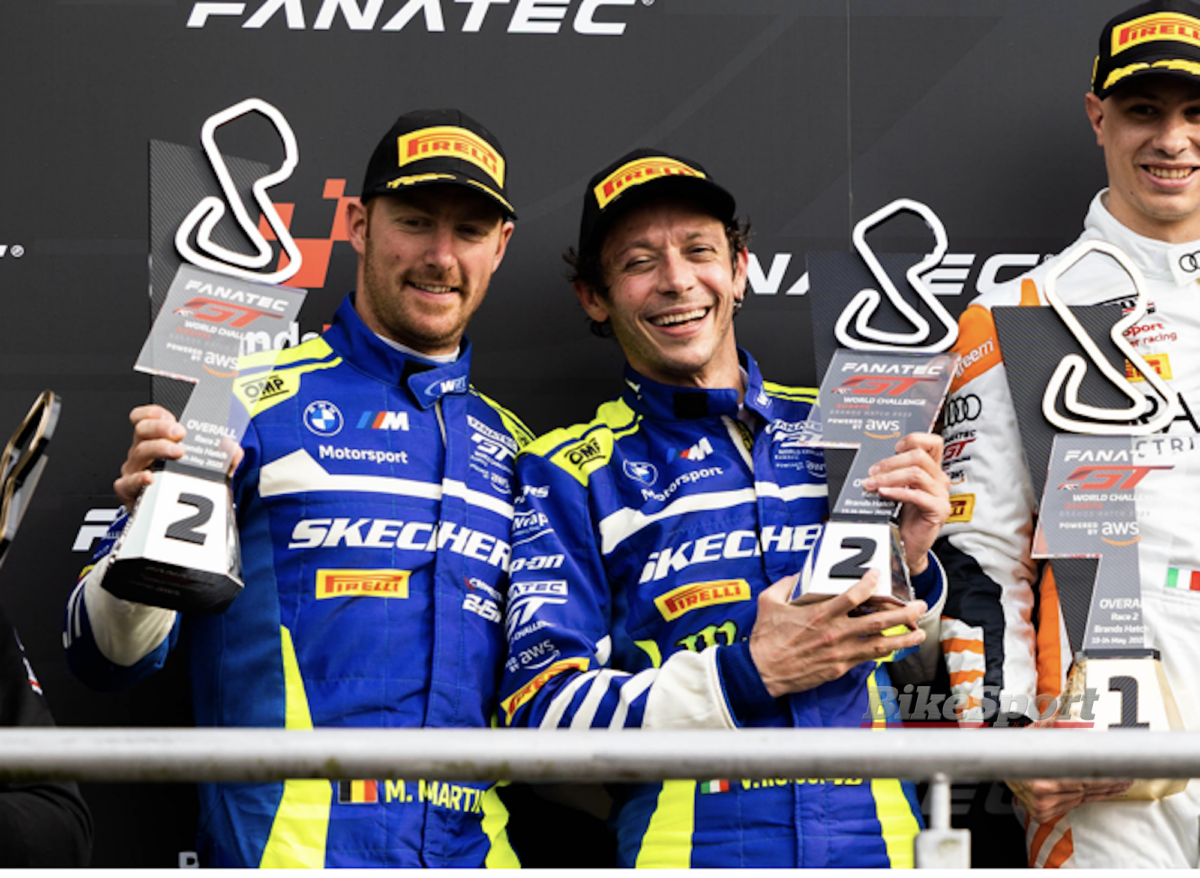 Valentino Rossi steps foot on the podium once again
While his team was notching up new landmarks over in France, just across The English Channel, founder and owner Rossi was enjoying his own success at Brands Hatch.
Competing in the opening round of the GT World Challenge Sprint Cup, Rossi and team-mate Maxime Martin scored a second place finish in the Team WRT BMW M3.
A first podium for Rossi since joining the Belgian WRT in the GT World Challenge - which comprises a Sprint Cup and an Endurance Cup - it marks his first international podium since the 2020 Andalucia MotoGP at Jerez.
"I am so happy about this second position and first podium! We got close some times last year and in Monza at the start of the season, and finally, it came.
"We all did a good job, the team, myself and Maxime, who put a mega lap time in qualifying. The pit stops were perfect, and the result is this podium, which is even more rewarding, as Sprint Cup races are more difficult."