The running order for seeded riders competing in the Supertwins class at the 2023 Isle of Man TT has been revealed, with last year's winner Peter Hickman listed as swapping to Yamaha machinery and organisers announcing a second race.
Changes to the schedule ahead of this year's TT festival - which will run from 29 May to 10 June 2023 - has enabled both the Superstock and Supertwins categories to double up, meaning each of the five categories, including Superbike/Senior TT, Supersport and Sidecars, will have two opportunities for victory.
This spells good news for the likes of Hickman, the current form man at the TT, and his 2022 Supertwins rival Michael Dunlop, who is inching closer to his uncle Joey's all-time record on the Manx island.
Hickman's success in the Supertwins class was one of four wins he'd go on to achieve during the 2022 edition of the iconic road race following a tight battle with rival Michael Dunlop.
Having made an eleventh hour switch to Paton machinery - having originally planned to compete on a new Aprilia RS660 - Hickman engaged in a herculean head-to-head with Dunlop on identical machinery, the pair never separated by more than a few tenths at each split before the latter was forced to stop with technical issues.
For 2023, both riders are back to challenge for the Supertwins crown - one of eight two-wheel prizes up for grabs on The Mountain - but while Dunlop will stick with the Paton, Hickman is set to run the Yamaha R7 under his own Peter Hickman Racing (PHR) banner, the duo getting underway sixth and tenth on the running order respectively.
Michael Dunlop to leapfrog John McGuinness at 2023 TT?
The move to add two more races to the schedule for 2023 puts Dunlop in a strong position to leapfrog John McGuinness on the all-time winners' list.
The Ulsterman won both Supersport races last year to bring his career tally of TT wins to 21, just two adrift of McGuinness and now only five shy of equalling the all-time record held by his uncle, Joey Dunlop.
Moreover, while Dunlop already starts as a keen favourite in the Supersport class, his chances of success in Superbike and Superstock are likely to be boosted by Hawk Racing's move to retire the ageing Suzuki GSX-R1000 in favour of a switch to Honda CBR1000RR-R machinery.
Better still, having been a match for Hickman in terms of pace aboard the Paton last year, Dunlop heads into this year's two Supertwins races as good of a favourite as his main rival.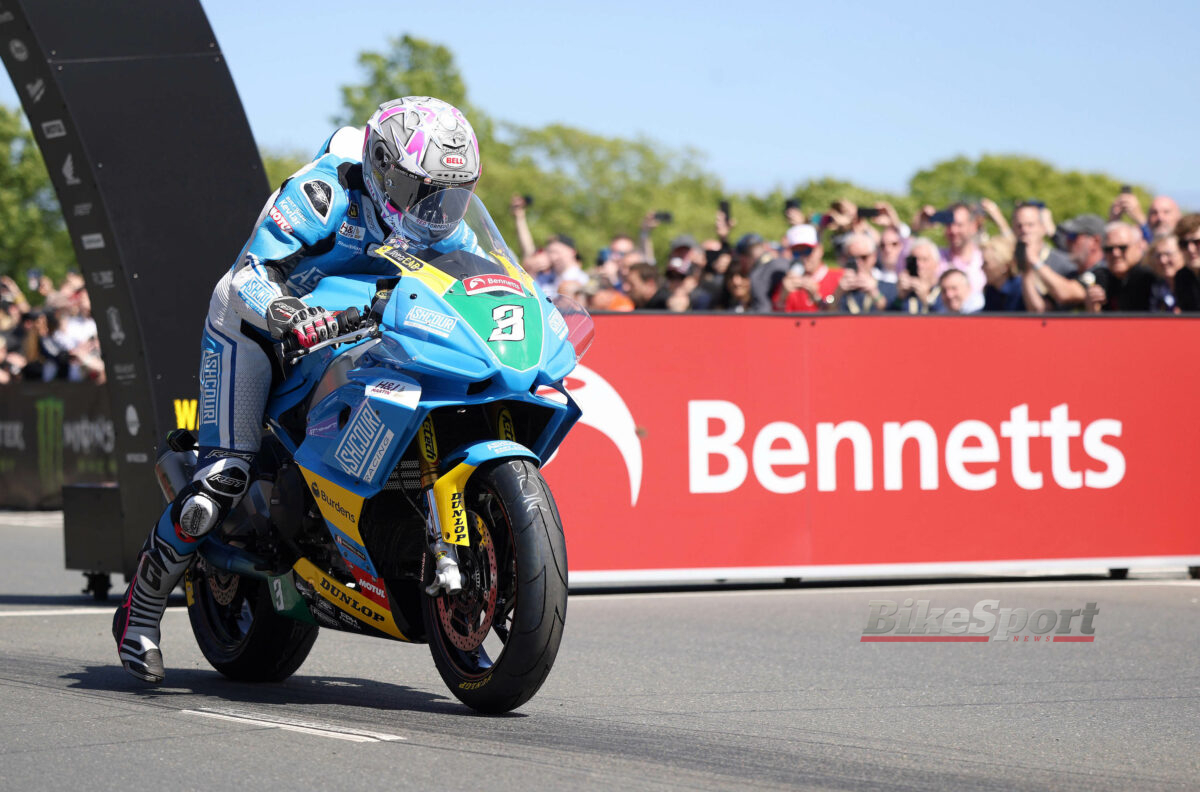 Dominic Herbertson to lead off Supertwins TT field
Meanwhile, Dominic Herbertson will assume the honour of leading the Supertwins field down Bray Hill on his Kawasaki, followed by veteran Michael Rutter, whose Bathams Racing team joins Hickman in making the switch to Yamaha R7 machinery in a two-man squad that includes Craig Neve.
Having come to within 1.2secs of the win in 2019 and been in podium contention last year before technical issues, Jamie Coward is arguably tipped to mount the strongest victory challenge outside of Hickman and Dunlop. He will get underway fourth, just behind fellow Kawasaki rider Paul Jordan.
Having won each of the last four Supertwins/Lightweight TT races, the Paton remains a bike in demand with Dunlop being joined by Pierre-Yves Bian, Stefano Bonetti, Francesco Curinga, Mike Browne and Michael Sweeney as seeds planning to enter the machine.
After scoring a podium with Lee Johnston [pictured above] on its competitive Supertwins TT debut in 2022, the Aprilia RS660 - which is set to benefit from still TBC regulation tweaks - will again be represented in 2023.
Johnston will once again aim for glory on his Ashcourt Racing entry with Michal Dokoupil and Michael Evans also committing to the Italian sportsbike for 2023.
TT organisers have already announced the Top 20 running order for the Superbike TT and Senior TT, with David Johnson leading the riders down Bray Hill
2023 Isle of Man TT - Top 20 Supertwins Starting Order
2023 Isle of Man TT - Top 20 Supertwins Seeds & Start Order
#
Rider
Team
Motorcycle
1
Dominic Herbertson
John M Paterson//CC Engineering
Kawasaki
2
Michael Rutter
Bathams Racing
Yamaha
3
Paul Jordan
PreZ Racing by Prosper
Kawasaki
4
Jamie Coward
KTS Racing powered by Steadplan
Kawasaki
5
Rob Hodson
SMT/KH Commercials
Kawasaki
6
Michael Dunlop
MD Racing
Paton
7
Gary Johnson
RC Express
Kawasaki
8
Pierre-Yves Bian
VAS Engine
Paton
9
Lee Johnston
Ashcourt Racing
Aprilia
10
Peter Hickman
PHR Performance
Yamaha
11
Stefano Bonetti
Team ILR/Frog Racing Developments
Paton
12
Francesco Curinga
Team ILR/Frog Racing Developments
Paton
13
Michal Dokoupil
Rocknet
Aprilia
14
Chris Moore
Silverstar Services/iHeat Racing
Kawasaki
15
James Chawke
Carl Roberts/Emmjess Racing
Kawasaki
16
Mike Browne
BE/RK Racing
Paton
17
Michael Sweeney
Team ILR/Frog Racing Developments
Paton
18
Xavier Denis
performanX Racing Team
Kawasaki
19
Michael Evans
Rea Racing Dyno Centre/M.E Racing
Aprilia
20
Craig Neve
Bathams Racing
Yamaha