As far as sporting challenges go, competing at the Isle of Man TT surely ranks up there as one of the most exerting you could tackle - not just physically, but mentally too.
Just a single tour of the 37-mile Snaefell Mountain Course at eye-watering speeds is enough to blow one's mind, so it's kudos to many of the riders competing in arguably 'world's first extreme sport' that they will attempt to compete in more than one category, not to mention pound the miles during a week of qualifying practice too.
More recently, the top riders - Peter Hickman, Michael Dunlop and Dean Harrison et al. - have scribbled their names down on the entry form for the four solo categories, which until this year meant they would line up for a race-day blast down Bray Hill on six occasions.
This year, however, changes to the schedule have allowed organisers to double up the Superstock and Supertwins classes, meaning there will be eight shots at victory potentially for many riders.
To date, only one rider in the entire history of the TT has attempted eight starts - his name is Michael Russell, and while you may not hear his name mentioned in the same breath as messrs Hickman, Dunlop and McGuinness, unlike them, he has earned his own little corner of TT history by starting all eight races.
Achieved at last year's TT, as you may have worked out, this is down to Russell not only competing in all four solo classes like his contemporaries, but because he is the only one to include a Sidecar programme too.
Now, twelve months later, with the big names now able to attempt eight races on two wheels, Russell will raise the benchmark once more by entering all ten races at this year's TT.
"We are pushing the boundaries this year and giving it a go," he told BSN. "Last year it was amazing to do as well as we did, we started nine and finished eight. If we can go down in the history as the first or only one to try ten, then that'd be fantastic."
A serving member of the Royal Air Force, while Russell isn't a full-time racer, he is putting the lessons learned from 2022 into ensuring he is prepared - mentally and physically - for the toil that the 'Big 10' is set to demand.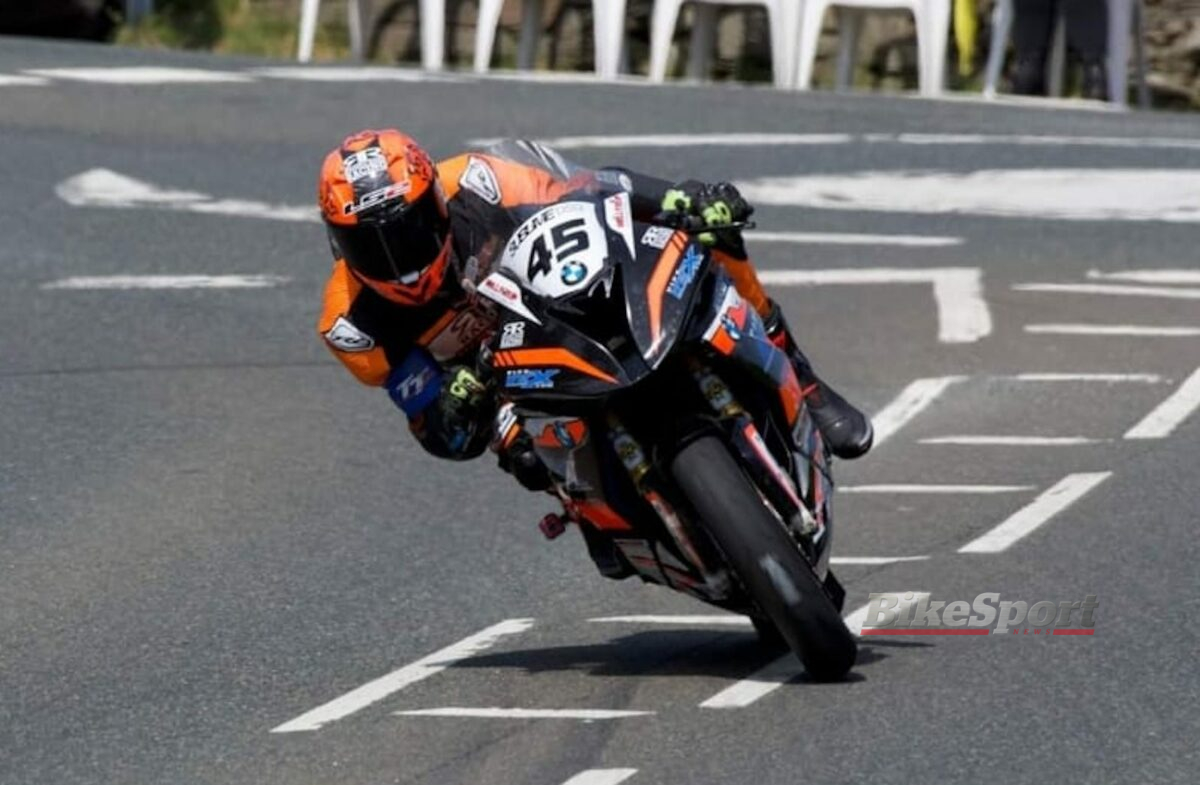 "When they changed the schedule, we thought we'd try it and got the all clear from the ACU to try it. We have a few issues with bikes and dialling in, but we will get there with it.
"[Last year] Physically it was a lot worse than I anticipated," he admits. "When we turned up it would be a case of give it a go, we didn't underestimate the TT demands but it was more physically demanding than I had anticipated.
"We have come into this one in a better frame of mind, not physically, but we have more reserves. Half way through practice week my energy levels were quite depleted and it was hard to maintain with all the mayhem going on."
Teaming up with Manx resident Vicky Cooke in the Sidecar class, Russell will also ride the Pipewerx BMW S 1000 RR in the Superbike and Superstock classes, plus the Fraser Evans Tyre Recycling Kawasaki Z636 in Supersport and Aprilia RS 660 in Supertwins.
"We're better prepared this year, we feel a bit more sorted. This year the schedule benefits myself more mentally, because I'm not doing Superbike after Sidecar, so in my head that's a little easier."