To mark Josh Brookes' return to the Isle of Man TT this year, Bikesportnews will chart the highs, lows, trials and tribulations from the Aussie himself. Check out part four here...
Saturday was a non-race day for me, and I had ideas of going out to watch the Supersport race but we had an issue with the engine in the morning qualifying lap, so I ran out of time and watched it outside John McGuinness's trailer with his Dad instead.
There's a few of us camped near each other – John, Davey, Hicky, the Birchalls – and it's a nice set up and we were up util about 2am last night just catching up after the Superbike race.
I didn't have any strong, fixed opinion on a result as it doesn't really make any difference for me at this stage, but I was happy with a lot of elements from Sunday's Superbike race.
I came home safe – which is the aim every time – and I felt like I was improving in areas, holding the throttle open longer and sweeping through the corners with more momentum.
I felt like I was heading for an improved lap speed, and quicker than qualifying, so I was a little bit underwhelmed with a best lap of 130.7. As a rule of thumb in racing though, if it feels fast, it's not, and if it feels slow it's fast! It's also hard to get out of a BSB mentality where you're aggressive and you're braking late; it's totally different here.
>>> READ: Josh Brookes' 2023 TT Diary Pt.I <<<
It was an enjoyable race though albeit quite lonely. I was anticipating Davey (Todd) coming by me although he caught me quicker than I thought so was obviously riding well and with Pete not far behind him, I knew he'd be next. It can be hard to concentrate on your own ride whilst not spoiling anyone's race, so I did have a bit of rear thinking, rather than forward thinking, at times.
I heard Pete coming through Glen Helen, so pulled to the left heading towards Kate's Cottage and after that, I didn't see anyone else except at the pits. I don't mind that though as that's how a TT race is supposed to be. It's a time trial, so I expected a relatively lonely race and that's the best and safest way to do it.
The first pit stop was a little bit messy, and we lost about 20s as the pit boxes for the front runners were closely grouped. James (Hillier) was just ahead of me in the pit, so my team were ready for me with the tools laid out for the wheel change when he came in. There was little room and he ran over some of the tools and knocked into my mechanic which cost us the time.
>>> READ: Josh Brookes' 2023 TT Diary Pt. II <<<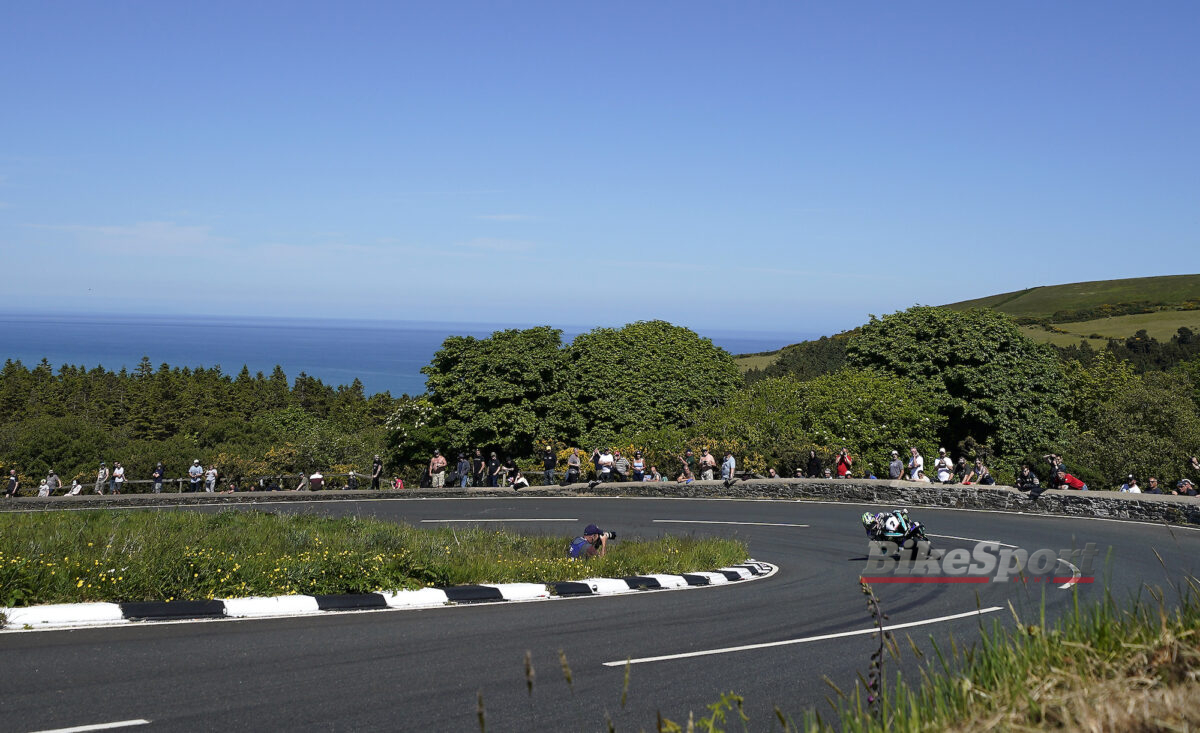 Taking stock ahead of Superstock TT
In the great scheme of things, it doesn't really matter as finishing sixth or seventh won't change the respect or status of the team, but you still want to do your best so I'm not sure why the boxes aren't spread out better. Number 5 could be next to numbers 25 and 35, for example, before number 7.
Anyway, the next one went without hitch and, like I say, the race went really well. I had no moments, and it went as good as it could, apart from the obvious of going quicker, which we're all aspiring to achieve.
My best lap was my last lap, and it could have been quicker as there were yellow flags from Keppel Gate to the Creg, so I slowed down quite a lot through there. I was anticipating what was going to be around the next corner and had slowed right down but there was nothing on the track and no sign of a bike, no crash marks or medics. You slow down though in respect of what might be there.
One thing that did stand out was how the bike felt with a fuel tank of fuel. I was doing two laps at a time in qualifying but now I'm trying to go quicker, the bike's weaving a bit more and more of a handful over the bumps with a full tank. The second lap's a lot better with a lighter fuel load.
>>> READ: Josh Brookes' 2023 TT Diary Pt. III <<<
In qualifying, I wasn't fixed on changing the bike and was developing myself, not the bike – which I still am – and it's only now that I'm at the point where I'm reassessing the bike. Maybe now we need to look at the bike again but any changes we do make though will still be small refinements just to get a bit more confidence.
I've got the Superstock race next and the gaps between the riders should be closer which should be better for me as we'll all be on the same bikes rather than some on a Superbike and some on a Superstock. The bottom line though is that you're still going to need to do 133-134mph laps to win and whilst the racing might be closer, the order might still be the same.
I'm on my spare engine now after issues during Saturday's qualifying lap and whilst we have the cream of the crop when it comes to engines, it doesn't quite feel as strong in terms of performance. The new one feels different though and like I'm missing a bit.
We've two Superstock races though so I'll be looking to go quicker. I know I can still improve and I've higher hopes and there's encouragement to be a bit stronger. The problem is, whilst I can still improve, so can everyone else!