The 2024 WorldSBK Championship calendar has been revealed with one all-new circuit and another little-known venue making up an otherwise familiar schedule.
Once again, the 2024 WorldSBK season will be contested over 12 rounds, beginning in late February at Phillip Island and concluding in Jerez - scene for this weekend's 2023 WorldSBK finale - mid-October.
Despite a couple of notable changes, Donington Park ensures the UK is represented with a round on 12-14 July, while the stalwarts as Assen, Circuit de Barcelona-Catalunya, Misano, Most, Magny-Cours, Aragon and Portimao are also present.
However, next year WorldSBK will shake things up with two brand-new events in Hungary and Italy at the all-new Balaton Park Circuit and Cremona Circuit respectively.
Though still under construction, the Balaton Park Circuit will mark the culmination of a much delayed project that was originally conceived back in 2008 before being scuppered by the global financial crisis.
However, more than 15 years on, plans to build a new state-of-the-art facility close to the shores of Lake Balaton have been revived, with WorldSBK set to be its inaugural international event when it opens next year. 
Taking place on 23-25 August, the Balaton Park Circuit will represent Round 8 of the 2024 WorldSBK season (subject to homologation) and wil mark WorldSBK's first foray to Hungary since a visit to the Hungaroring in 1990.
The series will also visit the Cremona Circuit in northern Italy, a venue so little-known it isn't even used by the domestic CIV Italian Superbike Championship. Though the venue, which is better known for hosting high-profile FIA Karting events on an adjacent circuit, already exists, it too remains subject to homologation since it currently doesn't feature any grandstand facilities.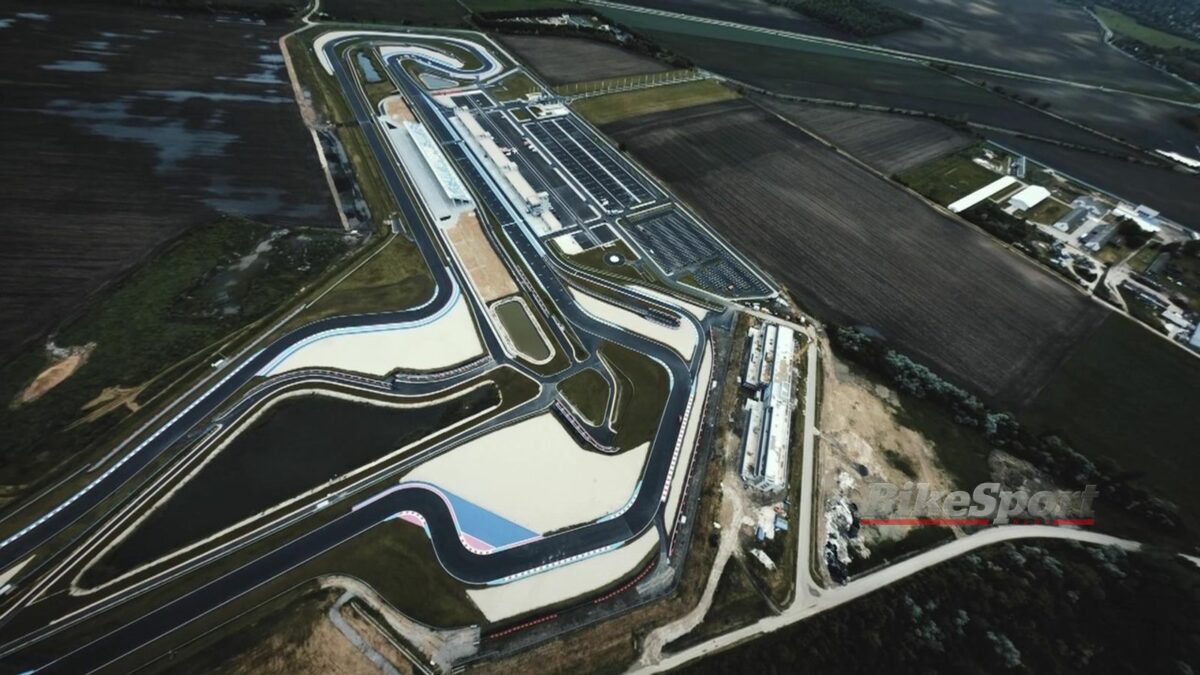 More evenly spread calendar, no long summer hiatus
In another significant development, the 2024 WorldSBK has removed some of the larger breaks between some events in an effort to sustain interest in the series year-round.
It means there is no longer a large gap between the first two events with Barcelona - which has been brought right forward to Round 2 - taking place only three weeks after the Phillip Island opener.
While there remains a break of almost two months between Rounds 3 and 4 at Assen and Misano, the traditional summer hiatus has been wiped out by the decision to move Portimao and place Balaton in August.
2024 WorldSBK World Championship Calendar [Provisional as of Nov.]
Rd.
Date
🌍
Venue
Country
1
23 - 25 February
🇦🇺
Phillip Island Circuit
Australia
2
22 - 24 March
🇪🇦
Circuit de Barcelona-Catalunya
Spain
3
19 - 21 April
🇳🇱
TT Circuit Assen
Netherlands
4
14 - 16 June
🇮🇹
Misano World Circuit
Italy
5
12 - 14 July
🇬🇧
Donington Park
United Kingdom
6
19 - 21 July
🇨🇿
Autodrom Most
Czechia
7
9 - 11 August
🇵🇹
Autodromo Internacionale do Algarve
Portugal
8
23 - 25 August
🇭🇺
Balaton Park Circuit *
Hungary
9
6 - 8 September
🇫🇷
Circuit de Nevers Magny-Cours
France
10
20 - 22 September
🇮🇹
Cremona Circuit
Italy
11
27 - 29 September
🇪🇦
MotorLand Aragon
Spain
12
11 - 13 October
🇪🇦
Circuito de Jerez - Angel Nieto
Spain