They say good things come to those who wait.
Well, these people are evidently not motorsport fans. If you work in motorsport the shedding of blood, sweat, oil, gravel, grazes, determination, tears of woe and tears of joy come as part of the job description. And that's just over one season…
Alas, in a profession where there can only be one winner, the woe can often outweigh the joy, more so when you endeavour a career spanning almost two decades in one paddock putting in the daily grind of improving your physical fitness, lobby reluctant sponsors to part with a bit more cash and endure debriefs well into the early hours just to nibble a few more hundredths per lap that could make the difference between winning and losing.
For Dominique Aegerter, calculating those hours, days, months, years of pain-staking investment for the feel good 'cash back' of a handful of podiums and his one and only Moto2 victory at the Sachsenring might have made the 32-year old question whether such a reward was worth the risks of his annual investments.
But like all racers of World Championship calibre, the belief in one's own ability drowns out those persistent echoes of doubt, or as the man himself describes it, a 'fire in him' that continued to burn brightly during the darkest moments.
"I couldn't get all the pieces to complete the puzzle all these years," he told Bikesportnews in an exclusive interview.
"Something always happened - whether it was the bike, the team, injuries - but I had a lot of fire in me and I felt I could ride at the front of this category. This is why I was riding in Moto2 for so long."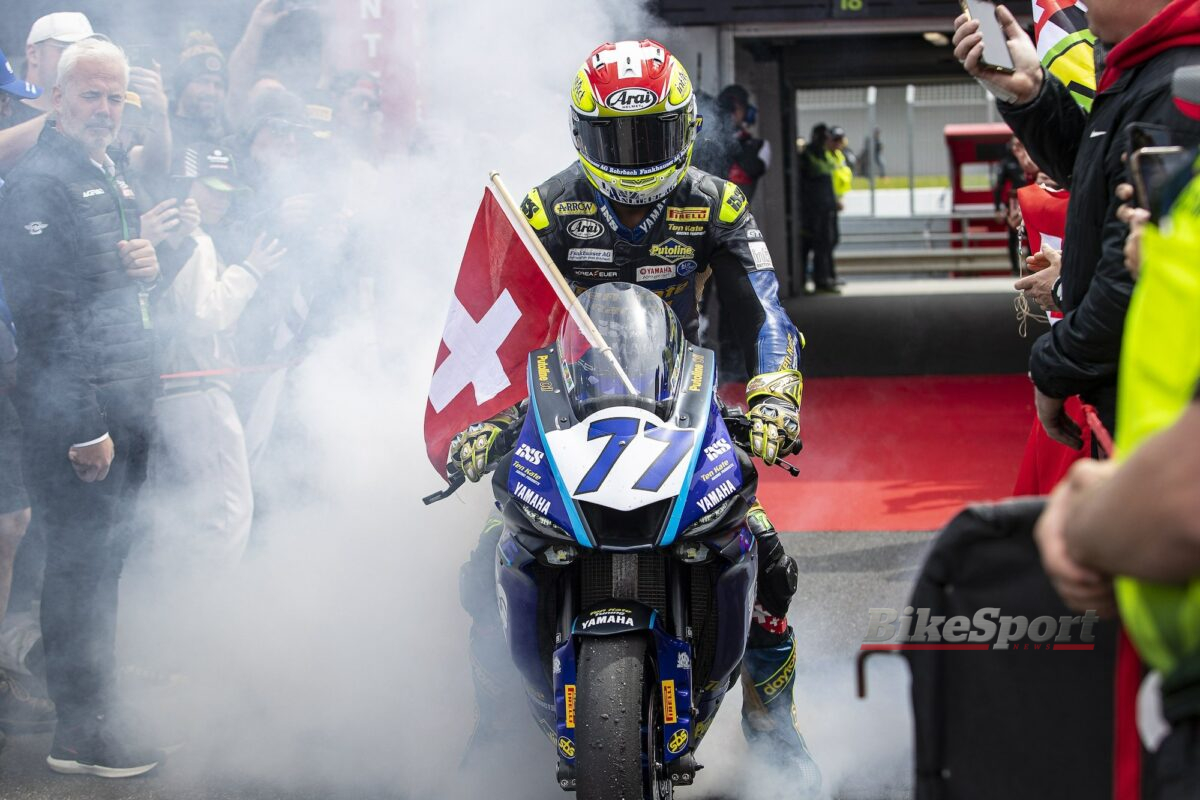 "I needed to find a bigger room for my trophies..."
That's not to say Aegerter's racing record prior to 2020 was shabby, the Swiss rider earning a fine reputation for being quick yet steadfastly durable. In fact, you'd be hard pressed to find a rider with a stronger finishing record than Aegerter, who - in a mammoth 246 GP starts over 17 seasons - failed to finish just 14 of them and only half of those were down to crashing.
The pertinent line above, however, is 'prior to 2020' since it marks the year Aegerter's racing career, his fortunes and his reputation hit the jackpot with a shrewd decision to accept a ride in the fledgling MotoE World Cup before then doubling down by - unconventionally - dovetailing it with a ride in the WorldSSP Championship in 2021.
You could say he won the lottery, except in this case, these riches were rewards he'd unlocked as though he'd earned the right to view the winning numbers before they were drawn or cracked the magic code for success.
In three seasons of MotoE, Aegerter scored five wins, 18 podiums (in 26 starts) and the overall title in 2022, while in WorldSSP his record is even more extraordinary with two dominant titles and 27 victories in 44 races.
"I needed to find a big room for all my trophies," he laughs. "I think I surprised some people but maybe I surprised myself as well."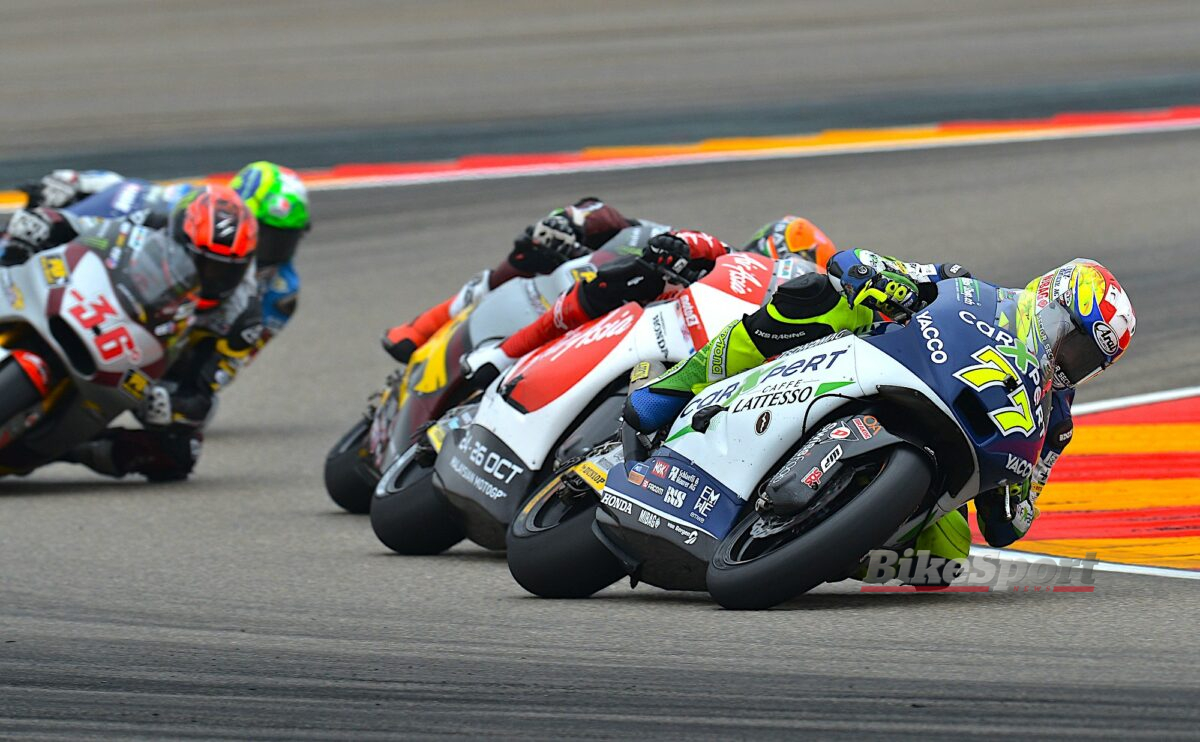 They are remarkable statistics in isolation, yet become even more extraordinary when you consider the story behind them.
After all, very few riders will ever walk into their home to find 60 podium trophies scattered around. Fewer will do so by accumulating 53 of those over just three seasons. And Aegerter is surely the only one to have done this after 15 seasons of hard graft.
Indeed, fire or not, Aegerter was well aware many had written off him off mid-way through the 2010s as a miserable cocktail of injuries, an erroneous chassis swap and even the untimely passing of a key backer soured the taste of sweet success just as Aegerter was peaking at Moto2 level.
"The 2014 Moto2 season was my best - five podiums, one win and fifth in the championship," Aegerter, whose 2006 125GP debut had him lining up alongside fellow upstarts like Pol Espargaro and Bradley Smith, continues.
"Then we changed the chassis, I was taken out when I was leading in Misano [Ed: taken out by Alex Rins], then I was injured at Aragon the following round. We also had bad luck with a team when the owner died, so we had to find a sponsor.
"It meant I could not show the potential I had in 2014, but it's why I kept riding so long in Moto2."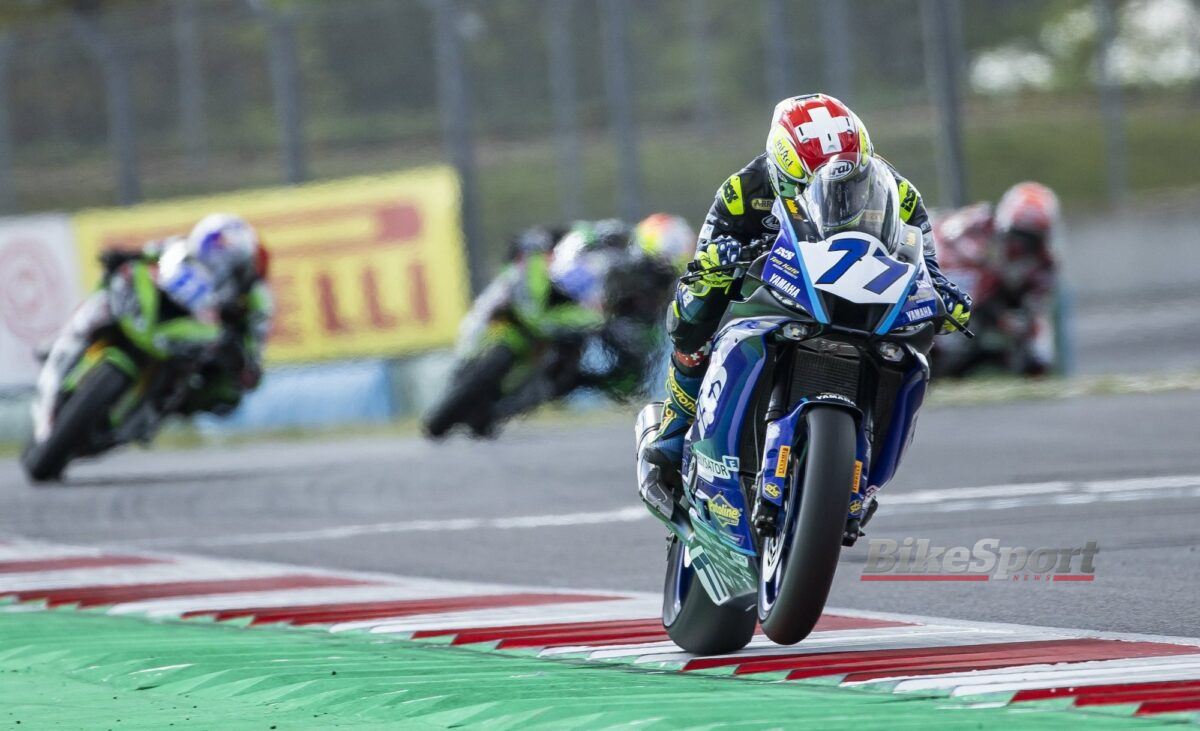 Dominique Aegerter - the Swiss they all missed
Three titles in two seasons - plus a MotoGP test with Suzuki - later, Aegerter admits to basking in a sense of satisfaction for proving doubters wrong.
"I was always dreaming about MotoGP, it was always one of the goals I'd mention speaking to journalists over the years, but when I told them MotoGP was my dream, they would always laugh or smile thinking it would never happen."
In fact, in a sport as ruthlessly youth-orientated as motorcycle racing, even maintaining a 15-year plus career at international level is an achievement in itself, more so when you have to work harder in other areas to supplement irritating incidental factors you can't change - such as the nation you represent - to secure a ride.
"Yes, I think you can see this very clearly," Aegerter - who was born in Rohrbach in northern Switzerland - says when asked whether he felt being Swiss put him at a disadvantage compared with myriad Spanish and Italian rivals.
"Many times in my career, I have struggled more than other riders because my performance compared to other riders was much better but they had the chance to step up to the next category, but with me they only ask for money if I want to ride. It was crazy, I had to pay for a ride, which was not easy."
It's a view Aegerter - who proudly and prominently brandishes the Swiss cross flag on his helmet - griped with publicly in 2021 upon discovering the doors he was knocking on in the wake of his dominant ten race-winning WorldSSP title campaign remained firmly shut.
"I am happy and lucky to get to WorldSBK, because even after the great season in 2021, there were no possibilities. Other riders were able to jump up, yet I was the champion and had to stay another year."
Consigned to another season in WorldSSP, with such a comprehensive run of form to his credit, Aegerter could have easily allowed the festering injustice of missing out play on his mind into 2022.
And yet, despite unintentionally creating such an impressive precedent to live up to, Aegerter rose to his own challenge by claiming 17 victories on the Ten Kate Yamaha, among them a run of nine in succession. He admits the rejections spurred him onto reaching a level even WorldSBK teams couldn't ignore.
"It was my goal and also motivation, to show everyone that I am a fast rider and that I deserve a place in WorldSBK with a good team without bringing a lot of money.
"Even then, it was quite late last year to finally get a deal, but now I am super happy that Yamaha Europe supports me with a good bike and good team."
Better still, Aegerter's 2022 racing campaign would prove a double celebration when - having finished third in 2020 and second (controversially) in 2021 - he finally went one better to clinch the MotoE World Cup too.
While the electric series - with its eerie whizzing soundtrack, short races and haphazard scheduling - has had to work hard to prove its Grand Prix calibre alongside the MotoGP, Moto2 and Moto3 championships with which it shares billing, few can deny the elbows out, frantic sprint-style racing lacks competitiveness.
In short, the antithesis traits of MotoE don't in any way diminish the accomplishment of winning its title, even before you factor in the level of consistency required in such a short season and - in Aegerter's particular case - spending his season frequently jumping from one motorcycle to another.
"I was happy with myself. To ride in two different categories was a lot of effort and work, because you have two teams, you need to figure out how to manage this with all the sponsors.
"Then there is all the travel - sometimes you have four races in a row, so you need to recover and prepare for the next race so that when you jump on the bike you can be super fast and be consistent."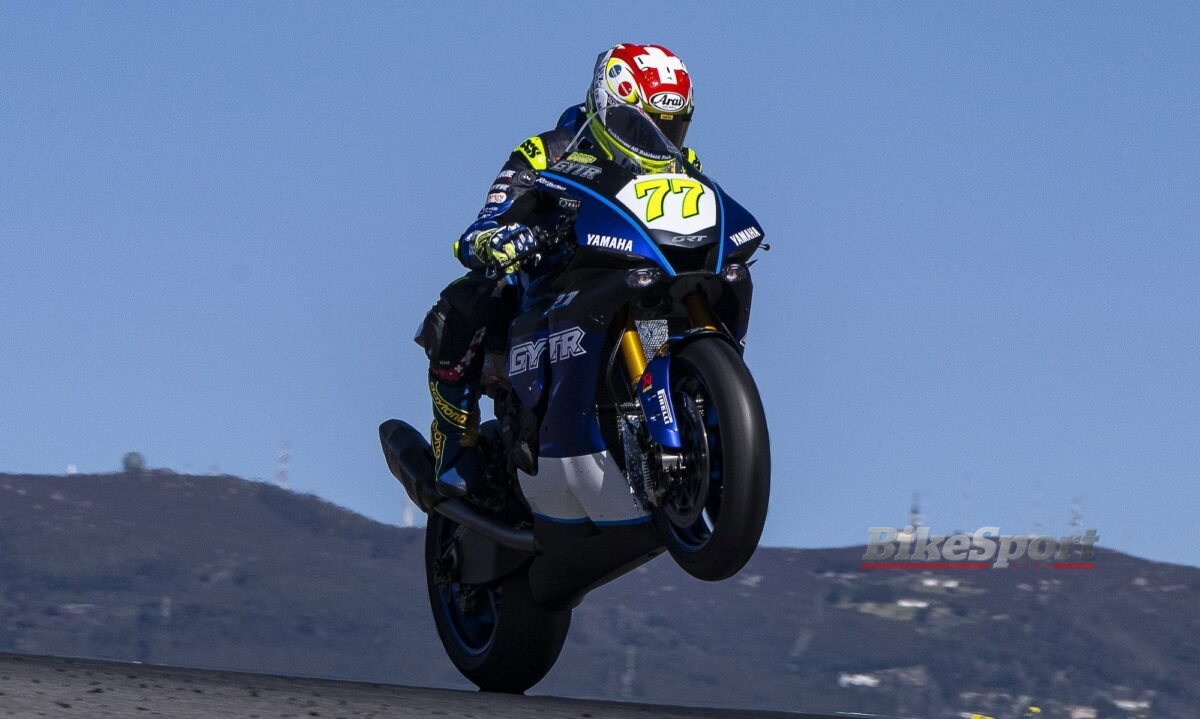 Why long road to success might have only just begun
Today Aegerter finds himself competing in the WorldSBK Championship with the semi-works GYTR GTR Yamaha team. It marks a new career peak that - perhaps ironically given the 17 year commitment he gave in order to reach his current position - means Aegerter has bid farewell to the Grand Prix paddock.
Not that he is missing it, Aegerter quickly finding his feet amid arguably the highest quality WorldSBK rider line-up in well over a decade.
While untimely rain and the nasty shock of having team-mate Remy Gardner skittle him out of a race while running strongly bely the results on paper, a front row start on his debut at Phillip Island and top five pace throughout the weekend speaks volumes about his potential at this lofty level.
"It's a new experience, a new bike, new team, so it wasn't easy to set my goals but a big highlight was the front row start in Australia. I was a bit unlucky in the Superpole Race but I think we are in the mix and we are close to the top.
"We didn't test that much, only six days before the first weekend, so this bike needs other developments but we are not far away [from the top]. I feel good on the bike, every time I get on the bike I feel more comfortable."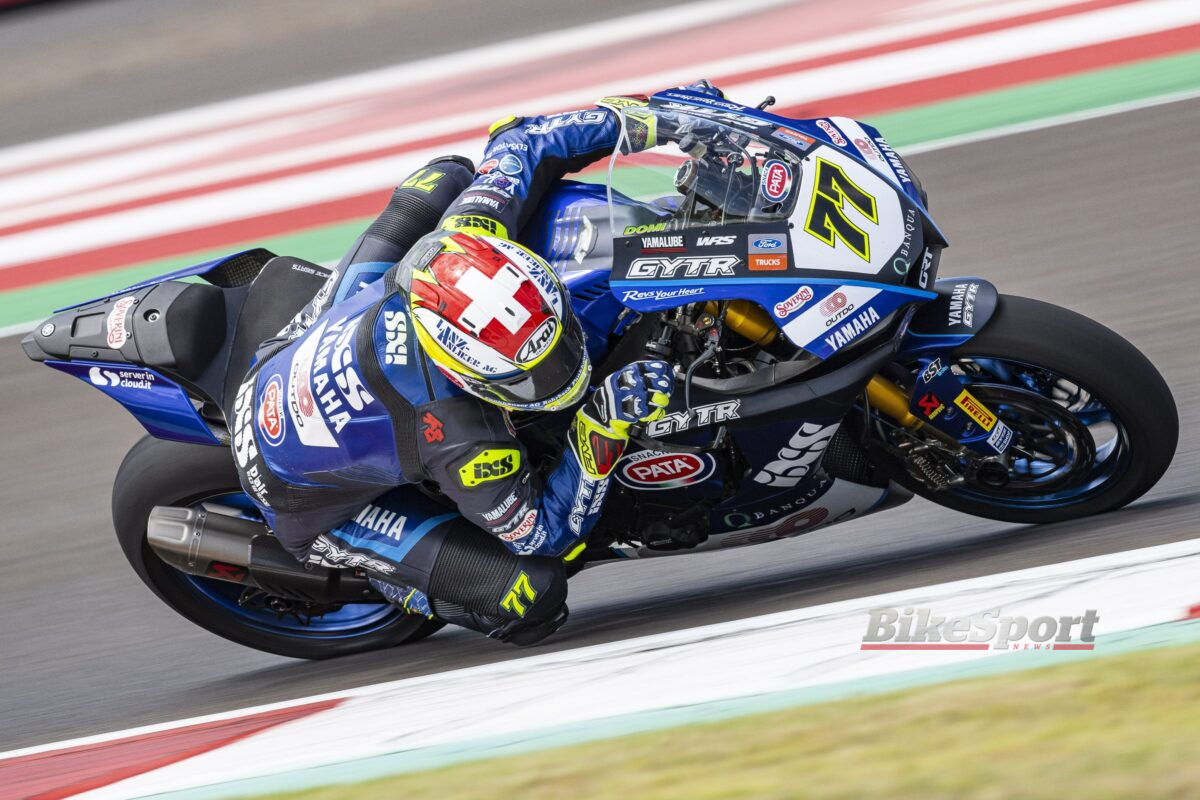 Dazzling debut in a shimmering WorldSBK line-up
Indeed, Aegerter is keeping his expectations modest this season, targeting regular top tens and top independent status. It's a symptom of recognising the strength of the riders around him and an acceptance that it is unlikely he'd ever experience the same steamrolling impact he enjoyed in WorldSSP.
"I know that all the wins I had last year won't be easy to get again, or to repeat, but also the category WorldSBK is very high quality riders and fast riders, so it is not easy to win a race.
"The level of the riders - let's say, the top 12 or 15 - is high quality, they are coming from MotoGP, Moto2, Superbikes or other categories. I am 32 but I am a rookie in this category and I need to learn a lot of things."
While using the term 'journeyman' - someone considered worthy or competent in one's field - in motorsport is somewhat passively mis-used to describe those who have been around for a long time without sustained success, it could have well described Aegerter until a few short years ago.
But while most journeymen in motorsport are men (and women) enduring long journeys towards retirement, Aegerter has bucked the trend by gathering a momentum that shows no signs of ceasing.
Even after this long slog, Aegerter is aware he must perform in order to hold onto the seat he fought for.
"I am there but if I don't show great results then I will be out after one year. I have time from Yamaha but if I don't show progression, I will be out. This is the pressure that comes with it.
"I will aim to finish in the top ten but I'd like to be the best rookie rider, independent rider, the best Yamaha rider when I can do that."
"So I have my own goals - but if I don't achieve them, it doesn't matter where the others are."
Viewed the other way, however, there is still plenty of room to manoeuvre for Aegerter going forward, with prized full-works rides up for grabs in WorldSBK should he perform.
So while someone may have indeed opined that 'good things do come to those who wait', for Aegerter, not only has he not been 'waiting around' for his good things to come, it is very likely that his best is in fact yet to come…