Tom Booth-Amos will contest a full WorldSSP Championship season in 2024 after securing a seat alongside Ondrej Vostatek at PTR Triumph Racing.
The Briton steps up to the factory-backed outfit after clinching honours in the WorldSSP Challenge with Motozoo AIR Kawasaki, which he dovetailed alongside commitments in the BritishSSP Championship on the Gearlink Kawasaki.
Following a stint in the Moto3 World Championship, Booth-Amos has enjoyed a steady rise through the production-based ranks, scoring a best finish of sixth place on home soil at Donington Park en route to his Challenge title this season.
"I can't thank Simon and Triumph enough for bringing me into the team for next year; I've been working hard for this kind of opportunity in my career for a long time, and we know PTR Triumph Racing has a strong package to offer," Booth-Amos said.
"After the year I've had, I think this is the perfect way to move into the future and it's exciting to be working with a British manufacturer with a British team.
"Hopefully we'll be able to get out soon and try the new bike - I'm really looking forward to next season and seeing what we can do together."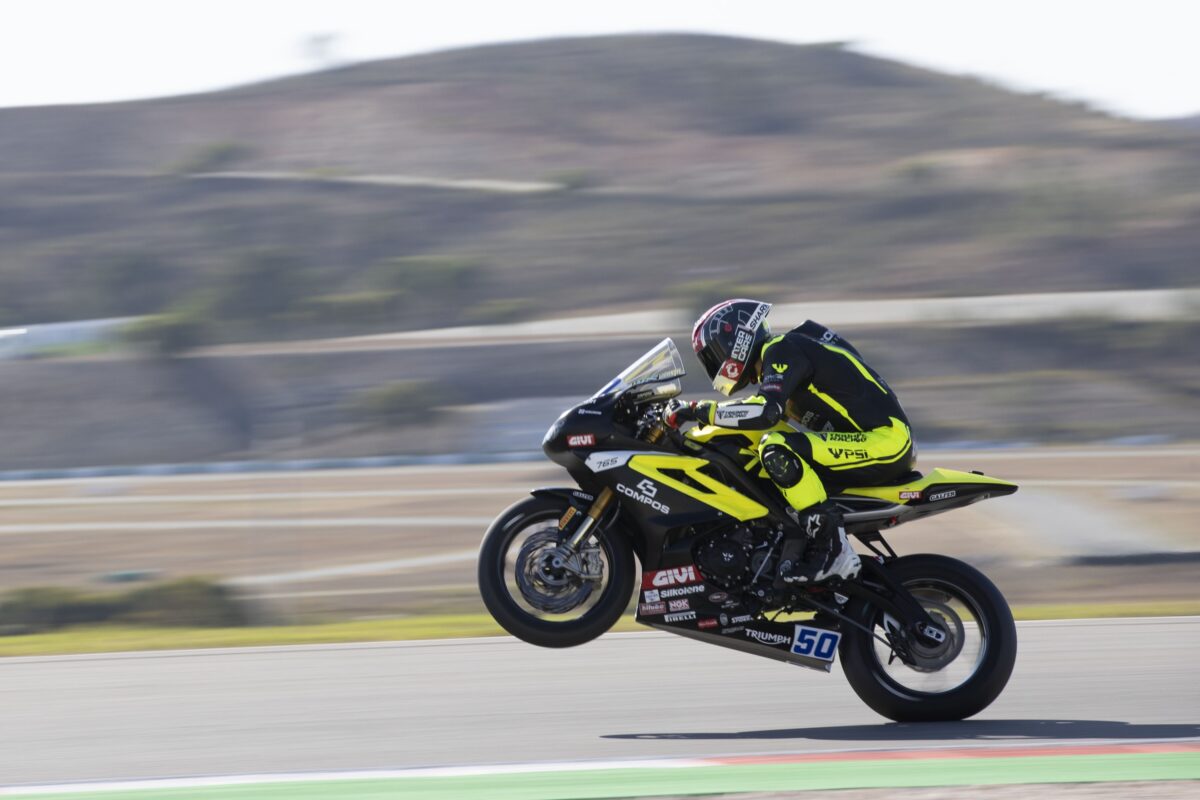 Ondrej Vostatek completes PTR Triumph line-up
The 2021 WorldSSP 300 runner-up will be paired with Czech rider Vostatek, who also lands a full-season deal with PTR having impressed the team upon taking over from Harry Truelove mid-way through 2023.
"It was a great opportunity to race with PTR Triumph Racing last year, and we made great progress. For the first two races I found it quite hard, but I started to work with my mind and tried adapting my riding style, listening to everyone around me, and I was able to take my first points.
"I improved in every race so far, so this gives me a lot of motivation to keep working on myself, improving the riding on the bike and I believe we can achieve good things next year. I really see a big potential in the bike, not just for a top 10 but to win a World Championship.
"I think everyone in Triumph and the team wants to be on the top step and I will do everything I can to help them achieve it. With PTR Triumph Racing we already have some good memories in this short time. I like those guys, they are amazing, they are working really hard and I'm really looking forward to 2024.
"My objective is to be in the top 10 in every race, but of course we want to push further than that to be the best we can."
Team Manager Simon Buckmaster added: "We are really pleased to announce our PTR Triumph Racing line-up for next season. Ondrej Vostatek completed a number of races with us towards the end of last year, and we saw a fantastic progression with him.
"I'm really confident that the work we've done with him so far is better than any testing we could have done to put ourselves in a really good position for the 2024 season.
"Ondrej is a great guy to work with; he's just 19 years old and we're really looking forward to seeing him progress further. We're very optimistic of a good season for him. We're also excited to sign Tom Booth-Amos.
"We've been watching him all year, and he's a quiet guy until you get to talk to him; he's so focused and so concentrated on doing his best to be able to challenge for a win, and that's what we want as a team.
"Winning is our goal too and it's what our bike is capable of. It's a really strong line-up for next season, and we're really happy to be working with Triumph Racing on their whole racing programme from the British Championship, to the TT and so on.
"As PTR Racing, it's an honour to be working with Triumph and we're looking forward to going racing next year."