The fabled 2024 MotoGP silly season kicked up another gear in the run up to the British MotoGP with confirmation that Alex Rins will depart Honda after just a single season in favour of a move to the factory Monster Energy Yamaha Racing team.
His move, much mooted over the summer break, adds another twist to an already meandering story over next year's line-up, one that could look very different to the current line-up.
One of the riders in the thick of the option pool is Jake Dixon, who is bidding to return the Union Jack to the MotoGP class on the back of his race-winning campaign in the Moto2 class. The Kent rider is reportedly in the frame at Gresini Ducati or even with a potential all-new KTM entry run by Ajo Motorsport.
In short, now seems like a good time to see who is in, who is out and who is shaking it all about…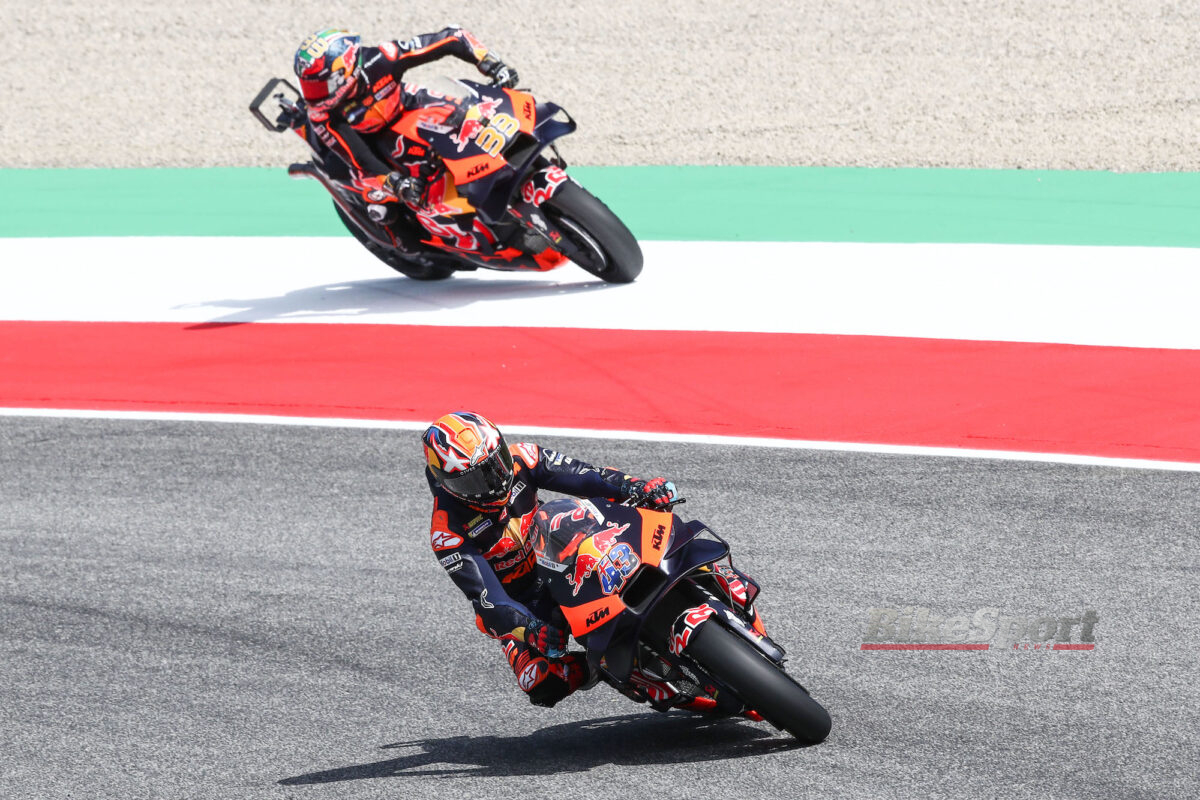 2024 MotoGP Rider Line-Up - Confirmed
Strictly speaking, most of the riders on the 2023 MotoGP grid have contracts that stretch until the end of the 2024 season but, as ever, private clauses and conditions muddy the validity of these claims.
In reality, many riders will have a so-called '1+1' contract of one guaranteed season and another activated should performance clauses be met. Or, put another way, there is negotiating room for either a team to drop a rider or for a rider to leave a team, as evidenced by Rins' new pastures for next year.
But we do have some cast-iron deals in the book for 2024. As mentioned, ALEX RINS will switch to YAMAHA, in doing so completing its rider line-up alongside 2021 MotoGP World Champion FABIO QUARTARARO
Over at the factory DUCATI LENOVO TEAM, PECCO BAGNAIA won't be going anywhere, while ENEA BASTIANINI is nailed on too, which is fortunate for him as he battles back to the level he showed prior to the injury he sustained at the 2023 opener in Portugal.
KTM FACTORY RACING will also go unchanged into 2024 with BRAD BINDER staying loyal for a fifth season, while JACK MILLER is staying put despite the speculation around the Austrian marque's stable generally.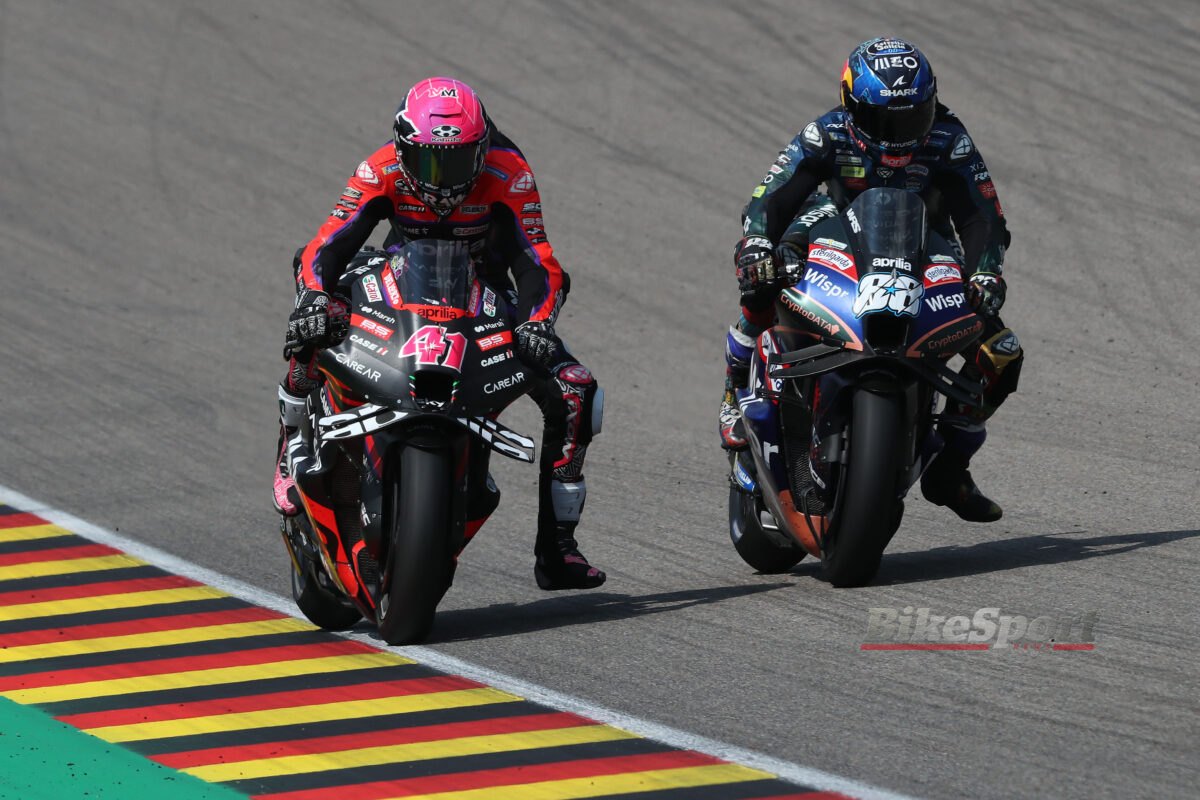 2024 MotoGP Rider Line-Up - Confirmed(ish)
Despite some interest from Yamaha, JORGE MARTIN is now almost certain to stay with PRAMAC DUCATI, with the same going for stablemates ALEX MARQUEZ at GRESINI RACING and LUCA MARINI at VR46 RACING.
APRILIA RACING has indicated it has no plans to mess with its current line-up of ALEIX ESPARGARO and MAVERICK VINALES, while fellow RS-GP rider MIGUEL OLIVEIRA will likely stay with RNF RACING.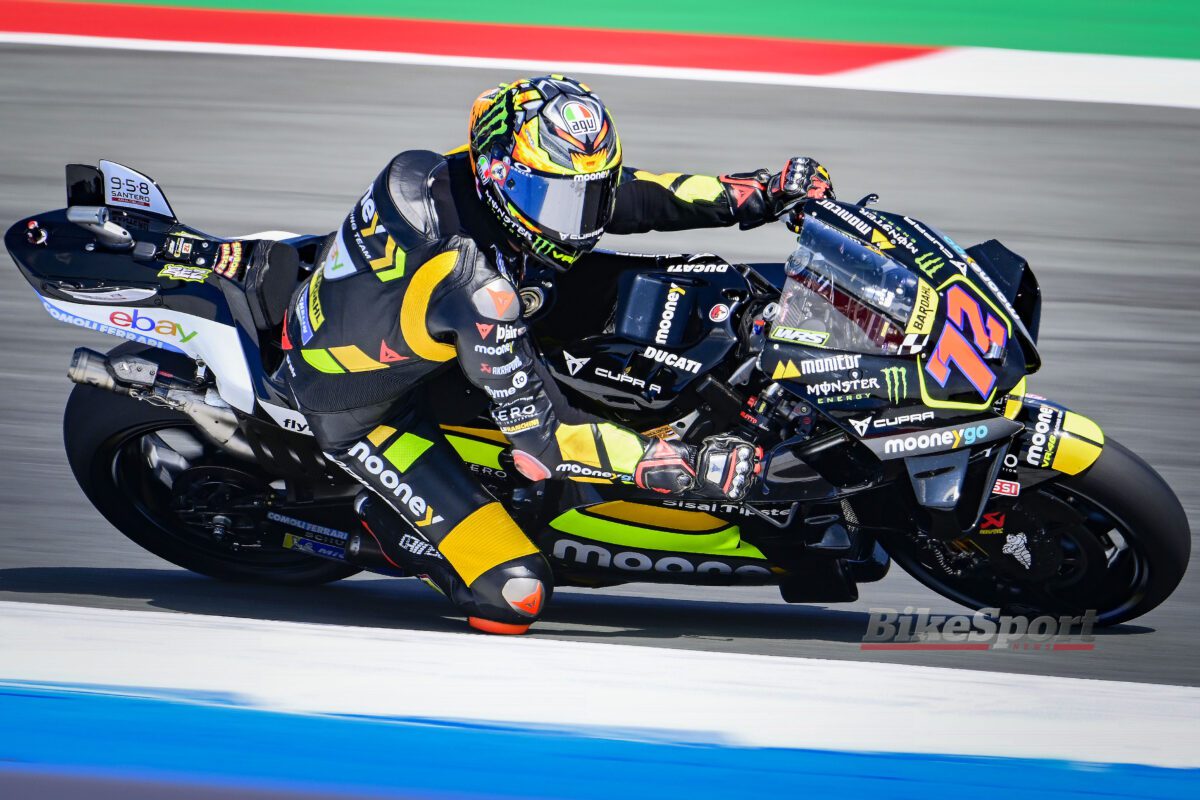 2024 MotoGP Rider Line-Up - Rumours
To say the situation down on the grid right now is complex and evolving would be something of an understatement… but let's give it a crack anyway!
Let's start with Ducati. MARCO BEZZECCHI will be staying with the Italian manufacturer for certain, but it remains to be seen whether he will remain with VR46 RACING or be promoted to the PRAMAC RACING team.
While Bezzecchi has indicated he wants to stay in mentor Valentino Rossi's team, he wants a Ducati GP24 even more so it will come down to whether the firm is willing to split its on-spec bikes to two different teams. If it won't, Bezzecchi will have to move to Pramac if he wants that factory-supplied bike.
Should that happens, it spells bad news for JOHANN ZARCO, a scenario he seems tuned to following rumours over weekend that he is courting an alternative deal for 2024. He wants to stay at Ducati, but if he does elect for a change, he will be off to HONDA.
If Bezzecchi does indeed shift to Pramac, it will leave a nice open berth in the VR46 Ducati team that seems ideal for Yamaha exile FRANCO MORBIDELLI. The Italian was Rossi's VR46 Academy trailblazer, becoming the development programme's first World Champion in Moto2 in 2017, as well as its first MotoGP race winner in 2020.
While it is all-but-certain Fabio di Giannantonio will be out of the GRESINI RACING team for 2024, there is a long list of potential candidates to replace him.
As it stands, the team seems to be waiting on other pieces of the puzzle to fall into place, specifically the availability of MORBIDELLI. If he doesn't move to VR46 Racing, Gresini would be in pole position to sign him.
Alternatively, Gresini has been in negotiation with TONY ARBOLINO for some time and he fits the brief for promoting young Italian talent, though momentum behind a deal seems to have waned recently. JAKE DIXON is also understood to be in contention too.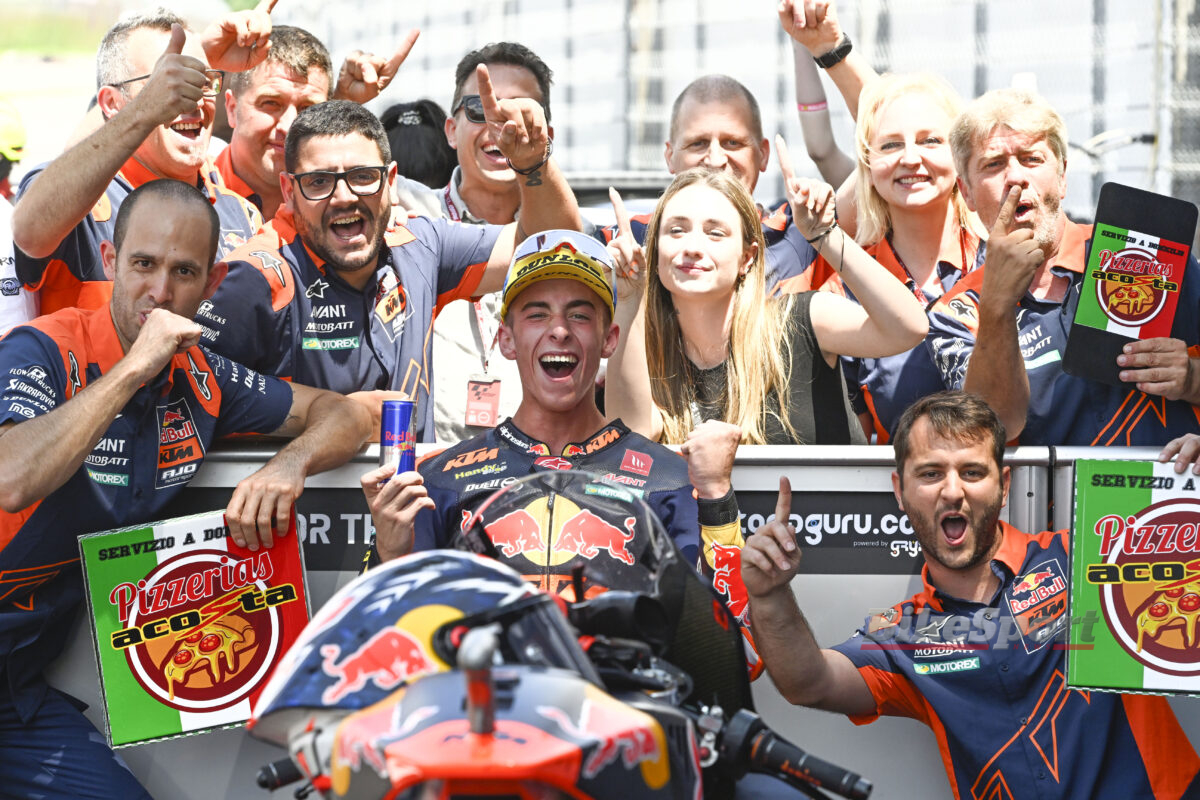 Speaking of which, KTM is still yet to determine how it will fit 5 riders into 4 having agreed to give PEDRO ACOSTA the MotoGP promotion he demanded for 2024.
As it stands, the Austrian firm is lobbying Dorna for the two available entries vacated by Suzuki so it can enter a third team run by AJO MOTORSPORT. Using KTM machinery but potentially running under its Husqvarna brand, should this go ahead then Acosta would fill one seat.
The other, meanwhile, could potentially go to MARC MARQUEZ, who has long been rumoured for a move to KTM via his personal sponsor Red Bull. While Marquez has a year left to run on his HONDA deal, his disillusionment at the HRC project could see the two parties come to an agreement for a fresh start.
If not, then DIXON would be the primary candidate thanks to his links with KTM's sub-brand GasGas, a deal that is likely to be given a big helping hand from Dorna in order to get a much desired British rider back on the MotoGP grid.
The ongoing uncertainty over MARQUEZ, the exit of RINS and the poor show from JOAN MIR means Honda finds itself in an even stickier situation than it was at the start of the year.
With more riders wanting to leave than join, as it stands Marquez and Mir are contracted for 2024 but this could prove fluid.
It is now known that ZARCO is in negotiations, but it is reasonable to assume he won't switch to Honda by accepting the satellite LCR seat. Assuming Marquez stays, then that would see MIR relegated to the LCR team… alternatively, it is rumoured the 2020 MotoGP World Champion is also talking to Ducati.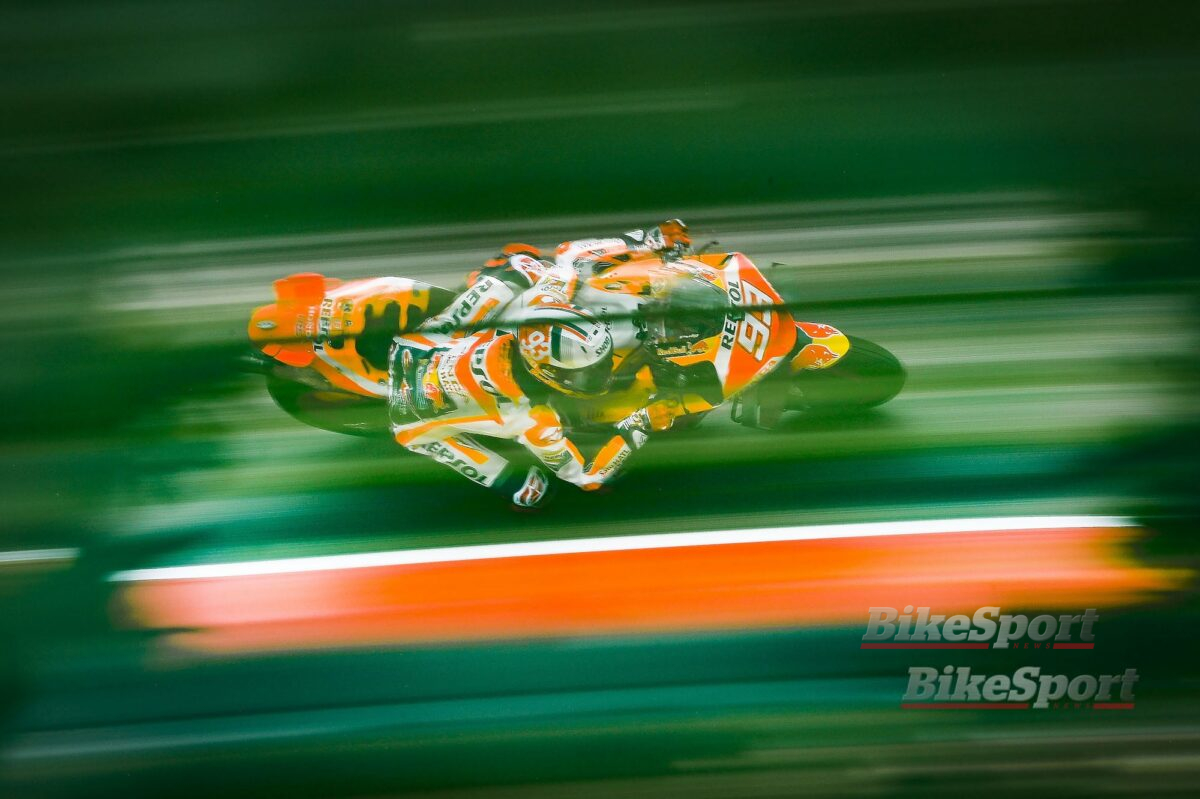 Other candidates on the table are TAKAAKI NAKAGAMI, who looks set to stay in the fold to give Honda some continuity regardless, while IKER LECUONA's increasingly frequent outings in place of injured riders means he is tipped to make a full-time return to MotoGP from WorldSBK next season too.
Other gaps may also be filled by Honda protege AI OGURA, MORBIDELLI if he doesn't go to Ducati or perhaps ARBOLINO or DIXON if they can't get their negotiations over the line.
Finally, RNF RACING has kept a low profile in the silly season shenanigans but while RAUL FERNANDEZ is contracted for 2024, the Spaniard has made only small gains over his rookie campaign with Tech3 KTM.
If his seat is under threat, again DIXON could be an option having competed with Razlan Razali's erstwhile Petronas Sprinta Moto2 team in the past, while ARBOLINO and ARON CANET have been rumoured in the past. 
The floating MORBIDELLI - who won three races and was runner-up with Petronas SRT Yamaha in 2020 - would also be a sizeable coup for the Malaysian team.
Provisional 2024 MotoGP Rider Line-Up
2024 MotoGP Rider Line-Up [as of August 2023]
Team
Motorcycle.
Rider
Rumoured candidates
Ducati Leonovo Team
Ducati GP24
Pecco Bagnaia
Ducati Leonovo Team
Ducati GP24
Enea Bastianini
Monster Energy Yamaha
Yamaha M1
Fabio Quartararo
Monster Energy Yamaha
Yamaha M1
Alex Rins
Aprilia Racing
Aprilia RS-GP
Aleix Espargaro
Aprilia Racing
Aprilia RS-GP
Maverick Vinales
Repsol Honda Team
Honda RC213V
Marc Marquez
Johann Zarco
Repsol Honda Team
Honda RC213V
Joan Mir
Red Bull KTM Factory Racing
KTM RC16
Brad Binder
Red Bull KTM Factory Racing
KTM RC16
Jack Miller
Prima Pramac Racing
Ducati GP24
Jorge Martin
Marco Bezzecchi
Prima Pramac Racing
Ducati GP24/23 *
Johann Zarco
LCR Honda
Honda RC213V
Takaaki Nakagami, Iker Lecuona, Johann Zarco, Ai Ogura, Joan Mir
LCR Honda
Honda RC213V
RNF Racing
Aprilia RS-GP
Miguel Oliveira
RNF Racing
Aprilia RS-GP
Raul Fernandez
Aron Canet, Jake Dixon, Tony Arbolino
GasGas Factory Racing Tech3
KTM RC16
Augusto Fernandez
Pedro Acosta
GasGas Factory Racing Tech3
KTM RC16
Pol Espargaro
Gresini Racing
Ducati GP23
Alex Marquez
Gresini Racing
Ducati GP23
Tony Arbolino, Franco Morbidelli, Jake Dixon, Johann Zarco
Mooney VR46 Racing
Ducati GP23
Luca Marini
Mooney VR46 Racing
Ducati GP24/23 *
Marco Bezzecchi
Franco Morbidelli
2024 MotoGP Speculated Entries [as of August 2023]
Team
Motorcycle
-
Rumoured candidates
* Ajo Motorsport
KTM RC16
Pedro Acosta, Marc Marquez, Jake Dixon
* Ajo Motorsport
KTM RC16
*Rumoured
Bold - Confirmed
Normal - Contracts for 2024 but not officially confirmed
Italic - Potential candidates