Word in the MotoGP paddock heading into the summer break suggests Honda and Yamaha could be given a helping hand from series promoters Dorna in the form of a concessional regulation reprieve.
Now the only two remaining Japanese marques remaining in MotoGP following the exit of Suzuki at the end of last season, Honda and Yamaha - for so long MotoGP's esteemed superpowers - have faced an uphill struggle over the last 18 months against the quality and quantity of Ducati's assault and the vastly improved KTM and Aprilia efforts.
Its led to consideration that the two firms should be afforded the similar concessional privileges to that of Suzuki, Aprilia and KTM when they returned/entered MotoGP. Introduced in 2016, the trio were allowed extra days of testing, more wild-card opportunities and a larger allocation of engines to use during a season as a way of speeding up development to get them on terms with Honda, Yamaha and Ducati quicker.
A move that would essentially give Honda and Yamaha the benefits originally conceived to act against its interests, it is - perhaps ironically - likely to rile the very teams that used them to get into this advantageous position in the first place.
So is this a path Dorna should pursue or is it up to Honda and Yamaha to think its way out of its current maladie?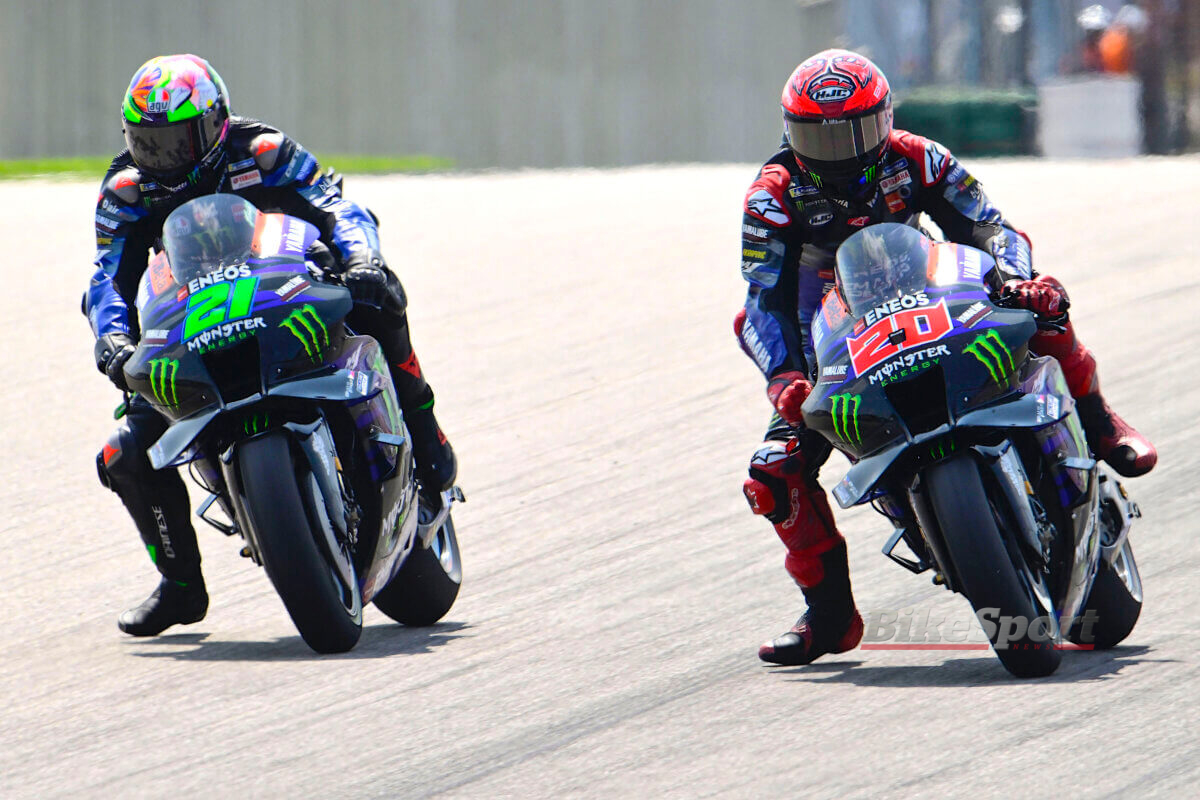 Do Yamaha, Honda deserve helping hand from MotoGP?
It's a sign of just how far Honda and Yamaha have slipped down the MotoGP hierarchy that the very format introduced to give rivals a chance to take them on could essentially swap sides for the same effect.
While it is perhaps an over-exaggeration to suggest concessions were the sole reasons as to why Suzuki, KTM and Aprilia reached such a strong level, the manufacturers did base much of its crucial development programmes around it. Indeed, it perhaps isn't a coincidence that KTM and Aprilia both suffered a dip in form in 2021 and 2023, the respective seasons they lost their benefits.
It means KTM and Aprilia - knowing full well what effect the concessions can have - might be resistant to allowing Honda and Yamaha the chance to recover ground, not least because the Japanese giants don't have the excuse of having to learn their way around MotoGP's architecture.
Indeed, one of the key arguments against giving concessions to Honda and Yamaha is this is a situation of its own making.
Their introduction was inspired by a desire to put competitiveness at the forefront of MotoGP's new era upon which it bid farewell to the objective fulfilling but largely unpopular CRT/Open sub-class and welcomed three more manufacturers onto the grid. Recognising the time and money required to bridge the gap to Honda, Yamaha and Ducati, the concessions were integral to shortening that timeframe.
As such, re-introducing them because a manufacturer has gone the wrong way on development is not in line with its original purpose, a fair point even before you consider Yamaha and Honda know better than anyone how to build a title-winning bike. It also sets a precedent, one MotoGP might find hard to justify if in time the same thing happens to Ducati or KTM, for instance. Tightening up the grid is one thing, artificially intervening at the behest of those that got it right is another.
Moreover, Yamaha and Honda look out of place predominantly because we'd become so used to seeing them at the forefront, not even all that long ago.
Yamaha's decline looks steep but is magnified by it having lost two bikes on the grid, not to mention the reference point of the only other inline-four bike in the field, the Suzuki GSX-RR. After all, it's easy to forget it was celebrating the title only 18 months ago.
Its issues boil down to relenting on rider calls to extract more engine performance, which has in turn shifted the balance - both figuratively and literally - away from the M1's renowned handling tautness.
With this in mind, Yamaha could certainly stand to benefit from extra testing days as it decides whether to continue into unchartered territory to make the M1 more of a missile, or revert back to what it knows best. However, this would be very much a privilege and not a right, making it hard to justify a reason as to why it should deserve this over its rivals.
That said, it could argue a case for receiving extra days of testing to negate the fact it has at least two fewer bikes on the grid than its rivals. The days of factory and satellite teams operating at arm's length from one another has gone, meaning what Pramac does in a test is as important to Ducati as it is to the team.
Honda, meanwhile, arguably has even less of a reason to argue for concessions since its current struggles aren't arguably down to lack of competitiveness. Indeed, its thin results have more to do with the unusually high number of crashes and injury withdrawals suffered between Marc Marquez, Alex Rins and Joan Mir, so much so Repsol Honda didn't have a single bike start three of this season's eight full-length races.
Moreover, when he's been keeping it sunny side up, Marquez has been at the sharp end, he scored a pole position at Portimao and shown podium-potential pace elsewhere. Then of course Alex Rins was a race winner in Texas only six rounds ago.
Don't giveth with one hand, taketh away with the other
While it is lazy to blame Ducati for the broader complaints about MotoGP becoming a touch predictable, it's hard to ignore the manufacturer has taken a vice-like grip on the series.
With eight [very fast] bikes on the grid, it's becoming difficult for other bikes to wedge themselves in between, not that Ducati should be blamed for this since its strength in numbers doesn't break any rules.
Whether it is in the spirit of the rules is another matter - always a murky area up for dispute - but it comes down to Dorna and the FIM to determine whether eight Ducati entries is a touch excessive.
And herein lies the issue. Motorsport has forever grappled with the balance of superiority earned and providing a competitive, unpredictable show - the former is the bedrock of why manufacturers go racing, the latter sells tickets and turns televisions on… and they don't often make good bedfellows.
While concessions to help Suzuki, KTM and Aprilia get up to speed was seen as being in the interest of the sport, it wouldn't happen overnight and thus gave Yamaha, Honda and Ducati ample time to react. The same argument doesn't quite apply if concessions were handed to Yamaha and Honda on the charge of getting it wrong in the engineering department.
Which turns the focus back on Ducati. If you could argue that Yamaha perhaps deserves more testing time because it only has two bikes on the grid, do you turn it around and suggest Ducati deserves fewer for having eight.
Indeed, hypothetically remove either VR46 or Gresini (or both) from the grid to bring Ducati into line with its rivals and dominance is nowhere near as noticeable. It's the same with KTM, which may be a familiar front-runner now, but is doing so only with the factory team on a regular basis, same goes for Aprilia.
So perhaps, concessions aren't needed to help Honda and Yamaha, instead some restrictions for the more dominant teams would be a healthier approach in a 'more bikes, fewer privileges' kind of way…