Motorsport is dangerous - it says so right there on the ticket - and incidents, whether you're competing right at the top in MotoGP, in WorldSBK, BSB or even mucking about on a track day, do invariably happen.
But while every rider will expect to splash around in the gravel, taste dirt, get tagged by another bike and have ambition outweigh their talent on more than a few occasions in their career, sometimes there are just incidents you never saw coming.
As these rather strange on-track moments over the years prove…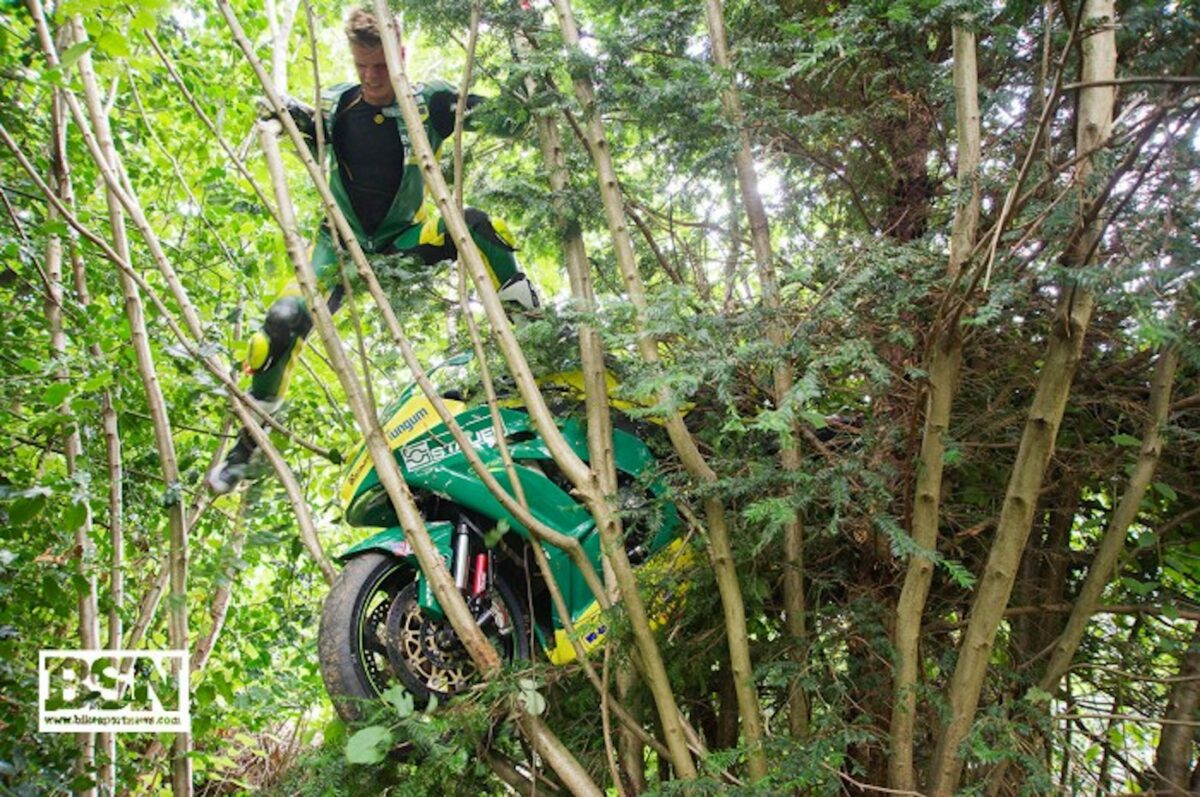 Defying the Law's of physics
Mason Law - Brands Hatch, SSTK [2017]
Brands Hatch has seen its fair share of monster shunts over its many years and, as speeds continue to rise, the mere confines of the Kent circuit have not been enough to stop the most acrobatic of motorcycles vaulting over the Armco and into nature's barriers instead.
It's a scenario the likes of Stuart Easton and Tarran Mackenzie know only too well… legend has it Tarran is still on a quest to find the McAMS Yamaha he flicked into Middle Earth in 2020.
Then there is Mason Law, who crashed his GR Racing Kawasaki in a Superstock 1000 race in 2017. After splitting from its (unhurt) rider, the unhelpfully green-liveried ZX-10RR proceeded to make an airborne bid for freedom by not only escaping the circuit limits, but then camouflaging itself among the treetops.
So impressive was the sneaky machine's flight, it took more than 10mins for anyone to even find it again… well, the ZX-10RR is called Ninja for a reason.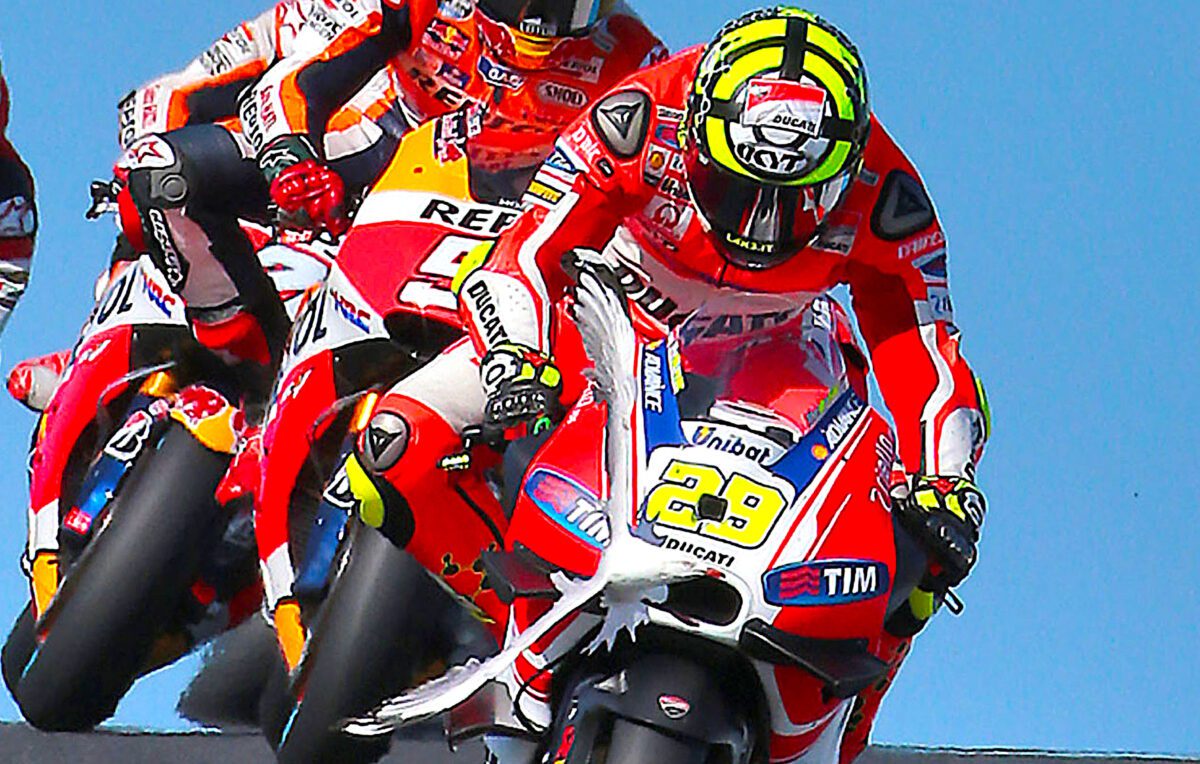 On me 'ead, son!
Andrea Iannone - Phillip Island MotoGP [2015]
They call Andrea Iannone 'The Maniac' and 'Crazy Joe' so it's perhaps fitting that he'd be the one to 'nutt' a slow-witted seagull during the 2015 Australian MotoGP.
It's hard not to feel for this blissfully unaware seagull, which had flapped over from the safety of the nearby coastline to see what all this grand prix kerfuffle was about and decided to take a breather on the racing line just beyond Lukey Heights.
Now, errant wildlife running, standing or gliding in the way of racers is not a new phenomenon - in fact, riders have crashed or been injured by nature on numerous occasions (less said about the animals, the better).
But few seagulls get the 'honour' of having millions of viewers around the world watch one clock a gaggle of 25 bikes come its way at high-speed, shock itself into taking flight (rather than fight) but, alas, not quite get out of the way in time.
Race leader Iannone was first on the scene and, credit to him, he did attempt to duck out of its path, while still attempting to hit his brake marker, but unfortunately for Steve the Seagull, he was very much a first lap casualty.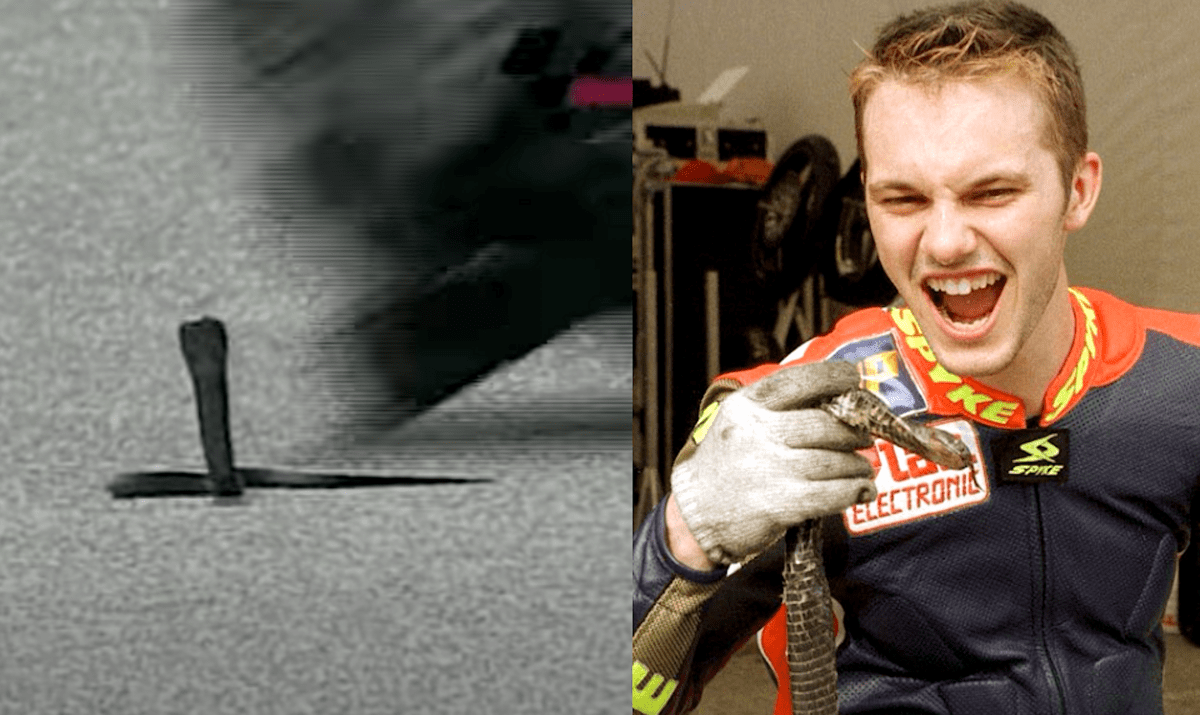 Cobra Hunter
Gino Borsoi - Malaysian 125GP [1998]
While you'd need to be dead inside not to feel some sympathy for our dearly departed friend Seagull Steve, we're struggling to conjure the same kind of feels for 'Colin the Cobra' here…
Perhaps we should be more 'all creatures great and small', but then Cobra's don't generally appreciate a cuddle…
Either way, you don't want to happen across one unexpectedly like, for example, during a 125GP practice session in Johor, Malaysia.
On this occasion though, it was the Cobra that came off second best when, after slithering onto the apex of a bend, it was struck square on the noggin' by the knee slider of Gino Borsoi.
Borsoi returned to the pits completely unaware that the track had very nearly bitten him back in the most extreme way possible. That was in stark contrast to his team, who were panicking that he was about to slip into a coma.
Had the Cobra not been distracted by the shock of having an earlier bike suddenly whizz past then it might well have been a very different story…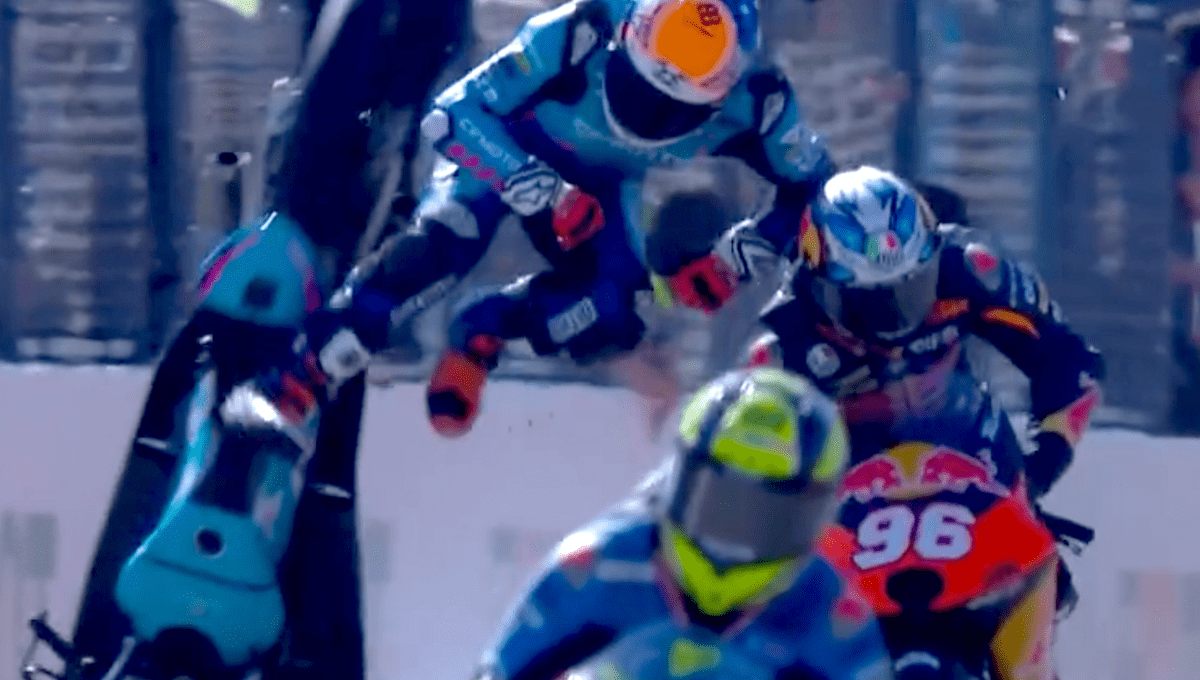 Flinging finish
Joel Kelso - Portimao Moto3 [2023]
Moto3 races are fast, intense and busy so you perhaps can't blame Daniel Holgado for taking his eye off the ball - and throttle - upon crossing the line for his maiden victory at this year's opener in Portimao.
Unfortunately, his exhale of relief didn't take into account the other 30 or so riders pelting across the finish line just behind him, as a distracted Joel Kelso found to his cost upon finding a slowing KTM right ahead of him as he reached the flag.
Clattering into Holgado - who snapped right back to reality with the impact - while the Spaniard managed to stay on, the same couldn't be said for Kelso, who promptly crashed down so hard it forced him out of the next two events - WATCH HERE
Quick blowie
Miguel Oliveira - Phillip Island, MotoGP [2019]
If it's not kamikaze local wildlife getting in the way at Phillip Island, then its the unpredictable weather wreaking havoc with you instead.
Indeed, Phillip Island's open, undulating coastal location is certainly pretty, but it can leave the Melbourne venue very exposed to the elements, as KTM rider Miguel Oliveira discovered in 2019 when he was literally blown off track by a powerful sidewind during FP4.
As the Portuguese rider was coming down the home straight, a big gust struck him hard enough to force for him onto the outside kerb and then the grass. Forced to bail off his RC16 at 186mph, the incident led to organisers cancelling the following qualifying session on safety grounds.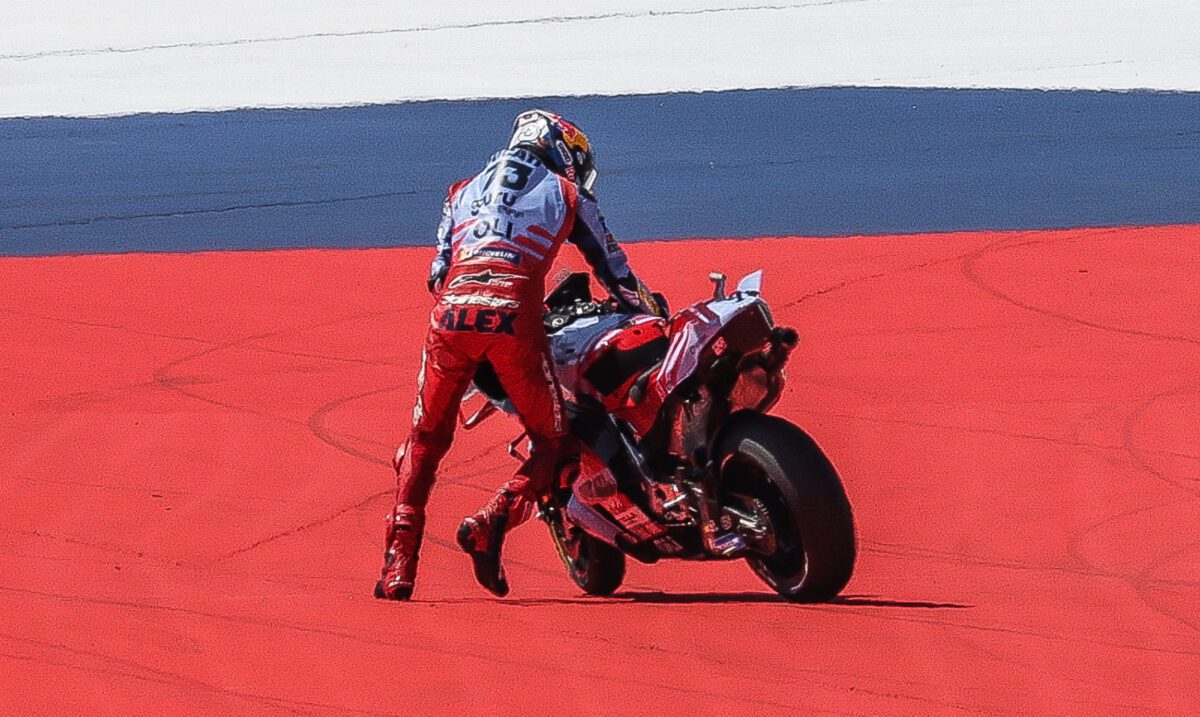 Sick surface
Alex Marquez - Circuit of The Americas [2023]
For most of us, feeling unwell (or hungover) is usually a good cause for taking a 'sickie' from work.
But what if your job is as a MotoGP rider and there are precious points at stake if you don't gulp it back down and get out there. It's a risk most have taken in the hope adrenaline keeps the chunks at bay.
Unfortunately for Alex Marquez, the G-forceful sweeps and quick changes of directions of the Circuit of The Americas are akin to taking yourself and the norovirus to Alton Towers for the day, so perhaps it was inevitable he'd end up seeing last night's dinner filling his visor.
To make matters worse, it distracted himself enough to crash while running in a points' paying position. It might have been intentional, mind… the mere sensation of vomit is enough to make me vomit.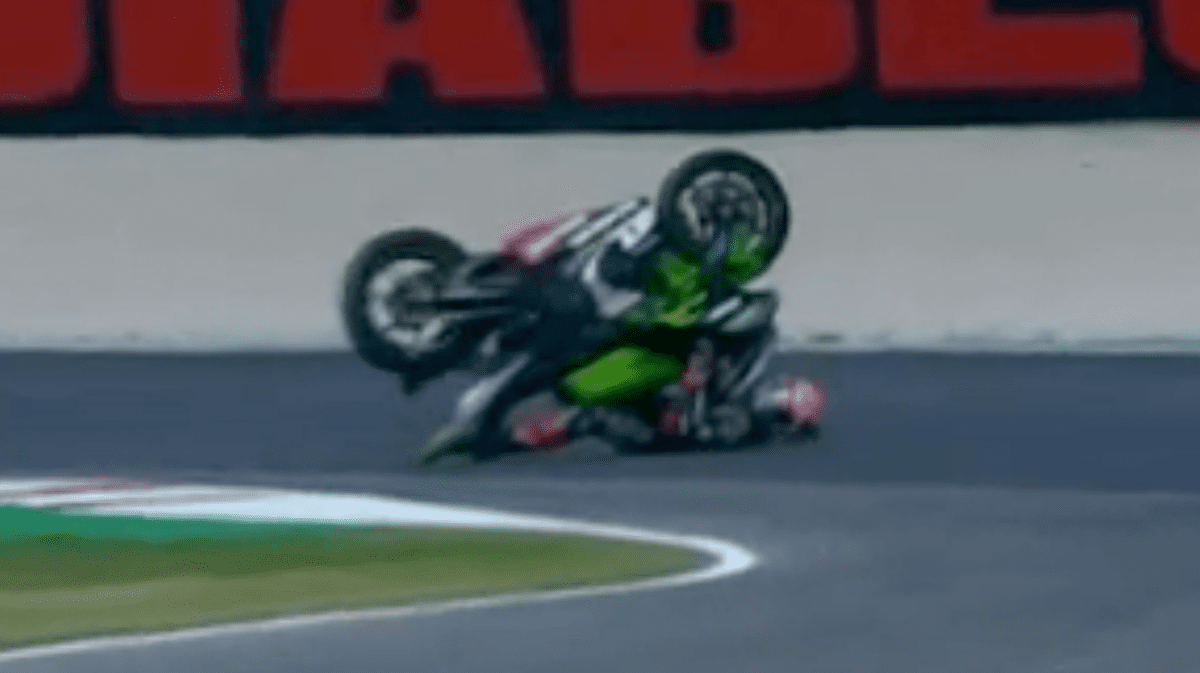 Sunny side up, down and up again
Jonathan Rea - Misano WorldSBK [2019]
There was a time in WorldSBK where it seemed nothing could stop Jonathan Rea's relentless run of success at the height of his powers, and that includes basic physics.
An incident to file under 'I couldn't do that again if I tried…' Rea baffled commentators, scientists and himself by folding his Kawasaki ZX-10RR during the Misano Superpole Race in 2019… before then rolling completely over… then remounting to finish fifth.
It's not spectacular, it's not fast and resembles someone tipping a tortoise, but this 180 to 360-degree flip-over still melts our minds - WATCH HERE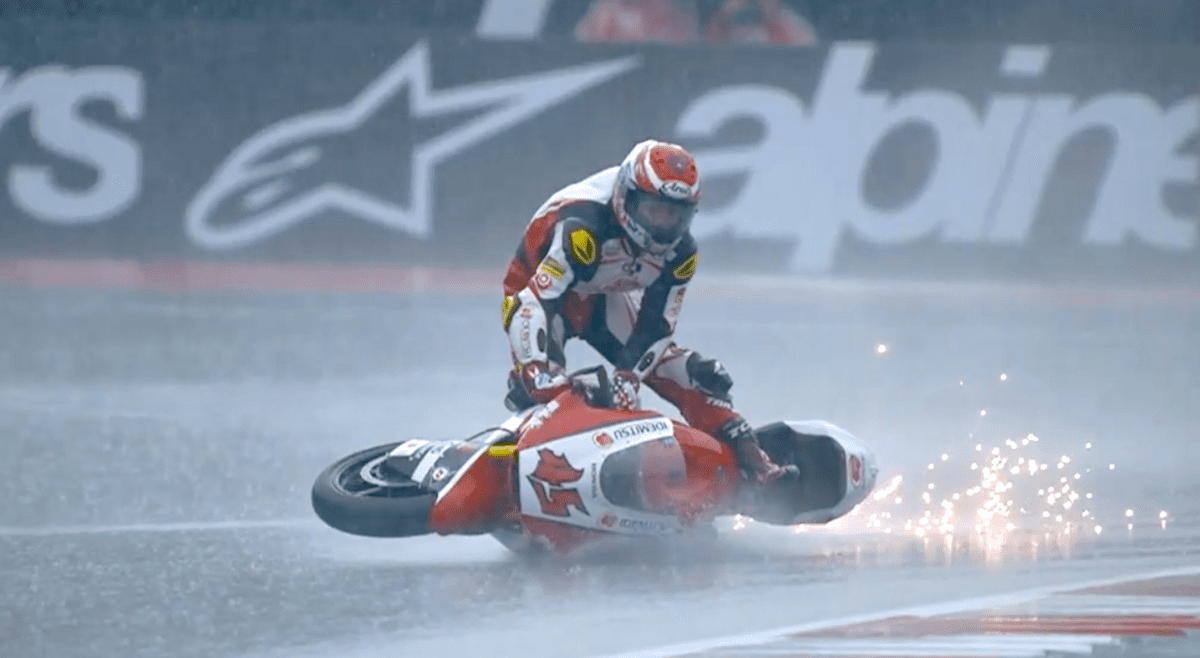 Surf's down
Tetsuta Nagashima - Red Bull Ring, Moto2 [2018]
Without meaning to piss her off and bring an early end to the British summer in retaliation, Mother Nature can be a cow sometimes.
After all, fast bikes and rain really don't mix, usually resulting in boring delays to sessions where the only action taking place is the nail-biting rubber duck race down the river forming in the pit-lane.
Now and again though, riders will venture out into the gloom, whereby our suspicions that fast bikes and rain don't mix well are quite often confirmed.
So we salute Tetsuta Nagashima for deciding to give up on his career as a Moto2 rider mid-session in Austria in favour of giving surfing a go instead… rad curls, bro! - WATCH HERE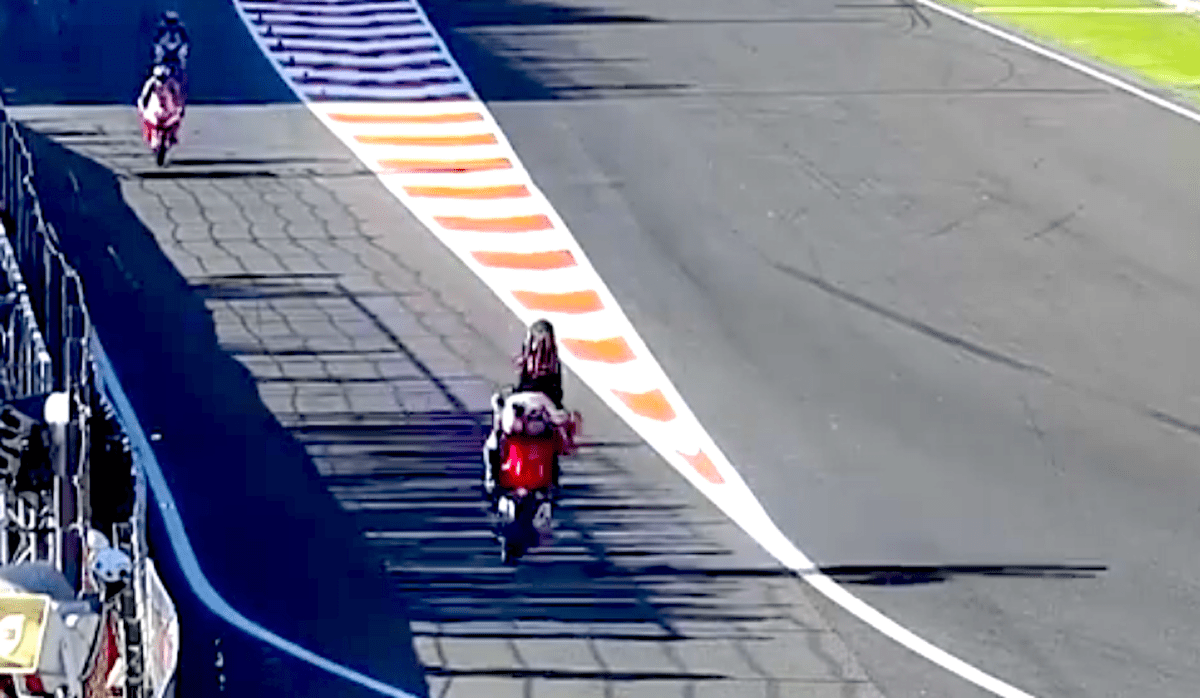 Stoppie, drop and roll
Pecco Bagnaia - Valencia MotoGP [2019]
Pecco Bagnaia's maiden MotoGP season came to an early and rather abrupt conclusion when he was involved in this bizarre incident during practice for the season ending 2019 Valencia MotoGP.
No rider ever wants to fall victim to an unintentional 'stoppie' but Bagnaia is flipped right over the handlebars when the rear of his GP19 comes up and over him… at about 20mph
Quite how this happened is unclear - Ducati vaguely blaming 'brake issues' - or why it occurred as Bagnaia was exiting the pit-lane, but either way, it was a strange way to complete his first season in MotoGP - WATCH HERE
May I have this dance...?
It's always frustrating when you crash, even more so when it's someone else's fault… but when your upturned bike gets entangled with another with the throttle pinned, thus sending both into a mesmerising, almost artistically beautiful series of pirouettes as you dance about trying to - unsuccessfully - break them up, well, that's just… I mean… I can't even…