Albert Arenas will defect to the QJmotor Gresini Racing team for the 2024 Moto2 World Championship season after being ousted from his ride at Red Bull KTM Ajo Motorsport.
The Spaniard, the Moto3 World Champion in 2020, is competing in his third season of Moto2 competition with the four-time title-winning Ajo Motorsport squad but has been comfortably outclassed by Pedro Acosta.
With Ajo Motorsport having since confirmed an all-new rider line-up of Celestino Vietti and Deniz Oncu for 2024, Arenas - who recently scored his first Moto2 podium at the Circuit de Barcelona-Catalunya - will therefore begin his fourth season with Gresini Racing.
Taking the seat vacated by Marc VDS Racing-bound Filip Salac, Arenas is just the latest rider to seal his place on a 2024 Moto2 grid that is steadily beginning to fill.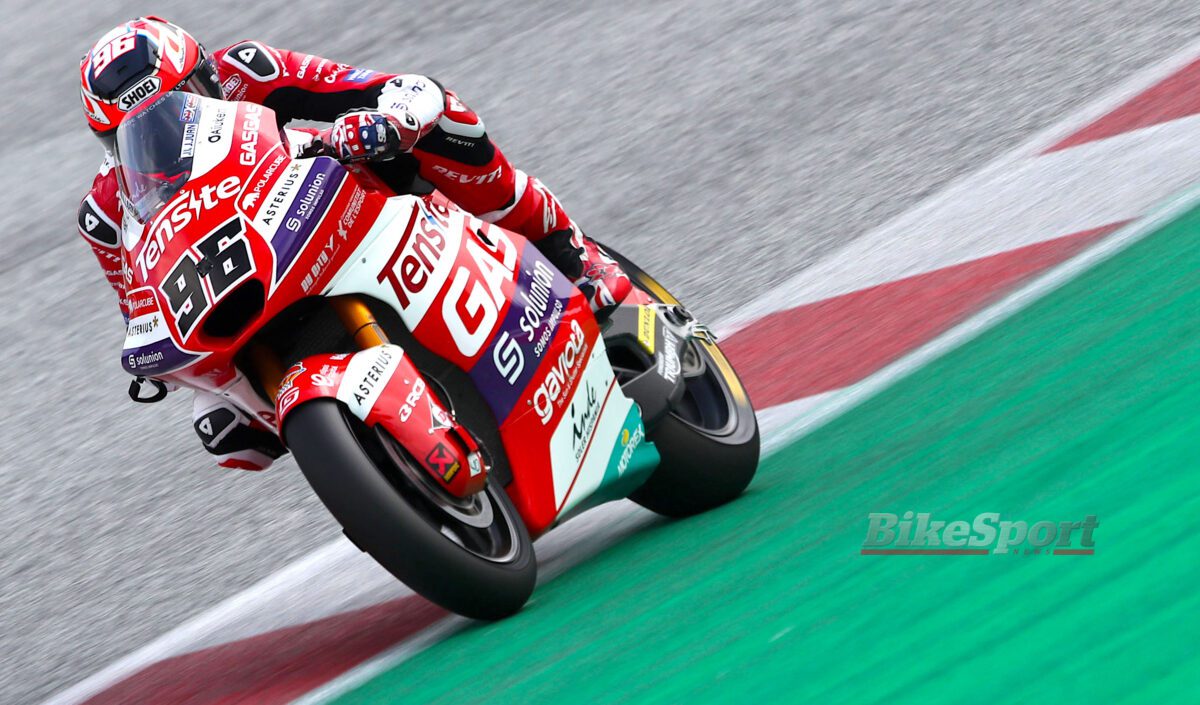 Jake Dixon, Tony Arbolino lead 2024 Moto2 entry
As of writing [mid-September], seven of the 14 teams confirmed for 2024 have completed their rider line-ups well in advance of this season's conclusion.
With current series leader Acosta slated to progress to MotoGP, Tony Arbolino and Jake Dixon stand out as the likely highest-placed riders returning for next season.
Dixon will remain in an unchanged GasGas Aspar Team rider line-up alongside Izan Guevara, while Arbolino also stays put at Marc VDS Racing, the Spaniard being joined by Salac from Gresini.
Champions for the past two seasons with Remy Gardner and Augusto Fernandez, Red Bull KTM Ajo is well on course to make it a hat-trick with Acosta if things continue to go his way to the end of the year. If he does then the pressure will be on Ajo's all-new pairing of Celestino Vietti - who joins from Fantic Racing - and Moto3 graduate Deniz Oncu to emulate some quality alumni.
In Vietti's place comes Aron Canet, the Spaniard likely to start as a keen favourite alongside Dixon and Arbolino as he looks to build on the form he's shown with the outgoing Pons Racing team.
American Racing, meanwhile, continues with Rory Skinner and welcomes back Joe Roberts, who made a splash with the team during the 2020 season, while in his place at Italtrans comes Diogo Moreira, who steps up from Moto3 to partner Dennis Foggia.
The Dutch Fieten Olie Racing GP team will also retain an unchanged line-up of Barry Baltus and Zonta van den Goorbergh, while Pertamina Mandalika SAG hold onto Bo Bendsneyder and welcome Moto3 front runner Jaume Masia for his intermediate class debut.
Finally, SpeedUp Racing hold onto Fermin Aldeguer for a third season, the Spaniard also likely to be considered a hot contender for the title after claiming his maiden victory at Silverstone earlier this year.
The teams yet to confirm any riders to date include Correos Prepago VR46 Yamaha, Husqvarna IntactGP, IDEMITSU Honda Asia and Forward Team. The FIM are also yet to formally announce MT Helmets - MSi as the team that will be assuming Pons Racing's vacant grid slots for 2024.
2024 Moto2 Rider Line-Up [Provisional]
2024 Moto2 World Championship Rider Line-Up [as of September 2023]
/
Name
Nati.
Team
-
Celestino Vietti
🇮🇹
Red Bull KTM Ajo Motorsport
-
Deniz Oncu
🇹🇷
Red Bull KTM Ajo Motorsport
-
Tony Arbolino
🇮🇹
Marc VDS Racing
-
Filip Salac
🇨🇿
Marc VDS Racing
-
Jake Dixon
🇬🇧
GasGas Aspar Team
-
Izan Guevara
🇪🇦
GasGas Aspar Team
-
Fermin Aldeguer
🇪🇦
SpeedUp Racing
-
TBA
-
SpeedUp Racing
-
Aron Canet
🇪🇦
Fantic Racing
-
TBA
-
Fantic Racing
-
Albert Arenas
🇪🇦
Gresini Racing
-
TBA
-
Gresini Racing
-
TBA
-
Correos Prepago VR46 Yamaha
-
TBA
-
Correos Prepago VR46 Yamaha
-
Dennis Foggia
🇮🇹
Italtrans
-
Diogo Moreira
🇧🇷
Italtrans
-
TBA
-
IDEMITSU Honda Asia
-
TBA
-
IDEMITSU Honda Asia
-
Rory Skinner
🇬🇧
American Racing
-
Joe Roberts
🇺🇲
American Racing
-
TBA
-
Husqvarna IntactGP
-
TBA
-
Husqvarna IntactGP
-
Barry Baltus
🇧🇪
Racing GP
-
Zonta van den Goorbergh
🇳🇱
Racing GP
-
Bo Bendsneyder
🇳🇱
SAG Team
-
Jaume Masia
🇪🇦
SAG Team
-
TBA
-
Forward Team
-
TBA
-
Forward Team
-
TBA
-
MT Helmets - MSi *
-
TBA
-
MT Helmets - MSi *
* Entry TBC by FIM