While there is still plenty more fun and games to come from what is proving to be a gripping and unpredictable 2023 season, the 2024 Moto3 World Championship line-up shows an intriguing mix of brand-new talents and more seasoned youngsters.
Currently, 21 of 28 seats are fully-confirmed for next season, with nine of the 14 teams are set for next year's challenge.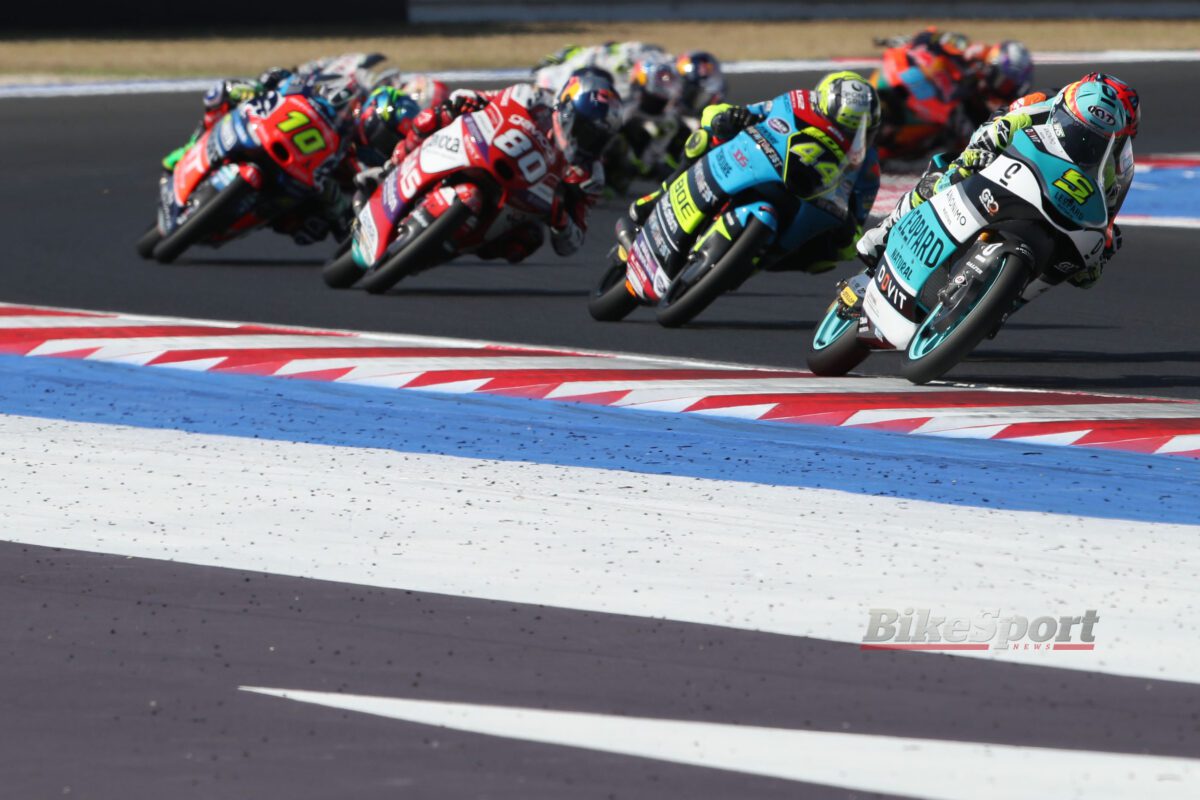 2024 Moto3 World Championship
With three of the current top five - Jaume Masia, Ayumu Sasaki and Deniz Oncu - on their way to Moto2, that leaves Daniel Holgado and David Alonso as the most obvious pre-season favourites for next year.
There is still a good chance that Holgado - who stays with Red Bull KTM Tech3 - could return as the defending champion after agreeing an extension over the summer. When he does he can expect a huge battle with the impressive Alonso, the Colombian exceeding expectations in his rookie year on the GasGas Aspar having already won on three occasions.
Other front-running riders sticking with what they know include Jose Antonio Rueda, who will assume the team leader mantle at Red Bull KTM Ajo from Oncu, David Munoz on the BOE Motorsports KTM and Collin Veijer, who along with Alonso and Rueda has impressed his first season of Moto3 with Husqvarna Intact GP.
Elsewhere, Stefano Nepa sticks with Angeluss MTA Team for 2024, while Xavi Artigas remains with CFMoto Racing PruestelGP, Matteo Bertelle remains with Rivacold Snipers, Taiyo Furusato sticks with Honda Team Asia alongside Tatchakorn Buasri and Adrian Fernandez will return to Moto3 full-time with Leopard Racing.
Other notable changes include Tatsuki Suzuki swapping from Leopard Racing to Husqvarna Intact GP, Riccardo Rossi joins CFMoto Pruestel and occasional wildcard David Almansa will have a full-time deal with Rivacold Snipers.
Of the rookies to watch out for, Moto3 European Championship leader Angel Piqueras steps up with Leopard Racing, as well as his closest title rival Luca Lunetta comes in at SIC58 Squadra Corse, plus other front runners Xabier Zurutuza (Red Bull KTM Ajo), Jacob Roulstone (Red Bull KTM Tech3) and Joel Esteban (GasGas Aspar).
As yet VisionTrack Racing haven't confirmed which British riders it will run in 2024, though Scott Ogden and Josh Whatley are expected to remain for a third season in Moto3.
2024 Moto3 World Championship Rider Line-Up [as of October 2023]
-
Name
Nat.
Team
-
David Munoz
🇪🇦
BOE Motorsports
-
TBA
-
BOE Motorsports
-
Nicola Carraro
🇮🇹
Angeluss MTA Team
-
Stefano Nepa
🇮🇹
Angeluss MTA Team
-
Xavi Artigas
🇪🇦
CFMoto Racing PruestelGP
-
Ricardo Rossi
🇮🇹
CFMoto Racing PruestelGP
-
Noah Dettwiler
🇨🇭
CIP Green Power
-
TBA
-
CIP Green Power
-
David Alonso
🇨🇴
GasGas Aspar Team
-
Joel Esteban
🇪🇦
GasGas Aspar Team
-
Taiyo Furusato
🇯🇵
Honda Team Asia
-
Tatchakorn Buasri
🇹🇭
Honda Team Asia
-
TBA
-
VisionTrack Racing
-
TBA
-
VisionTrack Racing
-
Collin Veijer
🇳🇱
Liqui Moly Husqvarna Intact GP
-
Tatsuki Suzuki
🇯🇵
Liqui Moly Husqvarna Intact GP
-
TBA
-
MT Helmets - MSI
-
TBA
-
MT Helmets - MSI
-
Jose Antonio Rueda
🇪🇦
Red Bull KTM Ajo
-
Xavi Zurutuza
🇪🇦
Red Bull KTM Ajo
-
Matteo Bertelle
🇪🇦
Rivacold Snipers Team
-
David Almansa
🇦🇺
Rivacold Snipers Team
-
Daniel Holgado
🇪🇦
Red Bull KTM Tech3
-
Jacob Roulstone
🇦🇺
Red Bull KTM Tech3
-
Luca Lunetta
🇮🇹
SIC58 Squadra Corse
-
TBA
-
SIC58 Squadra Corse
-
Angel Piqueras
🇪🇦
Leopard Racing
-
Adrian Fernandez
🇮🇹
Leopard Racing