Fabio di Giannantonio says he called upon the skills he acquired racing in Moto3 to hold his nerve during the frenetic final laps of the Australian MotoGP as he secured himself an emotional first premier class podium.
The Italian produced a headline-grabbing performance on the Gresini Ducati to pass both Brad Binder and Jorge Martin on the final lap of the Phillip Island race to take the flag in third behind Johann Zarco and Pecco Bagnaia.
Looking strong from the outset as he quickly made progress from sixth on the grid, while the prospect of achieving his first podium coupled with a scrappy five-way battle for victory in the closing stages might have had the power to overawe di Giannantonio, he dug deep to hold on for his first trip to the rostrum.
"Overall, it was a great performance," he said afterwards. "We have been fast all weekend and we have been consistent all race.
"In the last seven laps there was a big drop with the tyres for everyone. The last laps seemed a bit like Moto3 back in the day where you were in a group fighting for something important."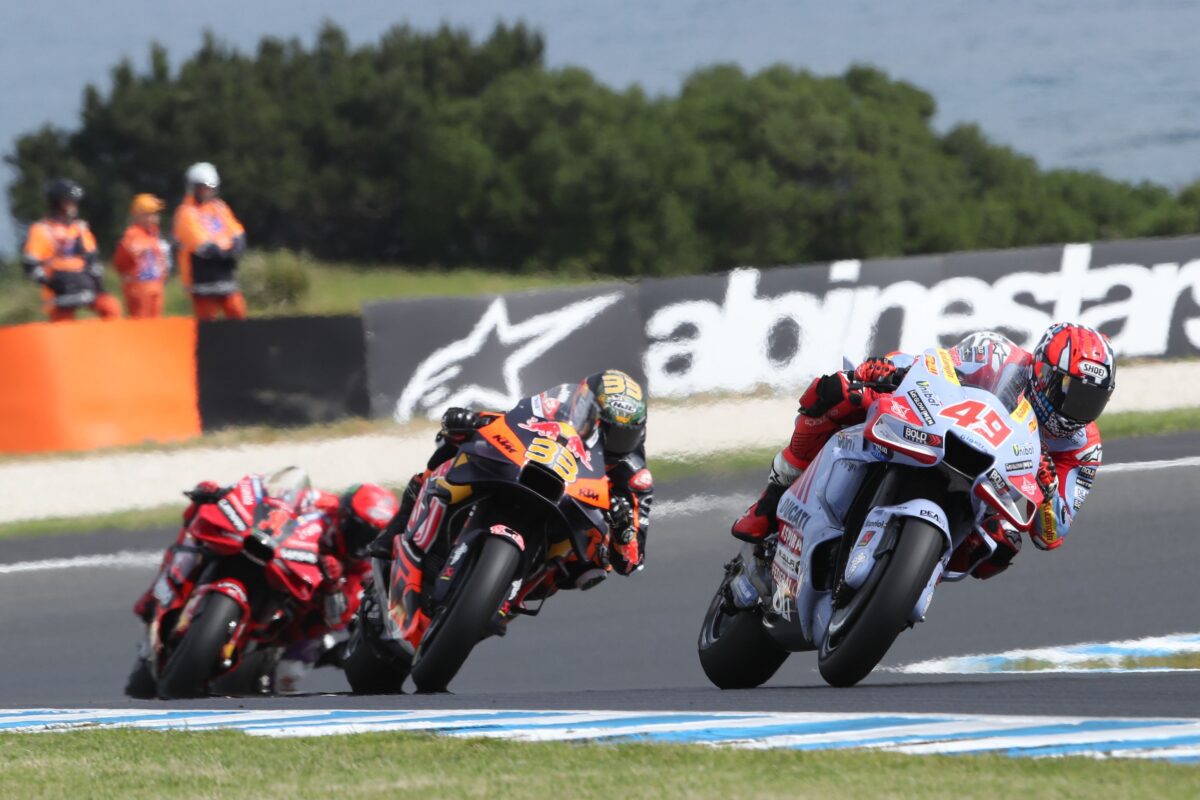 Fabio di Giannantonio shines amid bleak MotoGP future
Hell hath no fury than a scorned and unemployed MotoGP rider…
While there has long been cynicism around riders that have a tendency to up their game just around the time their contracts are due for renewal - Toni Elias, we're looking in your direction - for di Giannantonio, his recent run of good form is indicative of a rider swinging freely and with little to lose.
Indeed, di Giannantonio has endured a fairly tough time in MotoGP since making his debut at the start of the 2022 season and it's not strictly because of his performances, either.
A firm favourite of the late Fausto Gresini, it was he who drew up agreements to sign di Giannantonio to his eponymous team once it had split from Aprilia and re-established itself as an independent operation running Ducati machinery from 2022.
Alas, Gresini wouldn't never get the chance to see how his new protege would fare after succumbing to COVID in February 2021.
If he hadn't, he'd have seen di Giannantonio diligently find his feet within a hugely competitive environment, be it MotoGP as a whole, among Ducati's octet of stars and - in 2022 - within his own team in the shadow of triple race-winning sensation Enea Bastianini.
With so many direct counterparts to be compared against, di Giannantonio hasn't always benefited from being a Ducati rider, but drill down into his results and they reveal a competitor that has shown notable steps forward over the past two seasons.
Evolving into a regular top ten contender as the 2023 MotoGP season has progressed, di Giannantonio has peaked with three consecutively strong weekends in Japan, Indonesia and now Australia, though it perhaps is no coincidence that they come just as it's confirmed he will be replaced by Marc Marquez for next year.
However, even with recent results putting him front and centre of MotoGP's shop window, his availability doesn't necessarily guarantee an alternative shot elsewhere. Not considered in the frame for a Repsol Honda seat, di Giannantonio's best hopes therefore seem to lie with RNF Racing, but only if Honda can lure Miguel Oliveira from its clutches.
A return to Moto2 or a development role at Ducati might also be an option, but at only 25-years old and with momentum on his side, it would be a shame to check di Giannantonio's burgeoning progress just as it's getting going.