KTM is coming up to a difficult D-Day over whether it follows through on a clause to promote its Moto2 title contending protege Pedro Acosta to MotoGP in 2024 at the likely expense of its impressive rookie Augusto Fernandez.
Young hotshot Acosta is considered arguably the most exciting new talent coming through the ranks in the junior divisions after making history in 2021 by winning the Moto3 World Championship title in his rookie season.
Though his meteoric rise stuttered at times upon being promoted to Moto2 with the Ajo Motorsport team in 2022, improved form in the latter stages of the year has evolved into full contention for this year's championship.
It means Acosta has met the performance clauses in his deal with KTM, thus smoothing his path into MotoGP with the Austrian manufacturer if it chooses to go ahead.
However, his efforts have consequently left KTM with a difficult choice as to which of its four riders - spread across the KTM Factory Racing team and the sister GasGas Tech 3 team - will make way for him.
Three of its riders - Brad Binder, Jack Miller and Pol Espargaro - have agreements in place for 2024, leaving 2022 Moto2 World Champion Fernandez, who is on a one-year deal. as the rider under threat. However, the Spaniard - the only rookie on the grid - has emerged as something of a low key star so far this year, notching up a series of solid results on the satellite machinery, peaking with a stunning run to fourth in the French MotoGP.
His performances come a year after KTM controversially dumped Remy Gardner and Raul Fernandez from its Tech 3 line-up after just one season in MotoGP. The runaway 1-2 in the Moto2 standings the previous year, the pair floundered on the larger stage,.
By comparison, Augusto Fernandez has already out-scored the combined points total of his predecessors after just ten races (five sprint, five feature).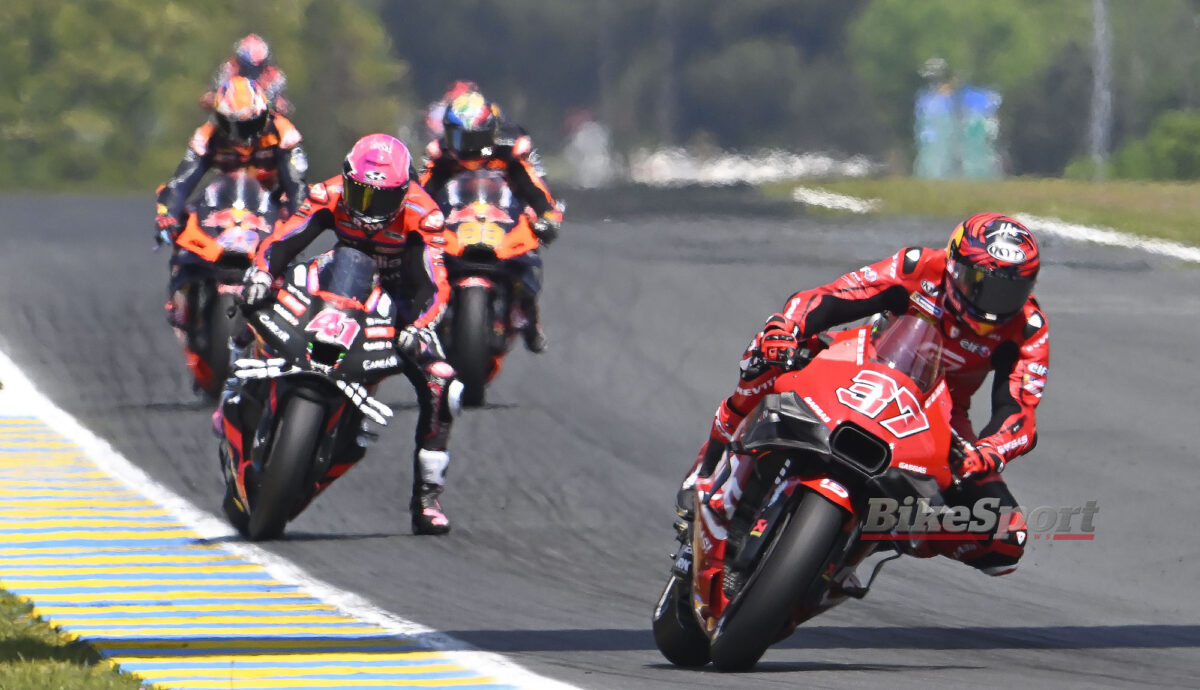 Does KTM have an alternative MotoGP option?
KTM hasn't endeared itself to many in the paddock with its handling of contractual affairs, with the fallout surrounding Johann Zarco in 2019 and the messy circumstances that led to Gardner and Fernandez being announced in place of Iker Lecuona and Danilo Petrucci in 2020.
The latest episode is somewhat indicative of KTM having a more fervent development programme geared towards getting them into a MotoGP project already filled with experienced riders more suitable for driving the still relatively young project forward.
That said, Acosta is considered a step above KTM's previous finds and by not fulfilling its contract with the youngster, almost certainly risks losing him to another team.
That would be a harsh outcome for Fernandez, though the Spaniard has likely turned enough heads in the paddock to be snapped up elsewhere… replacing still under-performing namesake Raul Fernandez (again) at RNF Aprilia comes to mind.
Then again, there remains question marks over Espargaro, who is yet to start a race with GasGas following his Portimao injury. Lingering effects could render his contract null and void, though many would frown at the lack of loyalty from KTM if it ditches the Spaniard having only just lured him back from Honda.
Alternatively, KTM - with the help of Red Bull - could consider loaning one of its riders to a rival, perhaps Honda given they both share close ties with the Austrian drinks company.
Acosta could do another year in Moto2 - a strategy that worked for Zarco - but if it can't be KTM, it's no secret that Yamaha has been sniffing around, while Ducati too would make a very attractive proposition for both parties…
>>> CLICK HERE for the latest 2023 MotoGP World Championship standings <<<