Aleix Espargaro and Maverick Vinales have paid tribute to Aprilia Racing after claiming the manufacturer's first-ever premier class 1-2 result in the Catalunya MotoGP.
On a weekend that has seen the Italian firm largely dominate proceedings, Espargaro and Vinales backed up their 1-3 result in Saturday's Sprint Race with a resounding 1-2 in the full-length main feature.
Competing in front of his home crowd, Espargaro dug deep to break down a gap of more than +1.5s to Vinales ahead to wedge a pass into Turn 1 during the closing stages and going on to win.
Only the third win of a MotoGP career that has spanned some 312 GP starts, Espargaro had the honour of being presented his winners' trophy by twin daughter and son, Mia and Max, in the podium.
"It's amazing, especially as the Sprint Race was quite easy, I felt good on the bike, the main race was the opposite, I felt really bad and I didn't enjoy riding it with the wind blowing, plus Maverick was very fast and pushed me to the limit.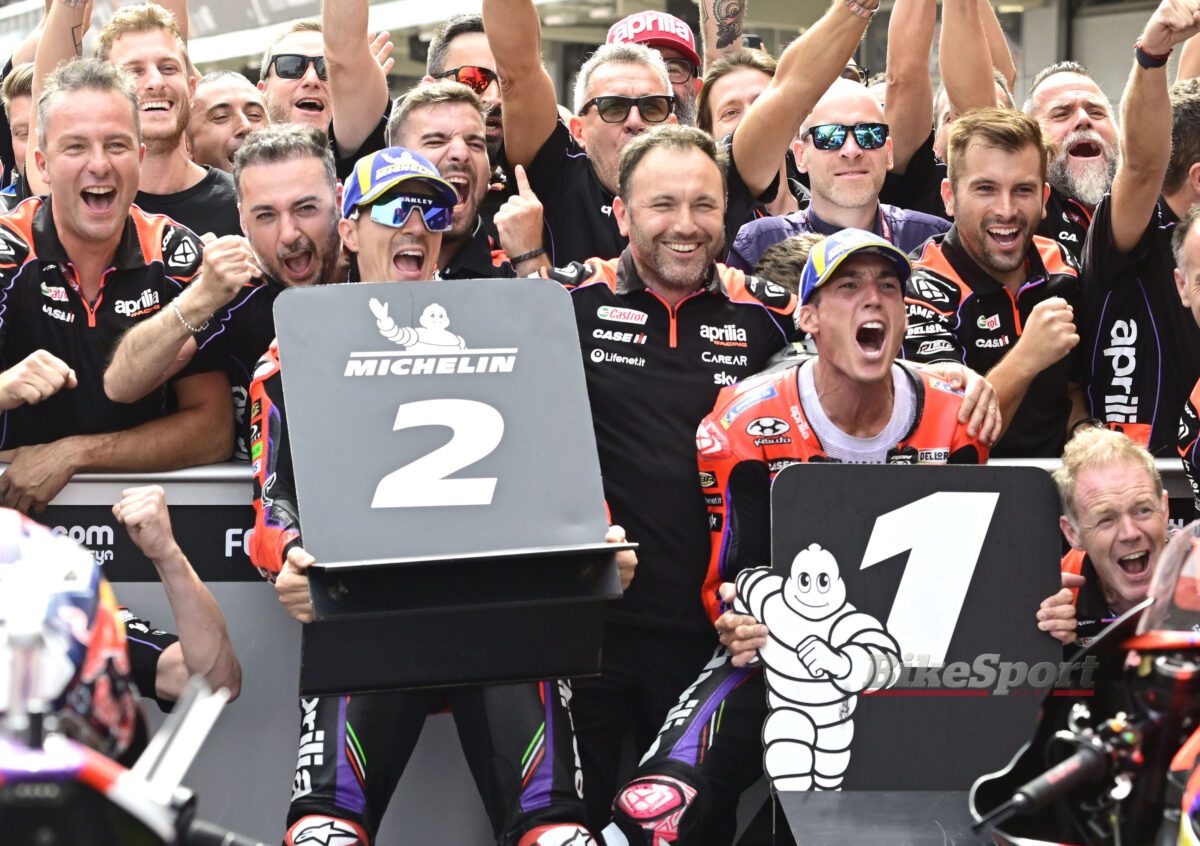 "At any other circuit I would have settled for second, but today I said 'no way' and I risked a lot, it was a lot of tension. When I saw my twins coming on the podium to give the trophy I saw my whole life in an unforgettable moment.
"We put Aprilia on top of the world, I am really proud, I think Aprilia are proud of the two riders they have too."
Though his wait for a first win in Aprilia colours goes on, Vinales was pleased to lead for much of the race, while he too was full of pride for playing his part in the Italian team's success.
"Just to see the joy and happiness of everyone in the team, it is amazing. I cannot ask for anything else, I tried to win but Aleix was a bit faster at the end.
"For me it is curious to see how things change, when you believe in the project and I am quite in shock because we did a historic result for Aprilia and to put it where it is right now is not an easy job.
"I just want to say thank you to the guys in the factory who work so hard."