Moto2 rider Carlos Tatay has indicated he is back on the road to recovery after returning to social media almost two weeks on from the accident that left him in a serious condition.
The Spaniard, who recently made his Moto2 World Championship debut as a substitute for Scot Rory Skinner at the American Racing team, crashed heavily at Portimao during a Moto2 European Championship event on 2 July.
Coming down on his own at speed at the downhill braking point for Turn 1, after striking the ground hard, he slid all the way down the escape road before impacting the barrier at the end of it.
With concern growing on the back of vague updates regarding his condition coming from his concerned SAG Racing Team in the days following the incident, Tatay has since begun posting images of himself smiling from his hospital bed.
Though the images aren't accompanied by any caption or provide any details about his injuries, they have been widely shared [CLICK on the image to go to Carlos Tatay's Instagram post].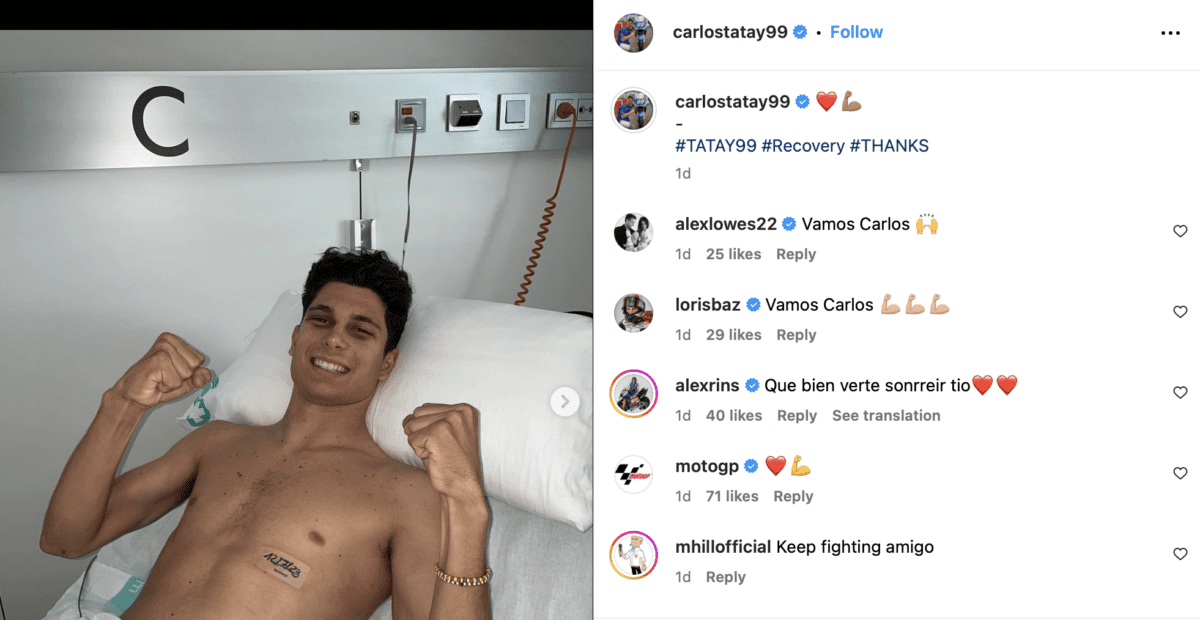 Tatay, a podium winner in the Moto3 World Championship last year, stepped up to Moto2 this season with a tilt in the European Moto2 series in SAG, which he was leading at the time of his incident.
However, he made his international Moto2 debut ahead of the summer break with an outing on Skinner's American Racing Kalex at Sachsenring and Assen. He'd go on to impress in both events, going on to score a 17th place finish in the Netherlands, which stands as American Racing's best result of the season.