The SAG Racing Team has given an update on the condition of its rider Carlos Tatay following his accident during the latest round of the Moto2 European Championship at Portimao over the weekend.
The Spaniard, who recently made his Moto2 World Championship debut in place of the injured Rory Skinner at American Racing, fell heavily on his own after losing his SAG machine under braking on the fast downhill approach to Turn 1.
Impacting the ground hard and abruptly, Tatay proceeded to slide a long distance down the escape road before striking the tyre barrier.
In the wake of the accident, the SAG team announced he had undergone emergency surgery that Sunday evening, though details of his physical condition remain unknown.
The Spanish team has since taken to social media to confirm Tatay has been transferred from Centro Hospitalar do Algarve-Faro to a hospital in Spain to continue his recovery, adding that his injuries are serious.
"Given the seriousness of the injuries suffered by our rider Carlos Tatay, it is advisable and essential to transfer him to Spain to continue with the process.
"We would like to thank the professional and priority treatment received at the Centro Hospitalar do Algarve-Faro /Bloco Operatorio and the surgical intervention carried out successfully by Dr. Bernardo Smet, without which this process would have been very complicated.
"We ask for your understanding for the absence of news until we have the necessary medical documentation. We know that the rider, family, friends and team receive all your support. Carlos Tatay is strong and we trust in Medicine."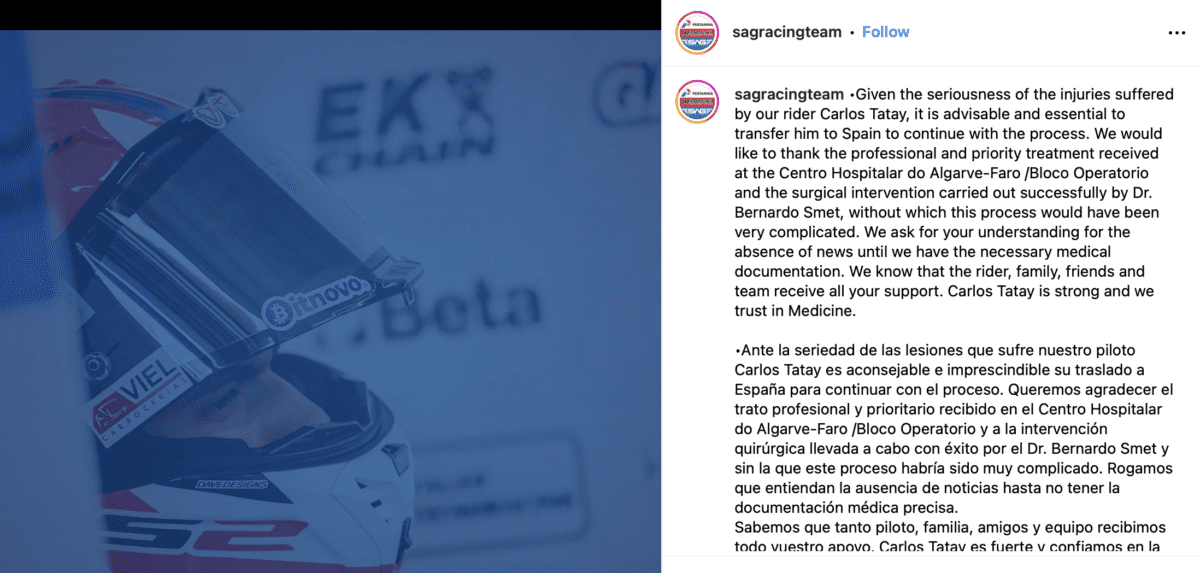 In a separate communication posted on Tuesday [4 July], SAG has urged people to refrain from spreading rumours about his condition and wait patiently for official news to be made public.
"Flood of messages of support and expressions of affection for our rider, Carlos Tatay, we want to thank everyone on behalf of the rider, family, loved ones and team.
"Likewise, we demand the utmost respect in the treatment of information, without spreading rumours or unsubstantiated news that do not help at all. From this communication team and with the due approval of the family, we will provide full information on the process to follow.
"This impasse is logical and does not presuppose any fundamental change to the rider situation."
A podium winner in Moto3 last season, Tatay stepped up to Moto2 machinery this season to compete in the European series, which he was leading at the time of his accident.
The accident comes after he made a strong impression with American Racing during a two-round stint in place of Skinner. Making his debut at the Sachsenring, Tatay proceeded to score the team's best result of the season next time out at Assen with a run to 17th at the flag.