After getting a taste of the top three last time out in Argentina, Luca Marini didn't need long to step foot on the MotoGP podium properly as he swept to second place in the Grand Prix of The Americas.
The Italian - now in his third season of MotoGP - finished third in the Termas de Rio Hondo Sprint Race two weeks ago, though his achievements were largely overshadowed by VR46 Racing team-mate Marco Bezzecchi scoring a first win for Valentino Rossi's satellite Ducati outfit.
However, Marini regained some of the spotlight in the United States, recovering from a poor getaway in the main GP feature to ascend to third upon Pecco Bagnaia's crash out of the lead on lap eighth.
After tailing Fabio Quartararo for several laps, Marini pushed on to overtake for second on lap 13 but while he initially rallied to catch Alex Rins, he opted to settle for top Ducati status in second instead.
Drawing comparisons with his brother Valentino Rossi - who chased Rins home during the 2019 Grand Prix of The Americas - Marini was thrilled to notch up a maiden rostrum.
"I remember that in one moment, one lap, the exit of Turn 1, I had Vale on my mind and I thought it might be possible to take revenge, but Alex was very strong."
"It was a fantastic weekend, I enjoyed it a lot. Yesterday I made a mistake so today I tried to be calm at the beginning because I knew my pace was strong here but I lost too much time at the beginning and it was impossible to catch Alex. After I saw he made some mistakes, I started to think of the victory also but he was really fast and strong here."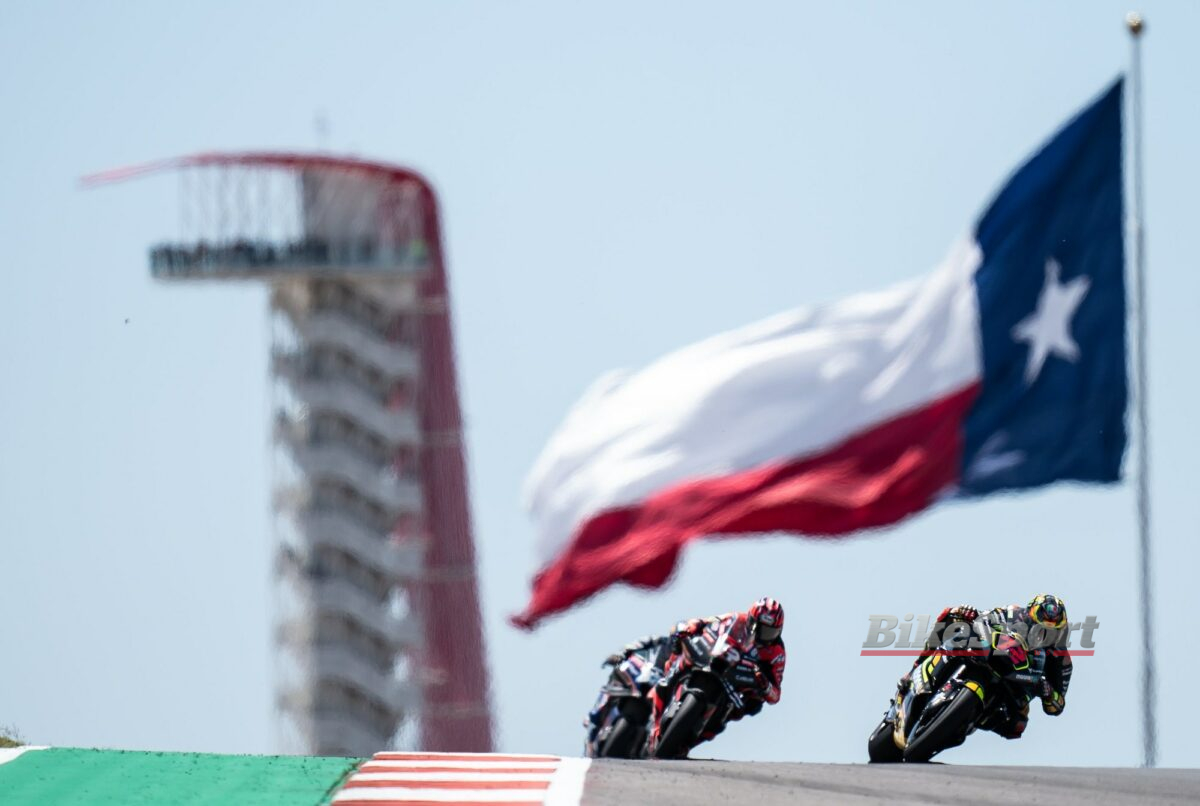 Bezzecchi holds onto MotoGP lead
On the other side of the garage, Bezzecchi endured a more modest weekend than in Argentina but succeeded in scoring solid points with a brace of sixth place results in both races.
It means he leaves the United States having dropped just a single point his overall lead from nine points at the start of the weekend to 12 points.
"I'm happy of course to lead the championship, it's a big satisfaction, but it's still nothing. It's very early," said Bezzecchi, who will take an eleven-point advantage over Bagnaia into round four at Jerez next weekend.
"So in the end, I'm happier for the weekend overall, because Friday I had a lot of problems. Saturday I managed to make a decent race, and today it was so easy to make a mistake, so I'm happy also about my pace.
"Unfortunately I think I pushed a little bit too early, I made a 2'03.5 nine or ten laps to the end, and in that lap I really finished the front tyre. So then the last 7 laps were really, really difficult for me. I lost places from Maverick and Miguel. This is perhaps the only regret. But apart from this I'm really happy."