Lee Johnston suffered a series of injuries and was in a critical condition when admitted to hospital following an accident on the 2023 North West 200, it has been confirmed.
In a statement released by his family on 16 May [Tuesday], the full extent of Johnston's injuries and the seriousness of his accident - during practice for the Supersport class on 11 May [Thursday] - were revealed, the 34-year old in a critical condition upon being admitted to Belfast Hospital..
Johnston was admitted to intensive care and spent three days on a ventilator, while he also underwent eight hours of surgery too.
Diagnosed with a broken femur, shoulder and ribs, as well as a collapsed lung and injuries to his foot and face, Johnston's family nevertheless says he is beginning on the road to recovery.
Full statement from Lee Johnston's Instagram account [@lee_johnston13]
"Sorry nothing has been released up until this moment. As people are aware, lee crashed Thursday in the super-sport practice. He was airlifted to Belfast hospital in a critical condition after having a blood transfusion on the golf course.
"It's been a rollercoaster of a week, with lee being in intensive care since Thursday, three days on a ventilator, 8 hours in surgery.
"We are pleased to announced after suffering a broken femur, shoulder, break in the foot and face, a number of broken ribs and a collapsed lung, Lee is on the slow road to recovery.
"Lee was in a critical condition when he arrived at the Hospital, family and team were not informed of how bad of a condition he was in until the hospital staff explained the condition he was in on arrival. With this we wasn't aware of what had been released to the public.
"We would like to say a huge thank you to every member of staff that has worked on lee. From surgeons, doctors, nurses, we are very grateful for the treatment and care he has received.
A huge thank you to the medical team that worked with lee to keep him alive on the way to the hospital.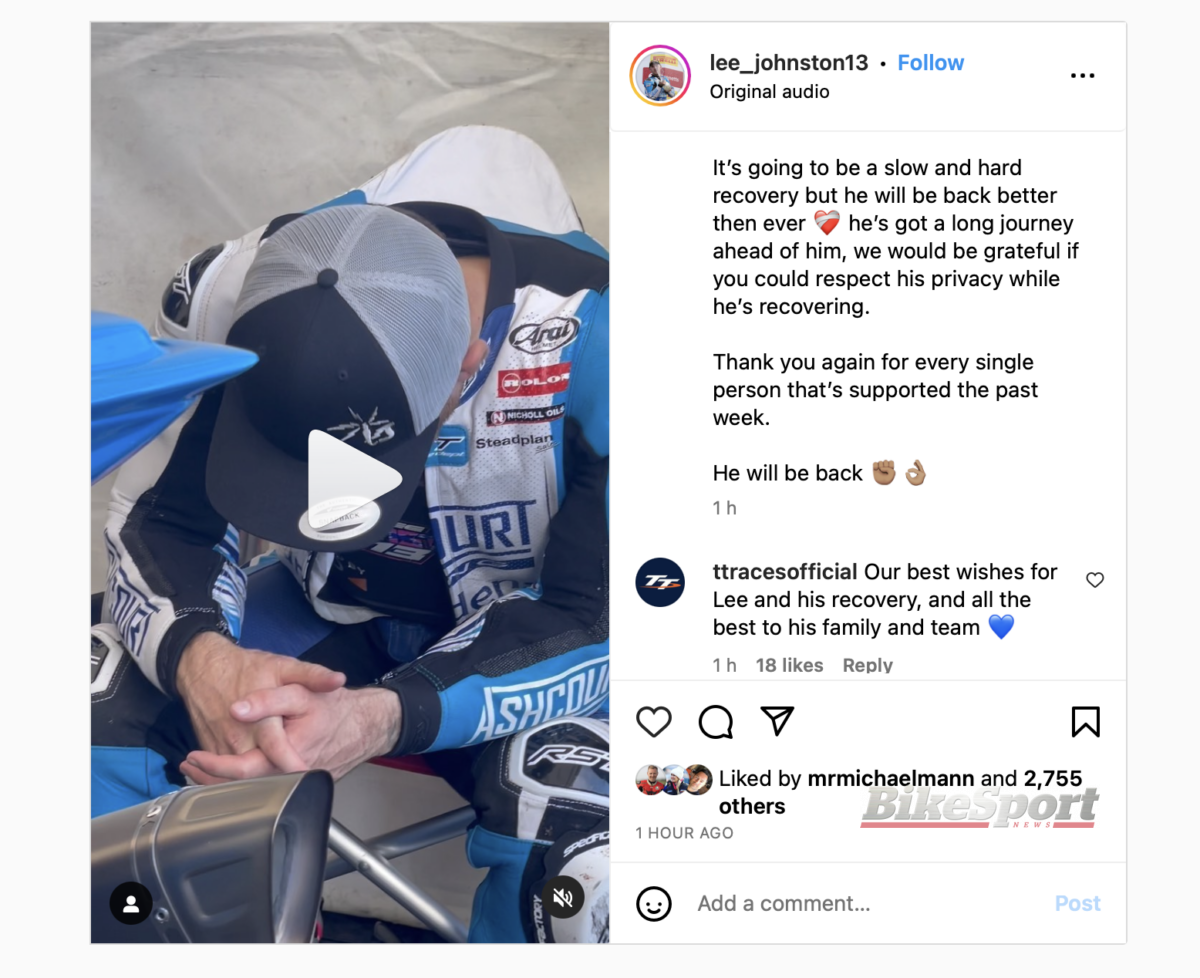 "The amount of support from people has been incredible and none of it has been un noticed.
The support towards lee, christie, mum, sister and the team has been incredible.
"It's going to be a slow and hard recovery but he will be back better then ever he's got a long journey ahead of him, we would be grateful if you could respect his privacy while he's recovering.
"Thank you again for every single person that's supported the past week."
Currently leading the 2023 British Supersport Championship standings, Johnston came into the road racing season - which was to include the Isle of Man TT in addition to the North West 200 - as one of the favourites for the podium.