Scott Redding concisely summed up the mood in the WorldSBK paddock when he admitted to being 'surprised' upon learning that Toprak Razgatlioglu would be BMW bound in 2024.
However, unlike his contemporaries watching from afar with interest, for Redding, the 'Stoppie King' is coming his way to the ROKiT BMW Motorrad WorldSBK outfit. At best, Toprak will be an accomplished team-mate. At worst, he'll be pinching Redding's M 1000 RR.
With this in mind, it was perhaps no surprise to see the Englishman appearing like a rabbit under the spotlight ahead of this weekend's round in Misano. While even Redding will understand BMW's reasoning for moving quickly to secure a coup such as Razgatlioglu, it definitely switches things up in the current camp.
With one seat filled, attention moves to who will fill the other. While it is not out of the question that BMW will commit to three ROKiT bikes, add the two M 1000 RRs it supplies to Bonovo Racing, and the Munich marque might find resources a tad stretched.
Most likely we're therefore looking at a straight choice between Redding and Michael van der Mark.
Of the two factory riders, Redding has enjoyed greater success than van der Mark during their time as team-mates, though the Dutchman - who joined the BMW project in 2021 - has been beset by injury woes in the last 18 months, making a direct comparison difficult to make.
To date, van der Mark has been hampered by three separate, painful injuries - a broken leg, a broken hip and now another broken leg - since March 2022, while he is currently out of action with the third of those ailments following a crash at Assen.
With this in mind, it is easy to assume van der Mark would be the most logical rider to drop through fear of recurring physical problems. However, flip it over and BMW might consider that it hasn't seen the best of what van der Mark has to offer.
By contrast, Redding has blown hot and cold since his debut. Teething issues early on gave way to bursts of strong performances, most notably at Most, but his form has declined in recent rounds relative to Bonovo pairing Garret Gerloff and Loris Baz, not least at Catalunya when he failed to score altogether.
The adjustment from V4 to inline-four has - like many before him - been more of a head-scratcher than anticipated, while he is yet to get it flexing beneath him as he prefers.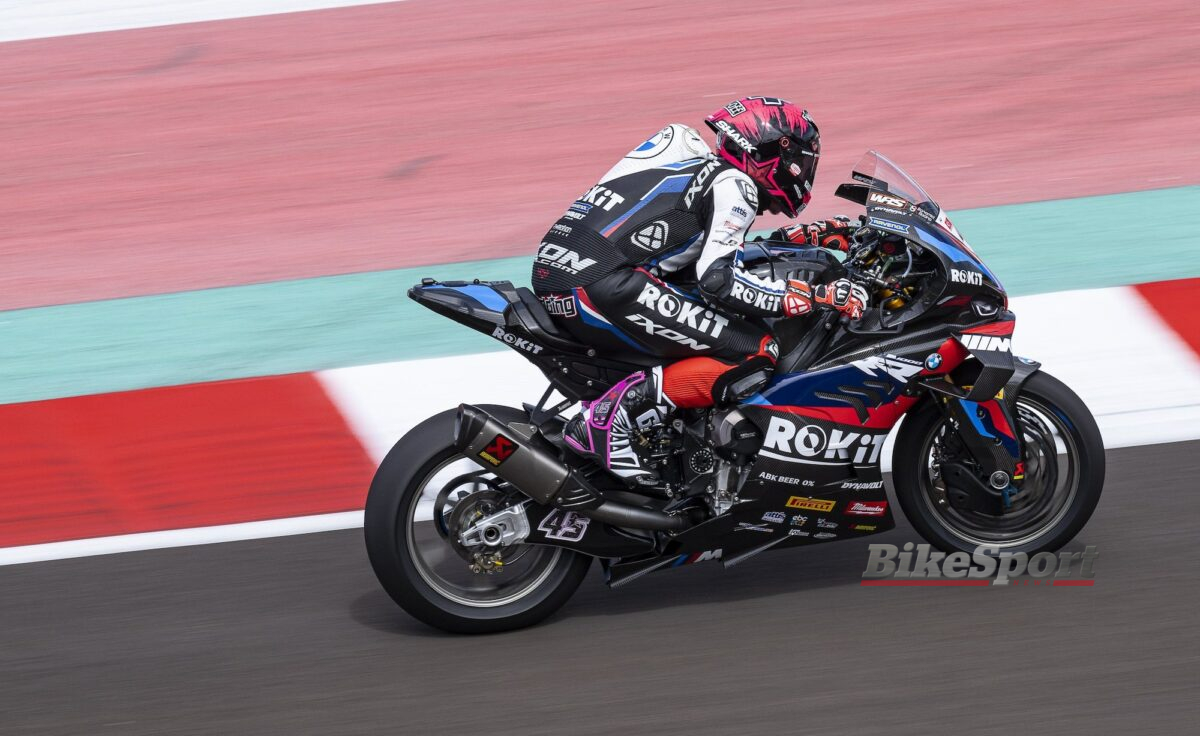 Blame the tools or the workman?
Pointing the finger squarely at BMW, though, its project is rather in disarray as it throws resources and ideas at a bike that has only shown incremental gains. After the all-new S 1000 RR arrived in 2019, BMW circumnavigated the spirit of the regulations with the homologation-special M 1000 RR in 2021… with no noticeable improvements. Two years later and that machine has received a major upgrade… with no noticeable improvements.
Blame the workman or blame the tools, either way Redding insists his primary goal is to remain with BMW into the 2024 season, though coming good the moment one's seat is on the line will be viewed with scepticism.
What could cost Redding, however, is an attitude that - while deliciously honest for us journalists - can leave those in BMW's marketing department somewhat stressed.
While Redding's tone is on brand for the man himself, abrasive comments to the press about the M 1000 RR being no improvement did not go down well with his bosses… though, in his defence, is he wrong?
Either way, it earned him a swift rebuke from the team in a manner not dissimilar to his quarrel with Aprilia in MotoGP back in 2018.
Though he has towed the party line recently, If Razgatlioglu brings the flamboyance and publicity that Redding is supposed to bring, then the Briton may be surplus to requirement. If so, his options elsewhere appear questionable - Yamaha will probably keep its rider choice internal, Honda likely isn't looking and he's not in the frame at Ducati.
There is talk of MotoAmerica, which would suit the series' desire to have a high-profile character.
Or how about a return to BSB in 2024? You have to say, BSB is where he appeared to be happiest… after all, a happy Scott Redding, is a fast Scott Redding.
>>>2023 WorldSBK Championship Standings<<<