British Talent Cup Champion Johnny Garness is beginning on the road to recovery almost a week after sustaining serious head injuries and bleeding on the brain in an accident while testing in Portugal.
Garness - a prominent member of Michael Laverty's VisionTrack Racing Academy - was involved in an accident while testing at the Circuit do Estoril last Thursday [27th April]. The 14-year old suffered a high-side on his own before then being struck by the bike of a close-following rival
Taken to hospital in nearby Lisbon, Garness sustained 'very severe impacts to his head, resulting in a fractured skull and numerous bleeds on his brain'.
Almost a week on, a statement from Garness' family confirms 'there are still issues' but emphasise his recovery has been 'miraculous' considering the severity of his injuries.
-- Statement from Johnny Garness' family
Following his horrific accident in testing at Estoril in Portugal just over a week ago, Johnny remains in hospital in Lisbon where he has been in the excellent care of doctors and the neurological team assessing and monitoring his injuries.
Johnny suffered very severe impacts to his head, resulting in a fractured skull and numerous bleeds on his brain.
"The really positive news is that progress has been made, and following a further CT scan on Tuesday there is slight improvement, also signs that the clots are absorbing naturally.
"He is still not 100% in the clear, there are still some issues but I would class this as a miraculous recovery given the severity of the impacts on his head and the trauma he suffered," said Garness' father, Tom.
"He sleeps much of the time and tires very quickly. From where we were a few days ago to where he is now is amazing.
"Johnny has received so much love, support and messages from around the world, and as a family we would like to thank you all so much and our sincere thanks also to the fantastic medical staff, to whom we are extremely grateful."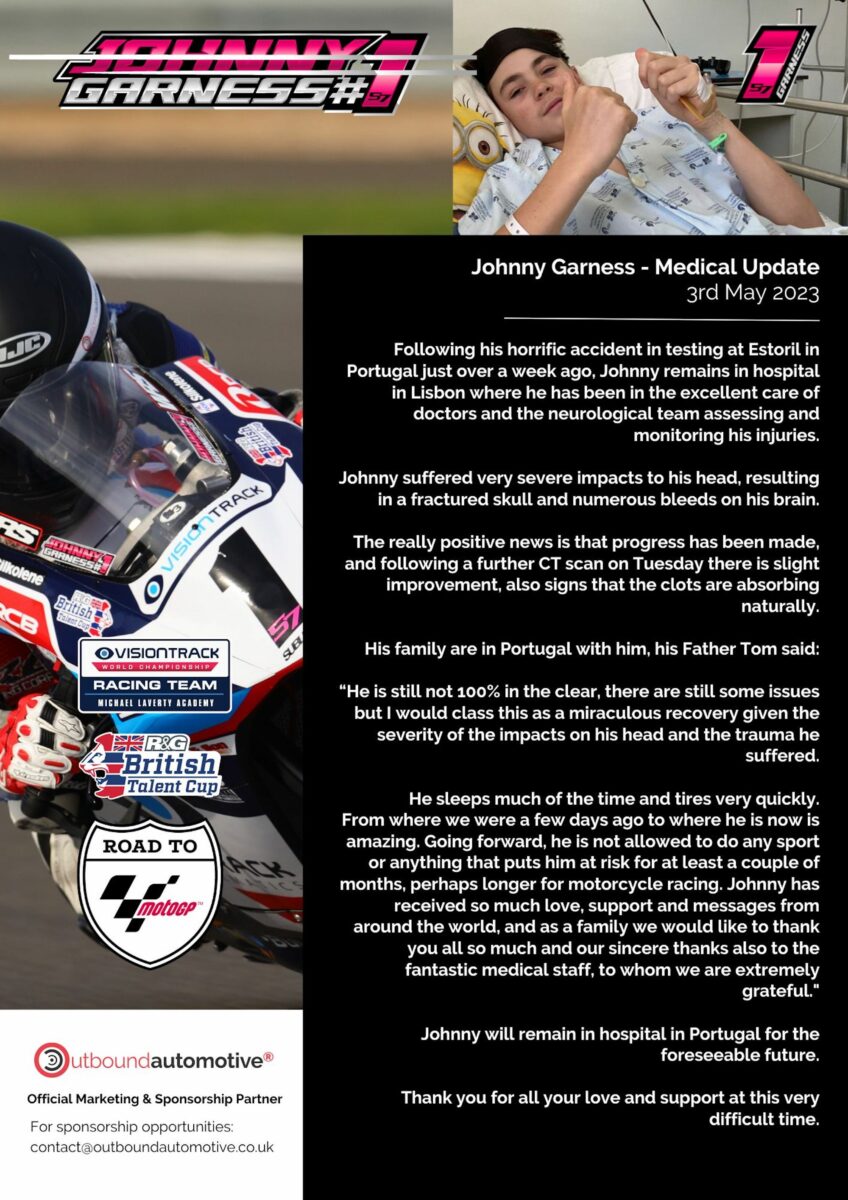 The statement adds that Garness will be sidelined from sporting activities for at least a couple of months - 'perhaps longer for motorcycle racing' - and will remain hospitalised in Portugal for the foreseeable future.
Garness rose to prominence last year on the back of a dominant run to the 2022 British Talent Cup that yielded 12 victories from 18 races. Prior to his accident, Garness was bidding to defend his title in the British Superbike-supporting series alongside a campaign in the European Talent Cup.