We're still several press releases away from having a definitive idea of what the 2024 MotoGP World Championship grid will look with brewing summer break rumours suggesting one or two key moves could trigger an overhaul of the current line-up.
When it comes to contracts, teams in MotoGP mostly move in tandem of two-year contract lengths. It means, over time, most riders have synchronised by having contracts that begin and end at roughly the same time.
It usually leaves a season in between during which only a handful of changes tend to occur. The current 2023 MotoGP season leading into 2024 should be one of those seasons… except, this time, there is a real possibility the riders and team combinations we see today will be quite different next year.
Here is a round-up of some of the nudge, nudge, wink, wink rumours doing the rounds while the riders kick up their feet on holiday…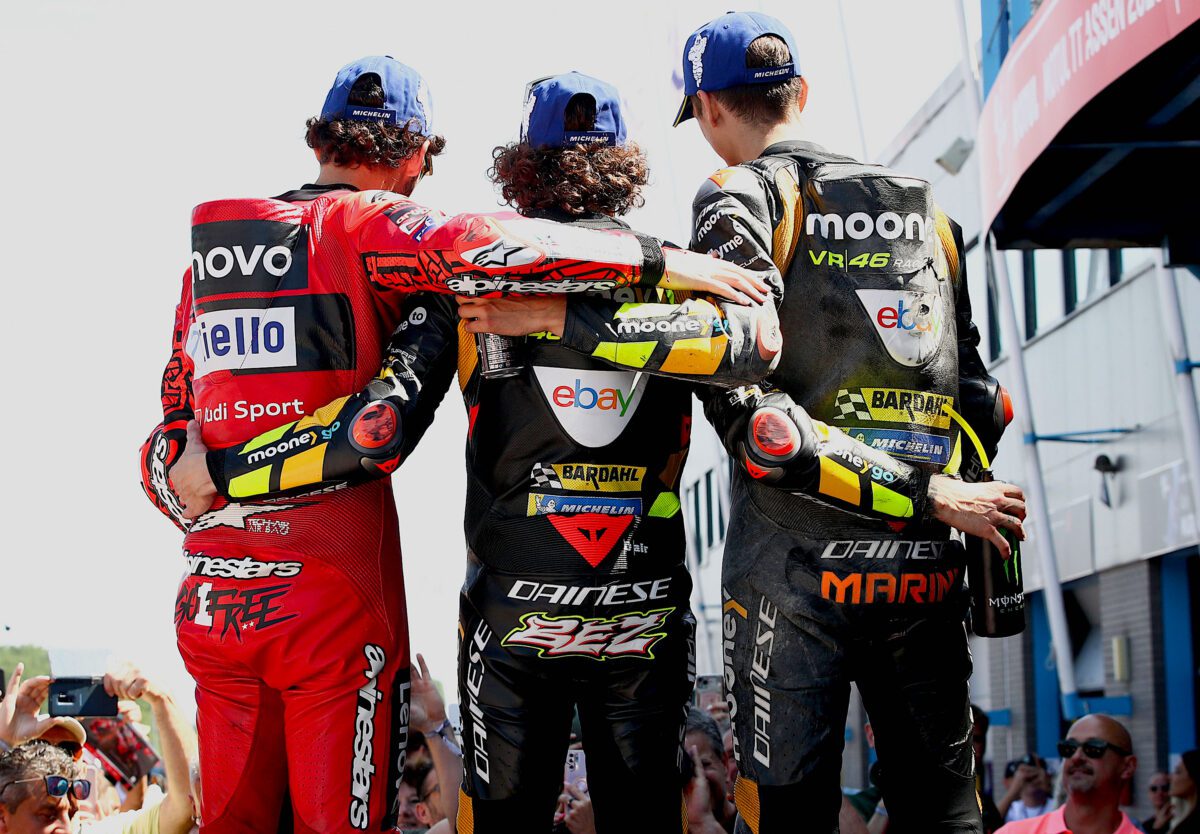 Domino Ducati
The new MotoGP superpower - both in terms of quality and quantity - you'd forgive Ducati for sticking with what is clearly a winning formula into 2024.
While the Italian firm is formally represented in a factory/pseudo factory capacity by the Ducati Team and Pramac Racing, its affiliated but not 'official' satellite teams - VR46 Racing and Gresini Racing - have earned their place in Ducati's wider decision-making processes.
It gives Paolo Ciabatti and Gigi Dall'Igna some flexibility when it comes to moving its chess pieces even if it has found a hard sell when it comes to internal reshuffling. Just ask Jorge Martin.
There will be no change in the top 'Big Red' Ducati squad, Jorge Martin will stay with Pramac but there remains a lack of clarity over the second seat at Pramac.
At the heart of the issue is Ducati's reluctance to supply more than four of its on-spec Desmosedicis. It's a machine that Marco Bezzecchi, on the strength of a breakthrough sophomore MotoGP campaign, arguably deserves and there is growing momentum behind the granting of that wish.
But it would almost certainly mean a move from the familiar surroundings of VR46 Racing - thus also dashing the hopes of bosses keen to both retain Bezzecchi and get its hands on a 2024-spec bike. It would also spell bad news for Johann Zarco.
There is no denying the Frenchman has been a fast, steady hand for Pramac - which leads the MotoGP teams' standings at the moment, it should be pointed out - but he doesn't seem to be on the cusp of that elusive first win either.
As for where else he'd fit in, a direct swap with Bezzecchi is unlikely, leaving Gresini Racing, who is expected to keep Alex Marquez but drop Fabio di Giannantonio, as the (hypothetical) only internal option..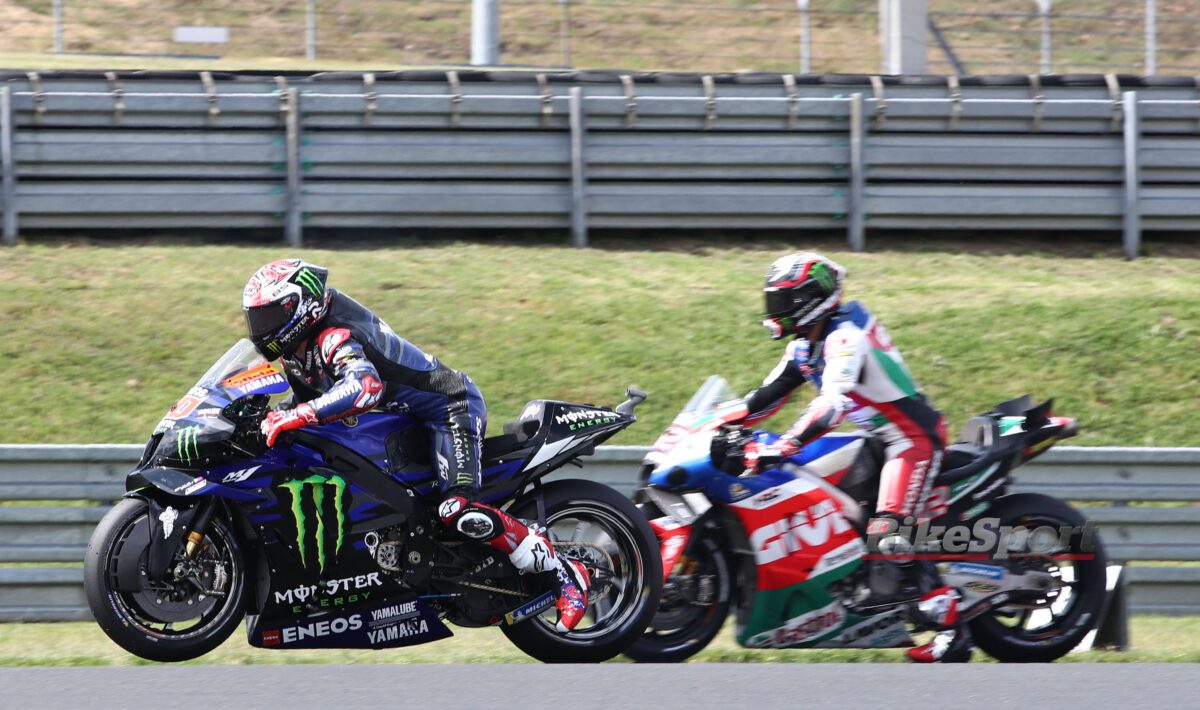 From Suzuki to Honda to Yamaha for Alex Rins?
Zarco could make a very harmonious partnership with friend and fellow Frenchman Fabio Quartararo at Yamaha, a possibility the 2021 MotoGP World Champions would very likely be open to if things fall their way.
However, time isn't on its side and, besides, there is growing speculation that it is already deep in negotiations to make a grab for Alex Rins.
The ex-Suzuki rider, Rins stunned the paddock earlier this year by taking a stunning win at COTA on the LCR Honda, seemingly proving there is a competitive package in the RC213V when it's not trying to throw its riders off. It's something Rins knows only too well, the Spaniard currently holed up recovering from a broken leg.
A combination of Suzuki's abrupt exit and Joan Mir getting the nod for the factory Honda means Rins likely has exit clauses peppered into his contract, something Yamaha is seemingly keen to exploit as the prospect of competing for his third different Japanese manufacturer in three years grows.
Rins' arrival would mean a departure for Franco Morbidelli after two and half fairly miserable years in the factory Yamaha set-up. Though WorldSBK has been mentioned, should Bezzecchi indeed switch to Pramac for 2024, there is a strong chance Valentino Rossi will welcome his protege home in a line-up alongside Luca Marini.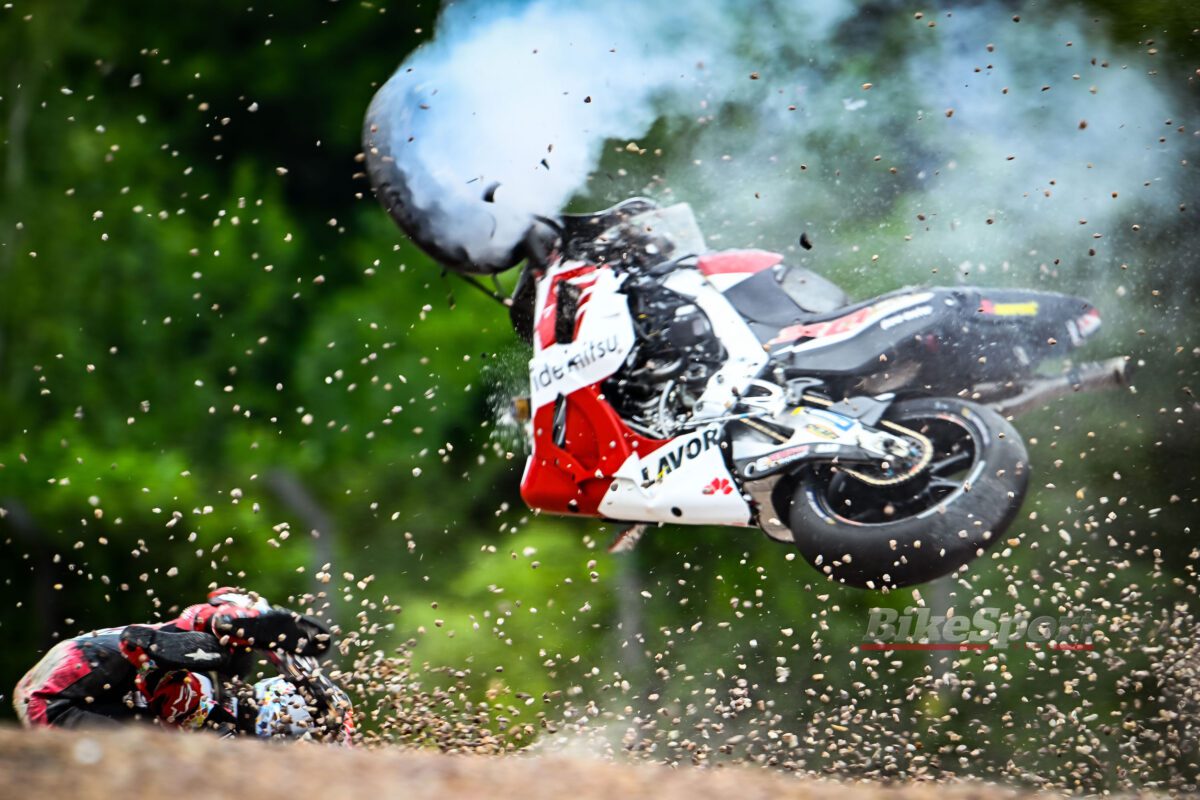 An exodus at Honda?
Over at embattled Honda, there is the real threat of a mass exodus as its (battered and bruised) riders consider whether they want to spend their weekends trying not to get hurt.
As it turns out, Honda might have as much difficulty keeping its riders in the team, not just on their bikes.
Many column metres have been written over Marc Marquez's future, though in truth he doesn't have many alternative options beyond this persistent KTM rumour that seems far-fetched, for 2024 at least.
As for Mir, he's clearly struggling to find his feet at Honda and while injury timeouts have clouded conclusions about his potential, he hasn't been terribly quick in the moments he has been on track. That said, if Mir wants out - like Marquez - it's difficult to see where he'd go, while Honda can't really afford to drop him either.
Over at LCR, if Rins is indeed on his way out, then Takaaki Nakagami seems likely to be granted (another) stay of execution, even if you'd be forgiven for forgetting he was even there on the grid this year.
There is a slim chance Honda's next homegrown hope Ai Ogura could graduate, but the 2022 Moto2 runner-up has been off the pace while recovering from a complicated wrist injury. A strong result at Assen suggested glimmers of hope for the remainder of the year, but it's still likely to put Honda off promoting him until 2025 now.
On the other side of the garage, if Rins does head to Yamaha, Honda is tipped to place its WorldSBK rider Iker Lecuona on the LCR machine. The Spaniard has completed a couple of substitute events, is MotoGP experienced and has been praised in the past for his technical feedback - something Honda really needs right now.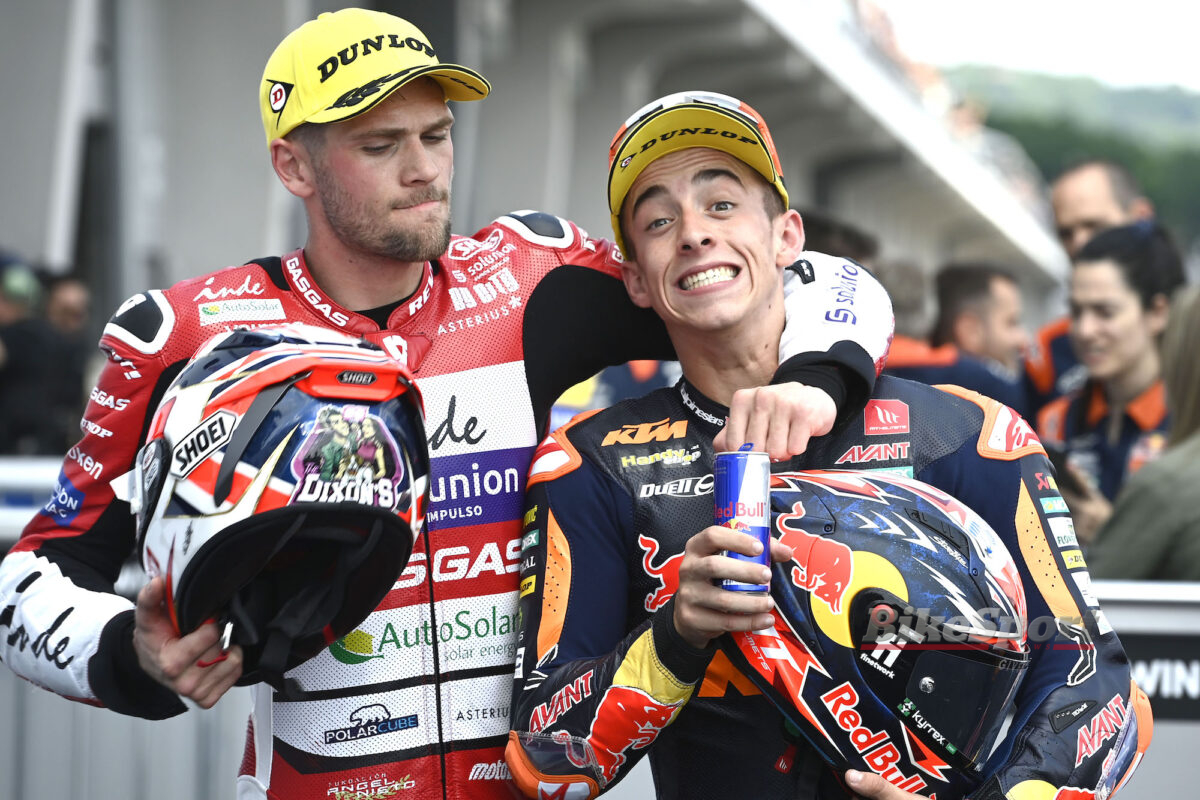 Who else is chasing 2024 MotoGP seats?
Over at Aprilia, there will be no change in the factory set-up, while Miguel Oliveira will remain with RNF Racing. However, there are niggling doubts about Raul Fernandez, the Spaniard showing only a slight improvement in results over his gnarly rookie campaign at KTM.
Razlan Razali has made no indications he is looking around, but the likes of Tony Arbolino and Jake Dixon have said they are in discussions with teams for 2024.
Moto2 leader Arbolino has for a long time been linked with di Giannantonio's seat at Gresini, but this could be threatened if Ducati starts playing musical chairs, as explained above. di Giannantonio competes with a Gresini - not a Ducati - contract, which gives the team greater say in its rider choice, but it might not have one if Ducati uses it to honour Zarco's contract.
As for KTM, it is still agonising over how to fit five into four thanks to the insistent arrival of Pedro Acosta. It could add two more bikes, but Dorna has indicated this isn't happening and, besides, it doesn't have much time to make such an expansion happen before 2024.
Phew, there's a lot to digest there… just stick their names in a hat and decide that way, much simpler.