Franco Morbidelli has put the rumour mill in full swing after giving what appears to be a huge hint that he will be parting ways with Yamaha at the end of the 2023 season.
Franco Morbidelli claimed another top ten finish at his home Grand Prix in Mugello, as well as this the Italian rider also beat his team-mate, Fabio Quartararo. A tenth place finish may seem like a bad result for most riders but with Yamaha's current situation it would be deemed a good result by many.
Before the Italian Grand Prix in an interview with MotoGP.com Morbidelli stated that he needed to 'give a little more' to secure his future with Yamaha. In this same interview Morbidelli expressed his desire to stay on a MotoGP bike in the 2024 season, but did not confirm if it would be with Yamaha or not.
But in his latest interview with MotoGP.com after the Italian Grand Prix, Morbidelli was asked whether beating Quartararo would be a good result to secure his future at Yamaha. However, the answer that the Italian rider gave has left people with more questions than answers.
When asked if out qualifying and then beating Quartararo would be important for his future Morbidelli responded by saying: "I don't care, I don't care. I need to be focussed on being the best professional that I can be and the best rider that I can be. I do not race according to my future, according to my contracts, I race according to my passion."
Trying to dig a bit deeper Morbidelli was then asked again whether the result would help, to which Morbidelli responded by saying: "Talk with Lin (Jarvis)."
Morbidelli then released his biggest hint yet about securing another year with Yamaha when he said: "Do I want to secure another year with Yamaha?"
When asked if he wanted to secure another year with Yamaha the Italian replied by saying: "talk with Lin (Jarvis)."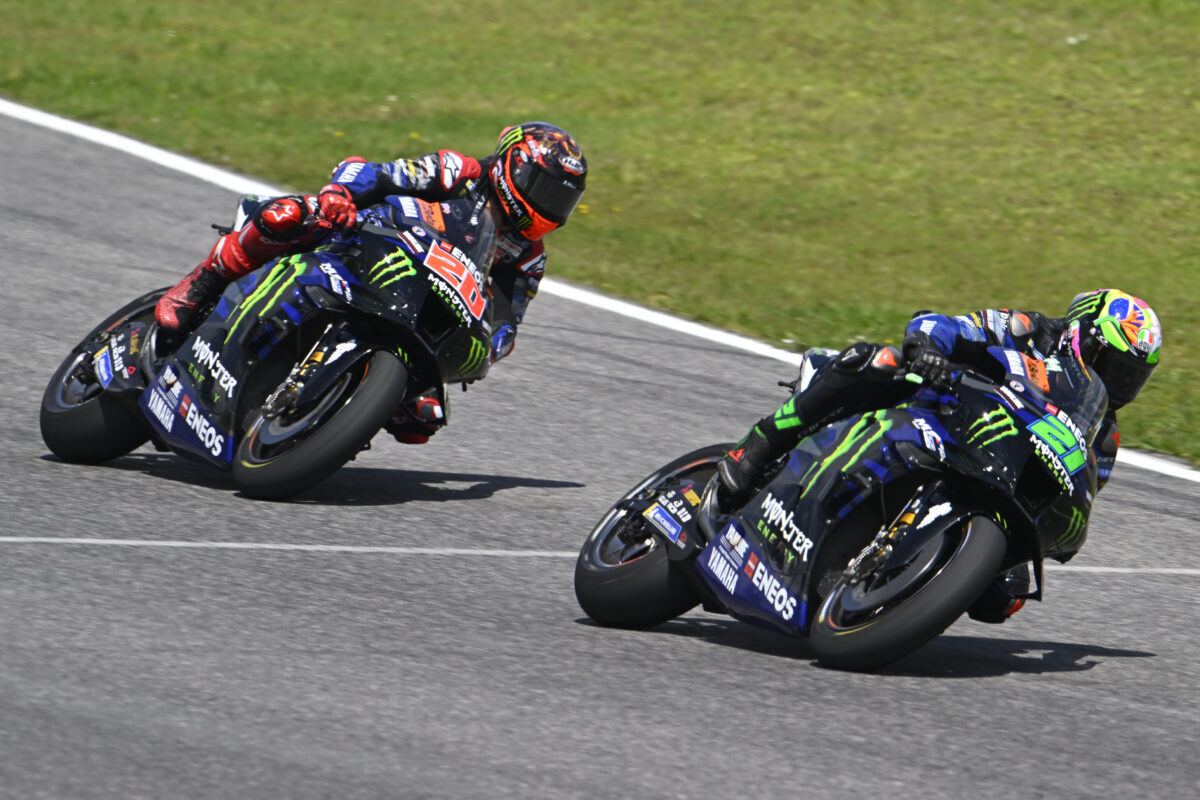 Could this be the end for Morbidelli and Yamaha?
After finishing second in the 2020 MotoGP Championship Morbidelli's MotoGP career has not carried on how it looked like it would. Ever since the 2020 season the Italian has only stood on the podium once. Morbidelli got promoted into the factory Yamaha team in 2021 and has had a best result of fourth ever since.
After finishing 19th last season in the Championship standings and currently finding himself down in 13th it looks like Morbidelli may be leaving Yamaha. However, with very few seats left for 2024 there are not many choices left for the Italian.
It does appear from his latest interview that Moridelli has been told his career with Yamaha his over. But then that leaves the question of where will he go?
The 28-year-old may be out of the Grand Prix paddock overall and could find himself in World Superbikes next year, or a MotoGP ride may open up for the talented Italian.