Yamaha Motor Racing Managing Director has warned Toprak Razgatlioglu would need to 'adapt his riding style significantly' if he was to make the transition from WorldSBK to MotoGP in the near future.
Speculation linking the 2021 WorldSBK Champion to a move into the premier class next season has resurfaced after Razgatlioglu was called up to test a Yamaha M1 over two-days in Jerez.
The outing has been viewed by many as an opportunity for Yamaha to evaluate the possibility of promoting the Turkish rider from its WorldSBK set-up.
Though the split with satellite partner RNF Racing leaves Yamaha with just two bikes on the grid, there is currently an available seat on one of its factory M1 for 2024, with Franco Morbidelli's contract due to expire at the end of the year.
In an interview on the official MotoGP website, though Yamaha's Jarvis wouldn't be drawn on the specific details of Razgatlioglu's two days on the M1, he admits the manufacturer had a vested interest in seeing how he fared.
"The most important thing for Toprak on this test was to get to know and understand what is a MotoGP type of machinery, the demands, what are his feelings about it and it was good for us to check how his potential eventually for MotoGP in the future," Jarvis said.
"Toprak is in Superbike at the moment, but he has expressed an interest, clearly there is an interest. I think any rider eventually has an interest to try and see how they would do on a MotoGP bike, so I think it was a chance for him to understand better the needs of MotoGP and for us to see his speed."
Confirming Razgatlioglu tested the 2023-specification Yamaha M1, when asked for his appraisal of the Turkish rider, Jarvis reveals the 33-time WorldSBK race winner had a hard time getting comfortable with unfamiliar Michelin tyres, particularly under braking, adding he would likely need to change his distinctive riding style in order to be competitive.
"It was interesting, a good test, a good opportunity to spend time together. "We had a dedicated test team for Cal and for Toprak, we had a '23-spec M1 for him. So it was good, a good two days.
"We can't say very much from two days of testing [but] the conclusion he would probably give you is it is very different riding an R1 on Pirelli to riding a MotoGP M1 on Michelins and you need more time to adapt.
"If I would sum it up, it was not easy for him to get the feeling on the bike. If you watch Toprak a Superbike, he is able to do miracles on the bike, he has an incredible feeling on the front-end, we see that from his stoppies, some of his incredible corner entry and braking.
"That was not so easy to find on the M1. The bike is much more rigid than the Superbike so really to gain speed on a MoroGP bike, he would need to adapt his riding style quite significantly."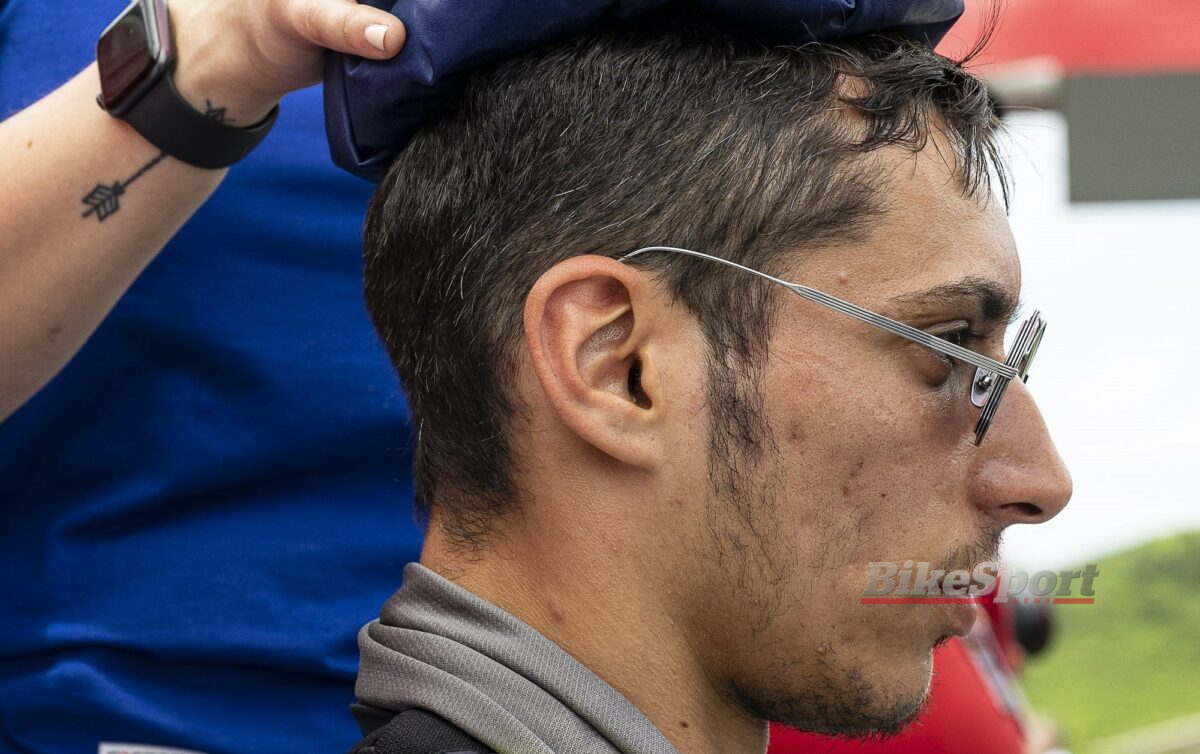 Will Razgatlioglu change riding style for MotoGP deal?
While most in the know won't be terribly surprised to read Jarvis' comments about the hurdle Razgatlioglu faces to adapt to MotoGP, for him to do so in this detail is probably a sure sign that promoting the Turk for 2024 would be too premature.
Indeed, the steady divergence of MotoGP and WorldSBK over the years has gone a long way to slow the flow of riders reaching the highest levels of Grand Prix racing via the production ranks, meaning you have to go right back to 2011 and Cal Crutchlow to find the last successful transition.
Naturally, any rider coming from WorldSBK must be prepared to adapt to MotoGP, but none more so than Razgatlioglu.
A rider who has progressed almost entirely via the production racing ranks, Razgatlioglu has honed an unusual 'stunt-influenced' riding style dictated by a front-end heavy, hard-braking approach.
It's a method that has worked wonders for him, not just because he's quick, but because it is uniquely his and hard to replicate.
And yet, ironically, the attribute that makes Razgatlioglu such an enticing prospect for MotoGP teams is the very thing that could scupper his hopes. Indeed, as Jarvis points out, getting the back wheel up and pushing down on the front isn't necessarily the best way to go fast on a lighter, Michelin shod MotoGP bike.
Trouble is, so distinct Razgatlioglu's style is, it could be difficult to wind it back to adopt a new one and even if he did, there is no guarantee he'd be as quick. It's a dilemma Yamaha is clearly mulling right now, but with only two available seats, it's more than likely it'll conclude that it can't afford the wait and investment to find out.
That's not to say Razgatlioglu is out of the running for 2024, but a more likely scenario is a dedicated testing programme for next year ahead of a 2025 MotoGP race deal promotion on a satellite Yamaha M1.