To mark Josh Brookes' return to the Isle of Man TT this year, Bikesportnews will chart the highs, lows, trials and tribulations from the Aussie himself. Here is his final instalment following his maiden TT podium in the second Supertwins TT...
So, TT 2023 is over and I'm sitting here in the sunshine looking forward to all the packing I've got to do but also reflecting on the results I've achieved. I'm certainly pleased with my return and how it's all gone especially the last few days which included my maiden podium finish.
Friday was a busy day with two three-lap races and fifth in the second Superstock race was a good, strong result. No-one dropped out and none of the expected front runners had any mechanical issues and with it being the category my bike was suited to the most, I feel that I put my best effort forward without any risks taken.
It's easy to have a carrot dangled in front of you and want more but on reflection fifth place was a success. I'd have been happy with a top ten but fifth was a result to be proud of. We were all on equal machinery and I believe my position was justified for what I was doing. I just pipped my personal best lap, and the bike ran perfectly so everything went to plan.
>>> READ: Josh Brookes' 2023 TT Diary Pt.I <<<
The second Supertwin race followed, and I must admit, I didn't realise how temperamental the bikes were and although other people weren't surprised by the rate of attrition, it shocked me a bit. A lot of bikes went out on the first lap, which, when you think about it, would have normally been the fourth and final lap of the previous race.
The bikes are clearly sensitive to breaking down, but I like to think I'm mechanically sympathetic with gear changes although after finishing fifth in the first race, I didn't think a podium would be possible as the gaps to the riders ahead of me were too big for me to make up. As it turned out though, a podium was what I got although after the pit stop, I thought that chance was gone.
>>> READ: Josh Brookes' 2023 TT Diary Pt. II <<<
There was a bit of confusion with all the hands around the bike with the fuel going in and there wasn't much room for my hands to go on the bars when I restarted. The bike owner had emphasised to me to be ready which I knew I would be, but the urgency meant my view was blocked and I must have bumped the kill switch as the bike just shut down.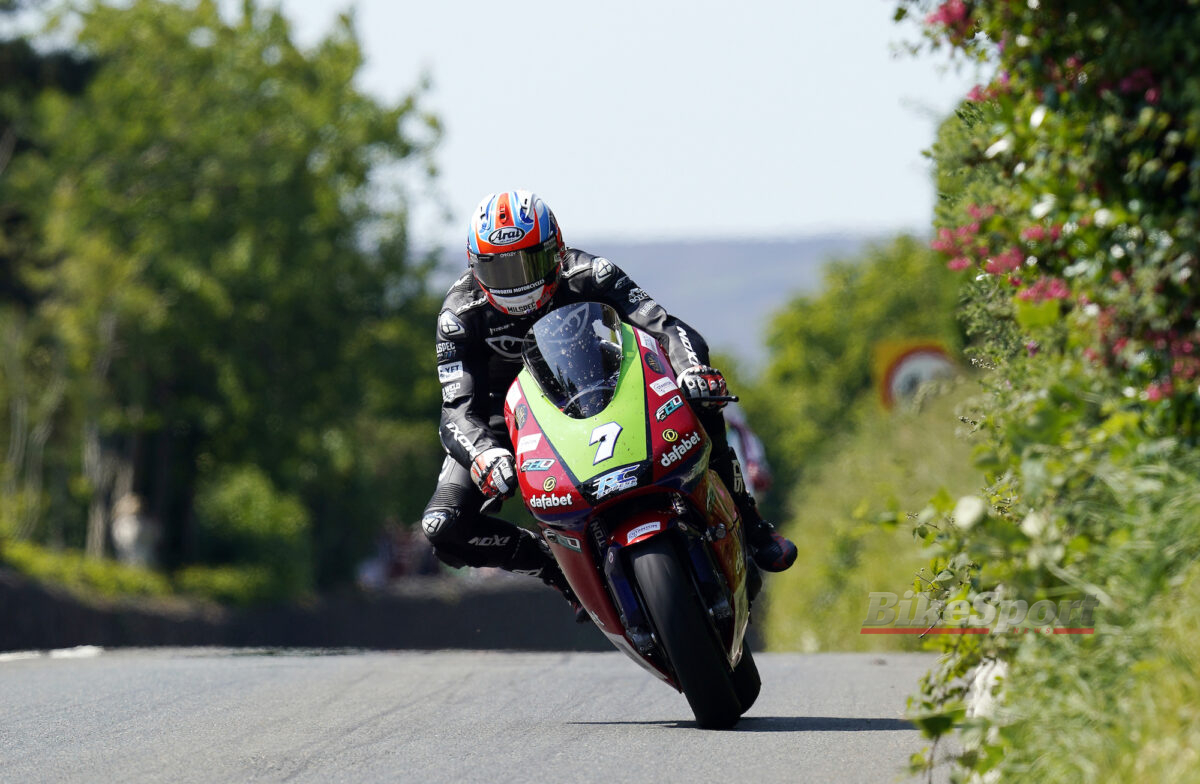 I looked down and the view to the dash was blank but I wasn't aware it takes a Supertwin quite a few seconds to go through it's start-up procedure. I switched everything on, but nothing was happening and when one of the team came running up and did the same, it was hard to know if the thing was switched on or not! It felt like forever before the bike fired up again, but the reality was that I lost around 30s.
>>> READ: Josh Brookes' 2023 TT Diary Pt. III <<<
To think I'd lost a podium finish was heart-breaking especially as the gain in the pits would have been milliseconds. I felt a bit embarrassed to have such a basic situation have such a catastrophic result, but the racer instinct soon kicked in. I wasn't going to give up so went as quick as I could with the aim of improving my lap times and move up the order as much as I could.
That's what I did and with the fastest lap of the race, 120.9mph, I took third, only a couple of seconds off the runners-up spot. On the one hand, I felt a bit fortunate to get a podium as a lot of the top guys dropped out. It felt like I'd been gifted it and couldn't take absolute satisfaction from it although, as many people pointed out to me, many a TT success, whether a win or podium, has come on the back of other riders' losses.
>>> READ: Josh Brookes' 2023 TT Diary Pt. IV <<<
There were lots of positives though, including the fastest lap, and it was an emotional process to be in the winner's enclosure and stand on a TT podium. It obviously carries a lot of prestige, and it was a special moment.
Saving my best until last with Senior TT top five
That just left the Senior race and whilst it wasn't a major cause of concern, we weren't sure if we could do two wheel changes without losing too much time. As a result, we opted to do just one wheel change which we did second time around, so I did the first four laps on the same rear tyre.
I was slightly inhibited on laps three and four with a more used tyre compared to the opposition, but it was only a marginal loss and I moved up to fifth which was really pleased with. Except for Jamie (Coward) none of the front runners dropped out so I feel it was a deserved position especially after setting a new personal best lap of 132.529mph on the final lap of the race. After a long break from the TT, to do that lap speed is something I'm proud of.
>>> READ: Josh Brookes' 2023 TT Diary Pt. V <<<
It was a great feeling to finish with that result and performance and with Pete's win, the whole team was buzzing with what we'd achieved together. Winning races was what Pete and the team came to do and the Senior's the one everyone wants to win and the race everyone remembers. We all had a nice meal out in the evening and to be attached to the success felt pretty special.
Looking back at the event, I'm more than pleased with my return and happy with how I went. I wanted to improve which is what I did in terms of both my results and lap speeds. I've loved the TT every time I've been here, and I never leave thinking I'm done with racing on the Mountain Course. I anticipated I'd have the same feeling this year and if it's up to me, I'll 100% be back next year.
With such great weather, this year's TT was a bit more straightforward to previous years when I've had to deal with constant delays which adds significantly to the stress levels, but it's been really nice to share my TT journey and rollercoaster of feelings and experiences with you. Thanks for reading and I hope you've all enjoyed the inner understanding and story of what goes on at the TT.