There is only one seat still up for grabs on the 2024 MotoGP World Championship grid and things are filling up nicely over in the supporting Moto2classes.
With five rounds of both series' still to come in a tightly-packed end-of-season schedule, Moto2 has filled 24 of an available 30 seats with ten teams having announced both of its riders..
So, who is signed up, who is out and who is still refreshing their emails every five minutes...?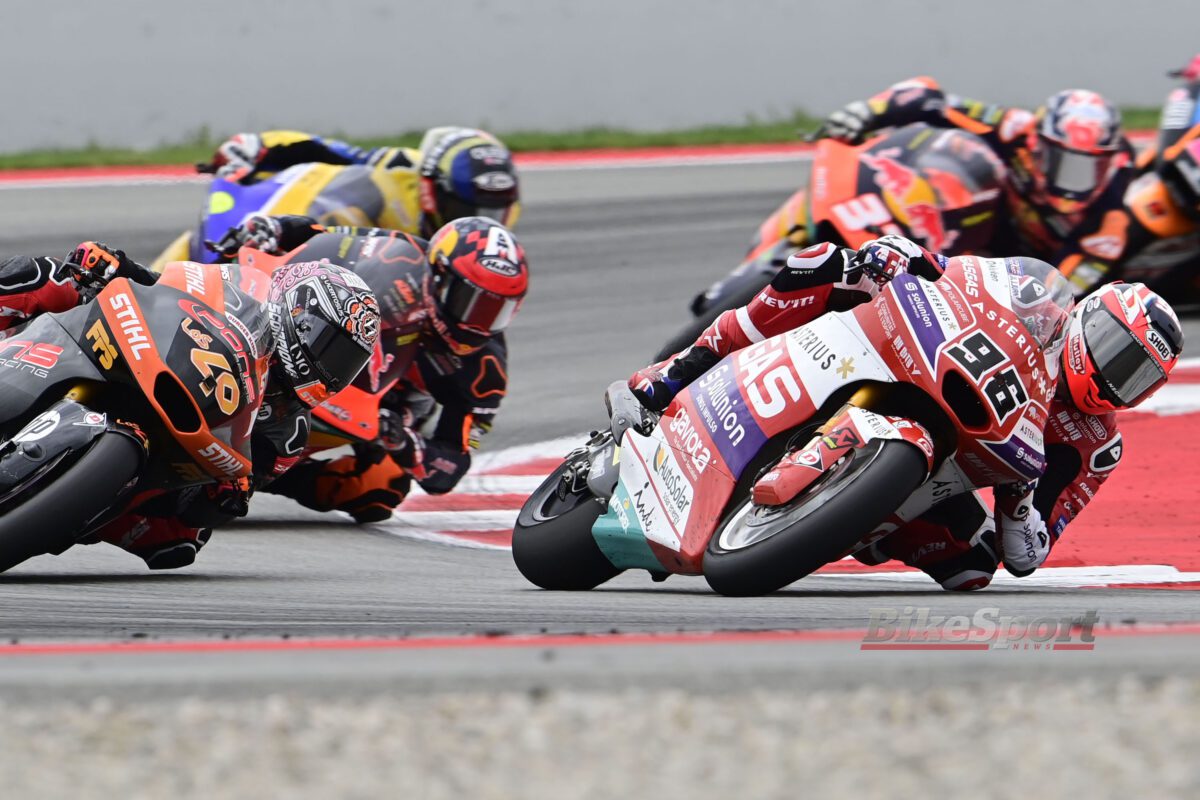 2024 Moto2 World Championship
With just one rider heading on up to Moto2 in the form of champion-elect Pedro Acosta, the 2024 Moto2 World Championship grid will bear a similar look to this year's line-up, albeit with a few familiar faces in unfamiliar places.
As it stands, Tony Arbolino looks set to be the highest-placed rider from 2023 returning for 2024, the Italian having re-signed with Marc VDS Racing, while Jake Dixon behind him in third overall at this time is also sticking with what he knows on the GasGas Aspar Kalex.
There are changes elsewhere though with Aron Canet switching from Pons Racing - which exits Moto2 - in favour of a move to Fantic Racing, while Filip Salad swaps Gresini for Marc VDS for his third season.
Champions in 2021, 2022 and most likely again in 2023, Red Bull KTM Ajo's high expectations will be handled by Celestino Vietti, who leaves the VR46 Academy fold in favour of shacking up with KTM instead, and rookie Deniz Oncu, who steps up from Moto3.
Other moves taking place within Moto2 include Joe Roberts, who returns to American Racing to team up with Rory Skinner, who will look to make a step forward from what has been a tough maiden campaign in 2023, and Albert Arenas, who lands at Gresini Racing.
In addition to Skinner, those also staying put in 2024 include Darryn Binder (Husqvarna Intact GP), Dennis Foggia (Italtrans), Somkiat Chantra (IDEMITSU Honda Team Asia) and Bo Bendsneyder (SAG Team).
Each will get a new rookie team-mate too with Moto2 European title contender Senna Agius joining Binder, Diogo Moreira rising from Moto3 to join Italtrans, Mario Aji coming in alongside Chantra and Moto3 leader Jaume Masia penning a deal with SAG Team. Ayumu Sasaki will also graduate from Moto3, joining the Correos Pageo Yamaha VR46 team.
With Pons Racing ending its long-association with Grand Prix competition at the conclusion of the season, its entry will be assumed by the Teo Martin-run MT Helmets - MSI outfit, which has signed the experienced Ai Ogura and 2022 Moto3 runner-up Sergio Garcia for its inaugural campaign in the intermediate class.
Just the two teams will boast unchanged rider line-ups for 2024 in the shape of GasGas Aspar, where Izan Guevara gets a second season alongside Dixon, while Racing GP will retain Barry Baltus and Zonta van den Goorbergh.
Those without a ride include Alonso Lopez, though his seat alongside Fermín Aldeguer at SpeedUp remains unfilled for now, American Racing's standout stand-in Marcos Ramírez and the bad boy of Moto2 right now, Jeremy Alcoba.
2024 Moto2 World Championship Rider Line-Up [as of October 2023]
-
Name
Nat.
Team
-
Celestino Vietti
🇮🇹
Red Bull KTM Ajo Motorsport
-
Deniz Oncu
🇹🇷
Red Bull KTM Ajo Motorsport
-
Tony Arbolino
🇮🇹
Marc VDS Racing
-
Filip Salac
🇨🇿
Marc VDS Racing
-
Jake Dixon
🇬🇧
GasGas Aspar Team
-
Izan Guevara
🇪🇦
GasGas Aspar Team
-
Fermin Aldeguer
🇪🇦
SpeedUp Racing
-
TBA
-
SpeedUp Racing
-
Aron Canet
🇪🇦
Fantic Racing
-
TBA
-
Fantic Racing
-
Albert Arenas
🇪🇦
Gresini Racing
-
Manuel Gonzalez
🇪🇦
Gresini Racing
-
Ayumu Sasaki
🇯🇵
Correos Prepago VR46 Yamaha
-
TBA
-
Correos Prepago VR46 Yamaha
-
Dennis Foggia
🇮🇹
Italtrans
-
Diogo Moreira
🇧🇷
Italtrans
-
Somkiat Chantra
🇹🇭
IDEMITSU Honda Asia
-
Mario Aji
🇮🇩
IDEMITSU Honda Asia
-
Rory Skinner
🇬🇧
American Racing
-
Joe Roberts
🇺🇲
American Racing
-
Darryn Binder
🇿🇦
Husqvarna IntactGP
-
Senna Agius
🇦🇺
Husqvarna IntactGP
-
Barry Baltus
🇧🇪
Racing GP
-
Zonta van den Goorbergh
🇳🇱
Racing GP
-
Bo Bendsneyder
🇳🇱
SAG Team
-
Jaume Masia
🇪🇦
SAG Team
-
TBA
-
Forward. Team
-
TBA
-
Forward. Team
-
Ai Ogura
🇯🇵
MT Helmets - MSI
-
Sergio Garcia
🇪🇦
MT Helmets - MSI