Reigning FIM Endurance World Champions F.C.C TSR Honda got its title defence off to the perfect start with a clear victory in the 2023 season-opening 24 Heures Motos event at Le Mans.
The factory supported outfit comprising Josh Hook, Mike di Meglio and Alan Techer largely stayed out of trouble in the gruelling round-the-clock encounter to see off the threat from YART Yamaha and BMW Motorrad WEC, taking the flag three laps clear of the competition.
Having snatched the 2022 FIM EWC title from under the nose of SERT Suzuki at the Bol d'Or finale, F.C.C TSR Honda couldn't have enjoyed a more seamless start to its 2023 campaign.
Indeed, though YART and BMW enjoyed stints in the lead over the course of the race, it was F.C.C TSR's fewer minutes in the pit-lane that ultimately allowed it the break it needed to carry it home for a clear victory.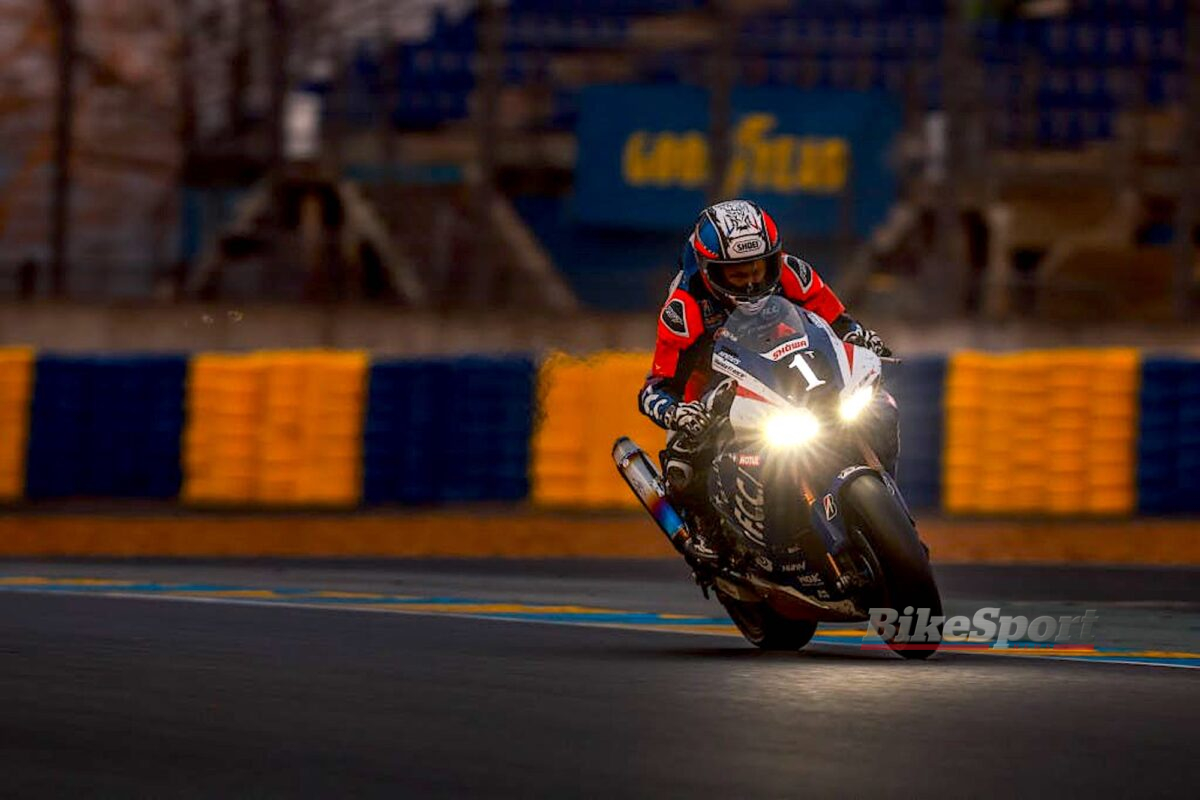 It marks a third 24 Heures Moto victory for Hook and di Meglio, with Techer - who took over the seat held by Gino Rea when he was sidelined by his serious accident during the Suzuka 8 Hours in last August - topping the podium for the second time in his career.
In a race affected by a cocktail of thick fog at sunrise mixing with lingering smoke from spectator campsites around Le Mans' Circuit Bugatti, F.C.C TSR Honda led home Yamaha Austria Racing Team (YART), the factory-backed squad putting up a strong fight for victory but ultimately lost touch when it encountered a brake caliper issue and Karel Hanika took a tumble on oil.
Nonetheless, the Czech rider was able to remount, with Hanika, Niccolo Canepa and Marvin Fritz holding onto second ahead of factory BMW trio Ilya Mikhalchyk, Markus Reiterberger and Jeremy Guarnoni. Mikhalchyk was another to fall during the race, but recovered the new BMW M 1000 RR to third and on same lap as YART.
Honda Vitalis Racing led during the initial stages, eventually finishing fourth, while ERC Endurance - which featured ex-WorldSBK rider Chaz Davies and current world championship contender Philipp Oettl - came home fifth after losing time changing the clutch on the Ducati Panigale V4 R.
Tati Team Beringer led the Kawasaki challenge in sixth position, nine laps down on the winners, but ahead of 2020 and 2021 EWC Champions Yoshimura Suzuki Endurance Racing Team (SERT).
In its first EWC race as a privateer entry following the withdrawal of official support from Suzuki, SERT couldn't recover from a disastrous start when contact with Hook's Honda just seconds after the sprint at Turn 2 sent Gregg Black barrelling through the gravel trap.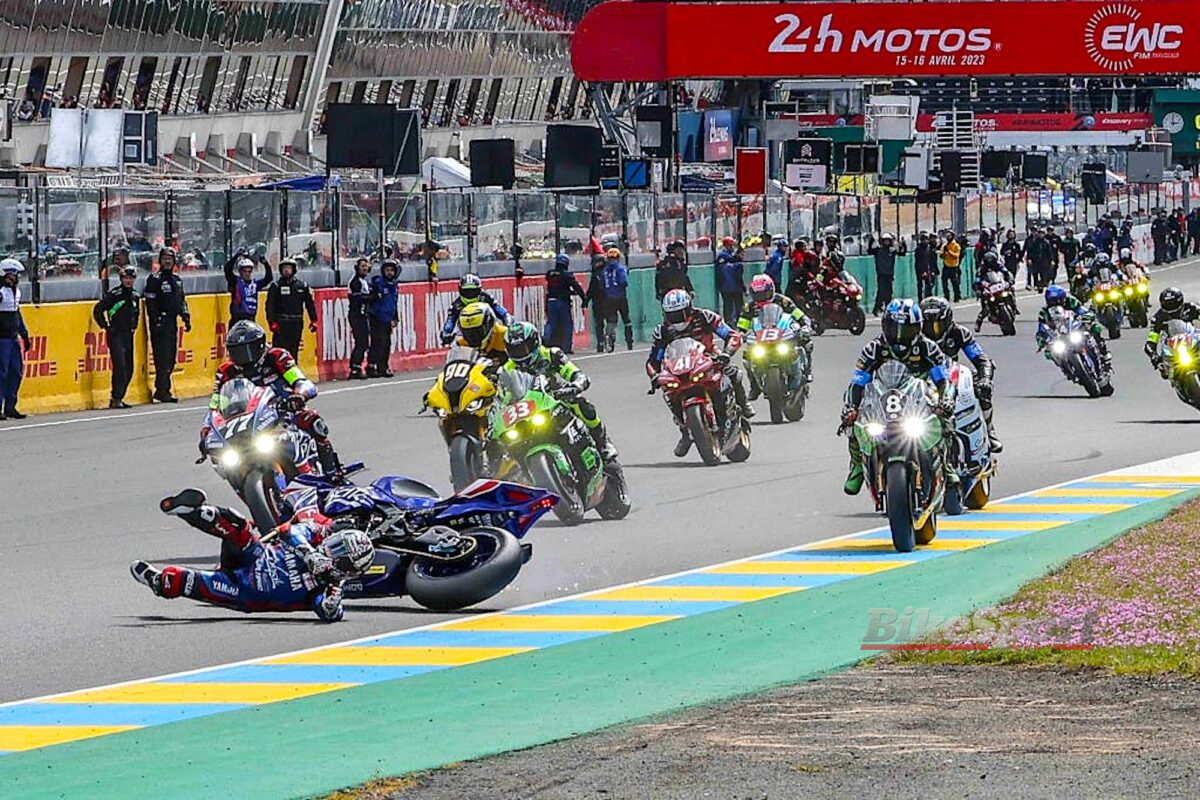 Losing 18 laps in the process, though SERT battled to the end, it could only get back to seventh place.
In Superstock, the Tecmas MRP Racing team of Kenny Foray, Jan Buhn and Loic Arbel took victory with its BMW, leading home the 3ART Best of Bike Yamaha in eighth and ninth overall.
Of the British contingent, Chris Walker's ADSS97 squad scored a solid seventh in the Superstock class and 19th overall, the BSB and WorldSBK legend sharing the Kawasaki ZX-10RR entry alongside countrymen Stefan Hill and Chris Platt.
They finished just ahead of British trio Thomas Ward, David Shoubridge and Thomas Oliver on the TRT 27 Bazar Suzuki in 20th.
Former BSB rider Dan Linfoot was also classified 12th overall as part of the Wojcik Yamaha team alongside Kevin Manfredi and Kami Krzemien.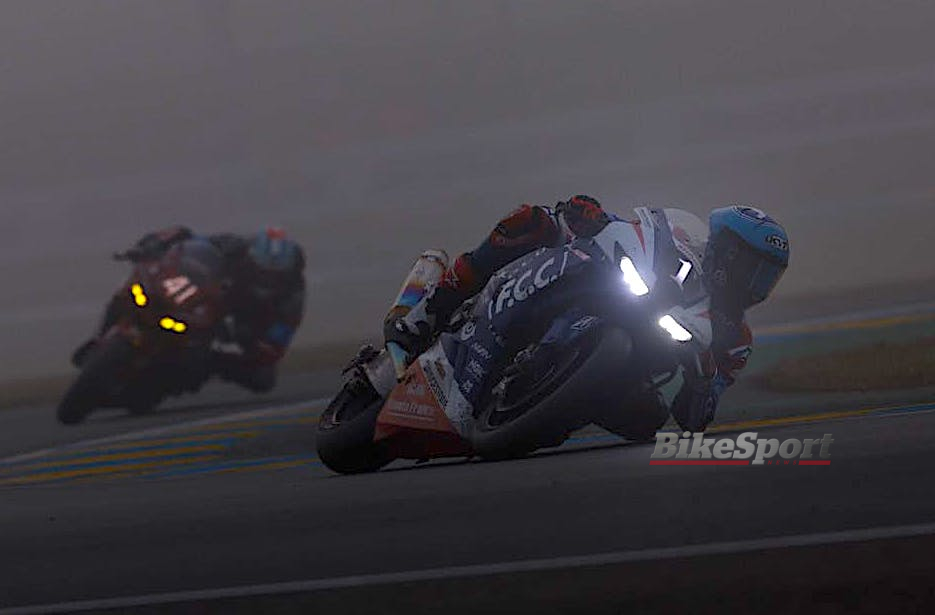 2023 24 Heures Motos Race Results | Le Mans
Final Race Results for the 2023 24 Heures Motos | Le Mans | 2023 FIM Enduance World Championship
Pos
Team
Nat
Motorcycle
Cat
Laps
Rider #1
Rider #2
Rider #3
1
F.C.C TSR Honda France
JPN
Honda CBR1000RR-R
EWC
791
Josh Hook
Mike di Meglio
Alan Techer
2
YART Yamaha
AUT
Yamaha R1
EWC
788
Marvin Fritz
Karel Hanika
Niccolo Canepa
3
BMW Motorrad WEC Team
BEL
BMW M 1000 RR
EWC
785
Markus Reiterberger
Ilya Mikhalchyk
Jeremy Guarnoni
4
Honda Viltais Racing
FRA
Honda CBR1000RR-R
EWC
783
Florian Alt
Steven Odendaal
Leandro Mercado
5
ERC Endurance Ducati
GER
Ducati Panigale V4 R
EWC
783
Phillip Oettl
David Checa
Chaz Davies
6
Tati Team Beringer Racing
FRA
Kawasaki ZX-10RR
EWC
782
Gregory Le Blanc
Hugo Clere
Baptiste Guittet
7
Yoshimura SERT Motul
FRA
Suzuki GSX-R1000
EWC
768
Gregg Black
Sylvain Guintoli
Etienne Masson
8
Tecmas MRP Racing
FRA
BMW M 1000 RR
STK
767
Kenny Foray
Jan Buhn
Loic Arbel
9
3ART Best of Bike
FRA
Yamaha R1
STK
763
Martin Renaudin
Ludovic Cauchi
Mathieu Lagrive
10
Kawasaki Webike Trickstar
FRA
Kawasaki ZX-10RR
EWC
763
Randy de Puniet
Kazuki Watanabe
Ryosuke Iwato
11
Team Bollinger Switzerland
SUI
Kawasaki ZX-10RR
EWC
757
Nico Thoni
Marcel Brenner
Pedro Barbosa
12
Wojcik Racing EWC
POL
Yamaha R1
EWC
756
Kevin Manfredi
Dan Linfoot
Kami Krzemien
13
Honda No Limits
ITA
Honda CBR1000RR-R
STK
756
Alexis Masbou
Johan Nigon
Lorenzo Gabellini
14
Chromeburner RAC41
FRA
Honda CBR1000RR-R
STK
752
Chris Leesch
Wayne Tessels
Jonathan Hardt
15
Team LRP Poland
POL
BMW M 1000 RR
EWC
750
Dominik Vincon
Julian Puffe
Pepijn Bijsterbosch
16
Motobox Kremer Racing
GER
Yamaha R1
EWC
750
Martin Choy
Daniel Rubin
Christian Napoli
17
Junior Team Le Mans Sud
FRA
Suzuki GSX-R1000
STK
742
Christopher Kemmer
Adrien Rollet
Dorian Laville
18
Slider Endurance
FRA
Yamaha R1
STK
736
Jacopo Cretaro
Asrin Rodi Pak
Charles Cortot
19
ADSS97
GBR
Kawasaki ZX-10RR
STK
730
Chris Platt
Stefan Hill
Chris Walker
20
TRT 27 Bazar 2 La Becane
FRA
Suzuki GSX-R1000
STK
726
Thomas Ward
David Shoubridge
Thomas Oliver
21
Cam Racing Team
FRA
Suzuki GSX-R1000
STK
724
Florian Avazeri
Jonathan Gorce
Camille Vallee
22
Wojcik Racing STK
POL
Yamaha R1
STK
723
Christoffer Bergman
Isaac Vinales
Mathieu Gines
23
Moto Sport Endurance
FRA
Yamaha R1
STK
718
Anthony Simon
Youenn Le Bras
Gilles Briend
24
Holland Motorstore Racing
NED
Yamaha R1
STK
715
Xavier Van Duffelen
Martin van Ruitenbeek
Marcel Zuurbier
25
Energie Endurance 91
FRA
Kawasaki ZX-10RR
STK
711
Luc de Vleeschauwer
Marco Fetz
Cedric Tangre
26
WERC Motors Events
FRA
Suzuki GSX-R1000
STK
709
Benjamin Civray
Frederic Besson
Julien Ballais
27
Team 2TS
FRA
Yamaha R1
STK
705
Pierre-Louis Le Bonniec
Antoine Bellardie
Nicolas Erhel
28
Impac LCR Endurance
FRA
Yamaha R1
STK
703
Julien Leyninger
Gregory Carbonnel
Gino Castinel
29
Seigneur Mont-Blanc
FRA
BMW M 1000 RR
STK
700
William Wallart
Christophe Seigneur
Stephane Pedat
30
Uniserv Moto82 Team
KAZ
Kawasaki ZX-10RR
STK
692
Karel Pesek
Wayne Bourgeais
Kamil Holan
31
Team 202
FRA
Yamaha R1
STK
680
Florent Parret
Sofian Lhullier
Gilles Minutello
32
Maco Racing
SVK
Yamaha R1
EWC
638
Anthony West
Enzo Boulom
Bainy Kovacs
33
Aprilia Le Mans 2 Roues
FRA
Aprilia RSV4
EXP
637
Julien Bonnet
Alexis Lamire
Tanguy Zaepfel
34
Players
FRA
Kawasaki ZX-10RR
STK
615
Hemmer Lothaire
Leonard Vignat
David Drieghe
NC
TMC 35 PMO*
FRA
Yamaha R1
STK
673
John-Ross Billega
Maxime Diard
David Le Bail
NC
GT Endurance**
FRA
Honda CBR1000RR-R
STK
267
Paul Dufour
Adrien Quinet
Karl Croix
NC
Team RR**
FRA
Yamaha R1
STK
235
Kevin Jacob
Philippe Muhlmeyer
Martial Gris
DNF
Aviobike
ITA
Yamaha R1
STK
633
Yves Lindegger
Elia Crotta
David Henriques
DNF
National Motos Honda
FRA
Honda CBR1000RR-R
STK
583
Sebastien Suchet
Valentin Suchet
Guillaume Raymond
DNF
Metiss
FRA
Metiss JB 22
EXP
576
Gabriel Pons
Camille Hedelin
Hikari Okubo
DNF
KM99
BEL
Suzuki GSX-R1000
EWC
521
Lucas Mahias
Florian Marino
Bastien Mackels
DNF
JMA Racing Actionbike
FRA
Yamaha R1
STK
469
Come Geenen
Takeshi Ishizuka
Matteo Giacomazzo
DNF
Ferre Feurprier Racing
FRA
Yamaha R1
STK
467
Vincent Ferre
Julien Feurprier
Maxime Vergier
DNF
Team Racing 85 by Createc
FRA
Kawasaki ZX-10RR
STK
449
Marc Bachelier
Jeremy Herault
Mathieu Thibaut
DNF
Pit Lane Endurance JP3
FRA
Yamaha R1
STK
426
Maxim Pellizotti
Alex Plancassagne
Luca Grunwald
DNF
Team 33 Louit April Moto
FRA
Kawasaki ZX-10RR
STK
408
Christian Gamarino
Kevin Calia
Simone Saltarelli
DNF
Kingtyre Fullgas Racing
FRA
Kawasaki ZX-10RR
EWC
405
Killiam Aebi
Gino de la Rosa
Quentin Bracquemart
DNF
Team 18 Sapeurs Pompiers
FRA
Yamaha R1
STK
349
Enzo de la Vega
Axel Maurin
Philipp Steinmayr
DNF
Mana-Au Competition
FRA
Yamaha R1
EWC
337
Cyriac Gevaux
Regis Stolez
Samuel Trueb
DNF
OG Motorsport WEC
FRA
Yamaha R1
STK
298
Roberto Rolfo
Atsumi Coccoro
Ludovic Rizza
DNF
Falcon Racing
FRA
Yamaha R1
STK
257
David Chevalier
Dylan Buisson
Loic Millet
DNF
BMRT 3 D Maxxess Nevers
FRA
Kawasaki ZX-10RR
STK
180
Julien Pilot
Kevin Denis
Loris Cresson
DNF
MotoAin
FRA
Yamaha R1
EWC
175
Corentin Perolari
Roberto Tamburini
Alessandro Polita
DNF
Bimtrazer Fly
ESP
Yamaha R1
EWC
15
Iker Carracedo