Pecco Bagnaia has moved back to the head of the 2023 MotoGP World Championship standings after prevailing in a breathless Spanish MotoGP with a late charge to his fourth win of the season at Jerez.
The Italian bounced back from an unsettling mid-race ruling by race stewards to cede one position to Jack Miller to steadily work his way back into victory contention, before turning it on for a surprise challenge to long-time leader Brad Binder in the closing stages.
Spurred on by a late fastest lap that brought him up to the rear of Binder, Bagnaia pounced immediately to snatch the lead with just over three laps remaining before resisting the determined South African to win by less than a tenth of a second.
After getting two of its bikes inside the MotoGP top three for the first time in the Sprint Race, Jack Miller's third place finish ensured this would count as KTM's first official double podium in MotoGP.
Bagnaia's second full length GP win of the year, to go with his two Sprint Race victories, Bagnaia's joy was complemented by a return to the top of the standings at the expense of Marco Bezzecchi, who after being involved for a second time in a red flag incident at the start, then crashed out of the restart while running tenth.
While several riders came into the full-length feature with something to prove, it was pole man Aleix Espargaro who was keenest to put the disappointment of his accident in the Sprint Race firmly behind him with a strong showing.
However, despite getting two attempts at scampering away at the front, on both occasions he was swamped by the KTMs of Binder and Miller.
The reason for the two attempts was down to another accident at Turn 2 on the opening lap - this time involving Fabio Quartararo, Miguel Oliveira and the hapless Bezzecchi - necessitating a red flag stoppage
Buoyed by a strong start from 16th on the grid, Quartararo found himself shadowing Oliveira to his left and Bezzecchi to his right on the run to Turn 2, when the Portuguese rider leaned in towards apex, pinching the nose of the Yamaha between the RNF Aprilia and VR46 Ducati.
The ensuing contact was enough to fold the Yamaha, Quartararo spearing off to the left and taking Oliveira with him. While Bezzecchi and Quartararo escaped without major harm, Oliveira was flicked off into an abrupt high-side, with the heavy landing leaving him with a dislocated shoulder and on the sidelines for the restarted race.
However, while Quartararo was able to get back to the garage to assume the restart, he'd discover just as the warm-up lap got underway that stewards had punished him with a long-lap penalty, mirroring a similar ruling handed down to Yamaha team-mate Franco Morbidelli for the Sprint Race incident.
To make matters worse, when Quartararo took the penalty early in the race, he was judged to have run out too wide, prompting stewards to rule that he must take it a second time.
At the restart - much as they were during the first start - it was the KTM's that got away best from the lights, with Binder tracking around the outside of Turn 1 to snatch the lead, with Miller tucked in behind from Jorge Martin, Espargaro and Bagnaia.
With Bagnaia quickly dismissing Espargaro for fourth at Turn 6, he also wasn't messing about as he dismissed Martin for third at the very next corner, the Ducati rider no doubt conscious of the KTM's pace out front in the Sprint Race.
With Binder emerging victorious over a half-distance on Saturday, similarly Miller didn't seem terribly keen to play second fiddle to his team-mate in the main GP feature, the Australian hustling his way past the sister RC16 around the last corner on lap two.
It was an advantage he wouldn't hold for long, however, Binder stalking his team-mate around the fast right-hand turns towards the end of the lap before planting an almost identical re-pass two laps later.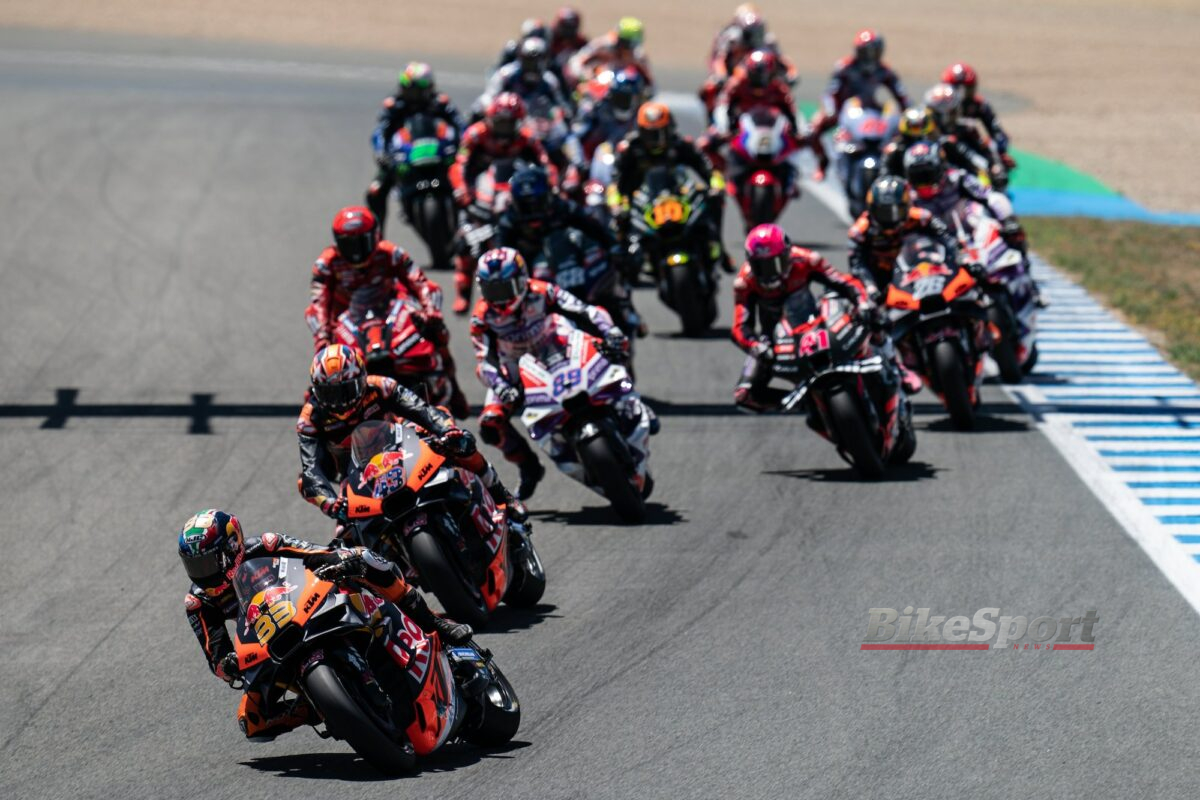 Bagnaia dressed down by MotoGP stewards after dusting up Miller
From here Binder could afford to take things relatively easy as skirmishes began to break out behind him between Miller, Bagnaia and Martin.
The first incident came on lap five when Miller ran into Turn 6 a little hot to go off line, inviting Bagnaia to attempt a pass beneath. Catching Miller unawares, the Australian was forced to sit up, prompting Bagnaia to wave an apology and a distracted Miller to gesticulate in response, thus losing him third place to Martin too as a result.
Miller hit back on Martin at the final corner on the same lap, albeit with an aggressive pass that forced the Pramac Ducati rider out wide to avoid being clipped by the stepped-out rear wheel of the sliding KTM. The incident lost Martin enough time to drop behind Espargaro to fifth and adrift of the lead trio.
Bagnaia, meanwhile, had just started to hunt down Binder in front when he was informed by Race Direction that he must drop back one position (behind Miller) as punishment for his robust pass on lap five.
The Italian quickly heeded the decision, but the loss of momentum was noticeable as Binder - now almost a second clear of Miller - was able to hold his position out front, while Bagnaia now agonised over how to pass his former team-mate again cleanly.
Indeed, Bagnaia's thought-process was fairly evident as he played it safe with a few feigned overtakes into the same Turn 6, so much so that he didn't force the initiative when Miller ran off line on several occasions at the tricky right-hander.
In the end, Bagnaia opted for the element of surprise with a slick pass on Miller into Turn 10, moving him up to second with ten laps remaining.
Turning his attentions to Binder out front, though Bagnaia didn't look to be making many in-roads into his rival initially, he then turned up the wick with four laps remaining by punching in the fastest lap of the race, a sudden upturn in pace on worn tyres that immediately hauled him onto the back of Binder's KTM.
Wasting no time to pounce on the unsettled South African, Bagnaia duly lined up his overtake into the final corner to grab the lead with only three laps remaining.
To Binder's credit, he immediately attempted to fight back against Bagnaia in an effort to recapture what had for a long time looked set to be a double triumph for him this weekend, but despite trying his hardest to find a gap on the final lap, had to admit defeat and settle for second.
It meant Bagnaia was left to celebrate a very satisfying fourth victory of the season, which comes after a damning crash out of the lead last time out in the United States. While that incident came on a weekend during which Bagnaia looked untouchable, his success in Jerez was quite the opposite, having struggled to trouble the top five in Practice and even being forced into Q1 during qualifying.
However, by coming good when it mattered, Bagnaia has returned to the head of the overall standings at the expense of Bezzecchi, whose trying Jerez weekend ended with him in the gravel trap at Turn 6 with eight laps remaining.
As such, he slips to second in the standings, just ahead of Binder, whose second place finish sees him ascend to third overall.
Despite some occasionally erratic moments, Miller secured his first full-length podium for KTM to round off a landmark weekend for the Austrian manufacturer. He now sits fourth in the overall standings too.
Martin eventually got the better of Espargaro again to reclaim fourth, bringing some joy to Pramac Ducati after Johann Zarco threw away a potential double top five for the team with eight laps remaining.
Similarly, Espargaro's fifth place was overshadowed by Aprilia team-mate Maverick Vinales retiring on the final lap while running eighth. Together with COTA winner Alex Rins crashing out on lap one, four of the erstwhile top five in the overall standings prior to the Jerez event came away from the GP race with zero points.
Luca Marini made the most of a strong getaway to hold down a top six finish at the flag, holding off the race-long attentions of Dani Pedrosa, whose 'wild' wild-card comeback event with KTM concluded with another solid finish in seventh.
Vinales' late exit promoted Alex Marquez to eighth place, the Spaniard no doubt pleased just to reach the flag after three DNFs in a row, while Takaaki Nakagami scored his best finish of the season in ninth as the best of the Honda contingent.
Despite his two long-lap penalties, Quartararo battled back to finish just inside the top ten in tenth, ahead of similarly hindered team-mate Morbidelli in 11th, while Fabio di Giannantonio, Augusto Fernandez, Stefan Bradl and Raul Fernandez picked up the remaining digits in 12th to 15th respectively.
CLICK HERE for full 2023 MotoGP World Championship Standings after the Spanish MotoGP [Rd 4 of 20]
2023 Spanish MotoGP Race Results | Jerez
2023 Spanish MotoGP | Jerez, Spain | Spanish MotoGP Race Results | Round 4 of 20
Pos
Name
Nat.
Team
Bike
Time
1
Pecco Bagnaia
ITA
Ducati Leonovo Team
Ducati GP23
24 Laps
2
Brad Binder
RSA
Red Bull KTM Factory Racing
KTM RC16
+0.221
3
Jack Miller
AUS
Red Bull KTM Factory Racing
KTM RC16
+1.119
4
Jorge Martin
ESP
Prima Pramac Racing
Ducati GP23
+1.942
5
Aleix Espargaro
ESP
Aprilia Racing
Aprilia RS-GP
+4.760
6
Luca Marini
ITA
Mooney VR46 Racing
Ducati GP22
+6.329
7
Dani Pedrosa
ESP
Red Bull KTM Factory Racing
KTM RC16
+6.371
8
Alex Marquez
ESP
Gresini Racing MotoGP
Ducati GP22
+14.952
9
Takaaki Nakagami
JPN
LCR Honda IDEMITSU
Honda RC213V
+15.692
10
Fabio Quartararo
FRA
Monster Energy Yamaha
Yamaha M1
+15.846
11
Franco Morbidelli
ITA
Monster Energy Yamaha
Yamaha M1
+17.209
12
Fabio di Giannantonio
ITA
Gresini Racing MotoGP
Ducati GP22
+17.911
13
Augusto Fernandez
ESP
GasGas Factory Tech 3
KTM RC16
+19.010
14
Stefan Bradl
GER
Team HRC
Honda RC213V
+27.294
15
Raul Fernandez
ESP
CryptoData RNF Racing
Aprilia RS-GP
+36.37
16
Iker Lecuona
ESP
Repsol Honda Team
Honda RC213V
+36.753
17
Jonas Folger
GER
GasGas Factory Tech 3
KTM RC16
+47.146
DNF
Maverick Vinales
ESP
Aprilia Racing
Aprilia RS-GP
DNF
Marco Bezzecchi
ITA
Mooney VR46 Racing
Ducati GP22
DNF
Johann Zarco
FRA
Prima Pramac Racing
Ducati GP23
DNF
Alex Rins
ESP
LCR Honda Castrol
Honda RC213V
DNF
Joan Mir
ESP
Repsol Honda Team
Honda RC213V
DNS
Miguel Oliveira
POR
CryptoData RNF Racing
Aprilia RS-GP
W
Enea Bastianini
ITA
Ducati Leonovo Team
Ducati GP23