Johann Zarco has ended his seven-year wait for a MotoGP win after emerging from a thrilling and unexpected five-way battle for glory on the final lap of the Australian MotoGP to take a famous victory at Phillip Island.
The Frenchman was the big beneficiary during a scrappy final stages as his Pramac Ducati team-mate and title contender Jorge Martin, who'd largely dominated from the very first turn, was reeled in by the chasing pack after suffering a catastrophic drop in tyre performance late on.
As such, a chasing pack led by Zarco pounced on Martin's sitting duck of a Ducati over the final lap, the double Moto2 World Champion getting the move done on his fellow Pramac rider at Turn 4 before carrying on through to the flag for victory, his first in 120 MotoGP starts.
In the context of the title fight, Martin - who led by more than three seconds at one stage - would plummet to fifth place by the finish line, allowing Pecco Bagnaia to capitalise on his rival's misfortune by finishing second and extending his overall lead to 27 points.
As well as being Zarco's first MotoGP victory, the full-length GP race - brought forward to Saturday to mitigate the threat of weather disruption on Sunday - would also see a maiden MotoGP podium go the way of Fabio di Giannantonio in third place.
Patient Zarco bides his time for long-awaited maiden win
While MotoGP has taught us to expect the unexpected all the way to the finish line, few could have possibly predicted the outcome of a race that Martin would hold a firm grip on right up until the very final laps.
Indeed, not only had Martin appeared destined to return straight back to winning ways after last weekend's Indonesian faux pas, his was a level of dominance that would have sent an ominous message of intent to rival Bagnaia.
Starting from pole position, Martin resisted Brad Binder on the run down to Turn 1 to grab the hole-shot and with it a lead he'd quickly multiply over the rest of the field.
Spurred on by the early gains available from having chosen the softer compound rear tyre, Martin gradually pulled clear of Binder, his advantage climbing to almost four seconds over a chasing group behind too pre-occupied with one another to make any in-roads into Martin's lead.
Having faded in his pursuit for Martin ahead, Binder was instead absorbed into the clutches of first di Giannantonio - enjoying the ride of his MotoGP career - before Pecco Bagnaia and Johann Zarco swelled the Ducati ranks in third, fourth and fifth respectively.
Into the final laps, the pace of the chasing pack gathered momentum in preparation for a final push towards the podium, just as Martin and the grip in his fading rear tyre began to slow in tempo.
With one eye on the a shrinking margin between Martin and those chasing him and the other on Binder and di Giannantonio scrapping for second, Zarco meticulously made his move, dispatching of Bagnaia for fourth with six laps remaining. He'd proceed to pick off di Giannantonio for third with three laps to go, before lifting up Binder for second on the penultimate revolution with a firm block pass at Turn 4.
It set up what still looked like finishing as a Martin-led 1-2 result for Pramac Racing, even at this late stage in the race and despite chunks having been taken out of the Spaniard's lead as a consequence of a soft tyre chewing itself into submission.
However, Martin's drop-off in performance continued to accumulate with every corner as he struggled increasingly to get the power down at a cost of around +0.7s per lap.
So while he led across the line at the final time of asking, though Martin had a friendlier foe in Zarco leading the first wave of attacks from behind, he had nothing to defend with, leaving his team-mate no choice but to execute a pass for the lead at Turn 4 so as to stop Bagnaia on the outside capitalising instead.
Indeed, despite briefly hesitating as he weighed up the implications of robbing his title fighting team-mate precious points, he'd ultimately follow through on the overtake, getting it squared off just in time to repel Bagnaia too. Leaving him only a few corners away from that elusive first win, Zarco reeled them off calmly to secure a famous long-awaited first win
A poignant result for him in what are currently his final few races with Ducati before switching to LCR Honda for 2024, the success marks Zarco's first Grand Prix win since the 2016 Valencia Moto2.
In what would prove a rollercoaster of mixed emotions for Pramac Racing over the final lap as Zarco advanced up the order while Martin suffered a decline that was both rapid and sharp, the Spaniard's wilting tyre would see him overwhelmed back to fifth place by the flag.
Among those to pick him off was Bagnaia, the Italian once again benefitting from Martin's misfortune to collect second place and end the day with an increased lead in the overall standings. While it remains unclear whether the Sprint Race will go ahead on Sunday due to advancing weather concerns, either way Bagnaia - now 27 points clear - will leave Australia with the overall lead.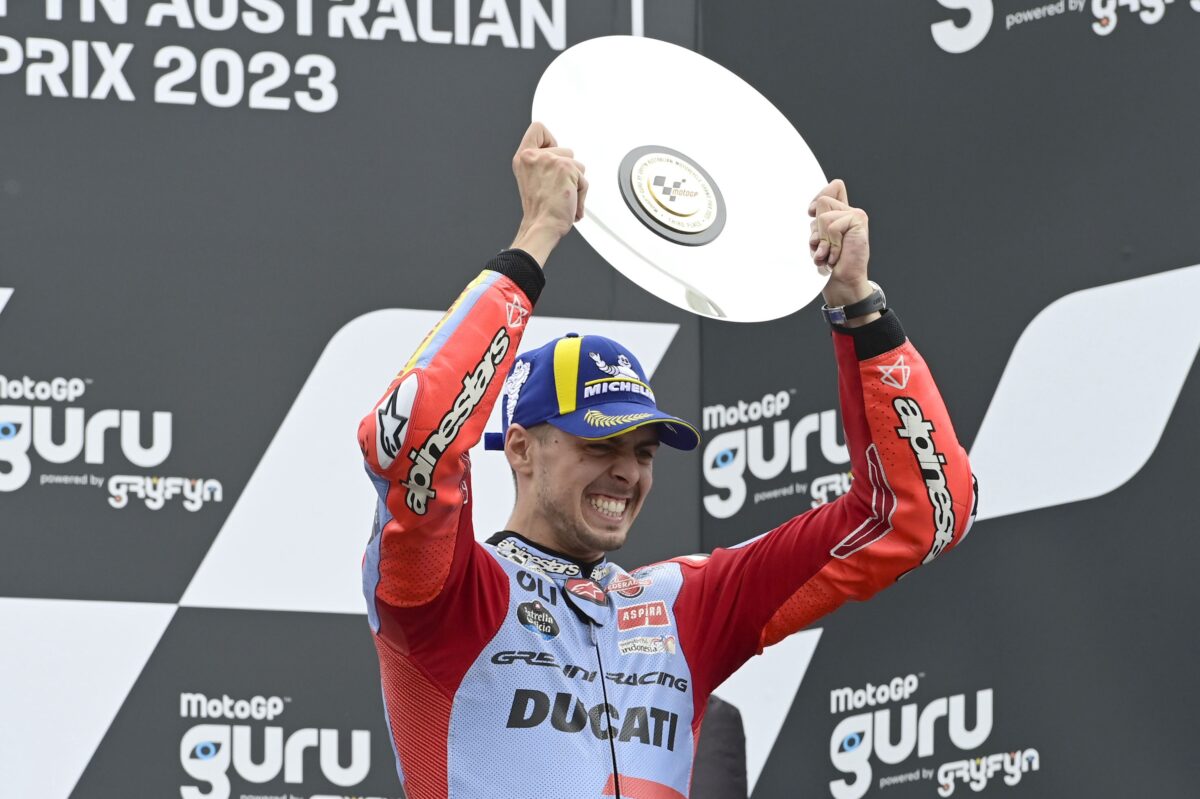 di Giannantonio steals the show, shows teams what they could be missing
A day of firsts all-round in the Ducati fold, as Zarco celebrated his first win, di Giannantonio savoured a maiden podium after a gritty ride to third on the Gresini Ducati.
Stealing the spotlight early on after clawing his way up to third, di Giannantonio would remain in the heart of the podium fight all the way to the flag as he got the better of both Binder and Martin on the final lap to seal third.
As Ducati locked out the podium, KTM's Binder was left to make do with fourth at the flag, the South African also getting the better of Martin within sight of the flag.
Behind the leaders, a similarly fierce fight for sixth position further back would go the way of Marco Bezzecchi, who rebounded up the order late on to win out against Aussie favourite Jack Miller, top Aprilia rider Aleix Espargaro and Alex Marquez, the quartet split by just +0.8s across the line.
In a race of low attrition - just Turn 4 crashes for Augusto Fernandez and Joan Mir - Enea Bastianini picked up tenth place, ahead of Maverick Vinales, Luca Marini, Miguel Oliveira and Fabio Quartararo, the final point going to Marc Marquez, another to suffer for the gamble of a soft tyre compound choice.
2023 Australian MotoGP | Phillip island Circuit | RACE Results | Round 16 of 20
Pos.
Name
Nat.
Team
Bike
Gap
1
Johann Zarco
🇨🇵
Prima Pramac Racing
Ducati GP23
27 Laps
2
Pecco Bagnaia
🇮🇹
Ducati Lenovo Team
Ducati GP23
+0.201
3
Fabio di Giannantonio
🇮🇹
Gresini Racing MotoGP
Ducati GP22
+0.477
4
Brad Binder
🇿🇦
Red Bull KTM Factory Racing
KTM RC16
+0.816
5
Jorge Martin
🇪🇦
Prima Pramac Racing
Ducati GP23
+1.008
6
Marco Bezzecchi
🇮🇹
Mooney VR46 Racing
Ducati GP22
+8.827
7
Jack Miller
🇦🇺
Red Bull KTM Factory Racing
KTM RC16
+9.283
8
Aleix Espargaro
🇪🇦
Aprilia Racing
Aprilia RS-GP
+9.387
9
Alex Marquez
🇪🇦
Gresini Racing MotoGP
Ducati GP22
+9.696
10
Enea Bastianini
🇮🇹
Ducati Lenovo Team
Ducati GP23
+12.523
11
Maverick Vinales
🇪🇦
Aprilia Racing
Aprilia RS-GP
+13.992
12
Luca Marini
🇮🇹
Mooney VR46 Racing
Ducati GP22
+17.078
13
Miguel Oliveira
🇵🇹
CryptoData RNF Racing
Aprilia RS-GP
+19.443
14
Fabio Quartararo
🇨🇵
Monster Energy Yamaha
Yamaha M1
+20.949
15
Marc Marquez
🇪🇦
Repsol Honda Team
Honda RC213V
+21.118
16
Raul Fernandez
🇪🇦
CryptoData RNF Racing
Aprilia RS-GP
+32.538
17
Franco Morbidelli
🇮🇹
Monster Energy Yamaha
Yamaha M1
+37.663
18
Pol Espargaro
🇪🇦
GasGas Factory Racing Tech3
KTM RC16
+37.668
19
Takaaki Nakagami
🇯🇵
LCR Honda IDEMITSU
Honda RC213V
+37.758
DNF
Augusto Fernandez
🇪🇦
GasGas Factory Racing Tech3
KTM RC16
DNF
Joan Mir
🇪🇦
Repsol Honda Team
Honda RC213V
W
Alex Rins
🇪🇦
LCR Honda Castrol
Honda RC213V